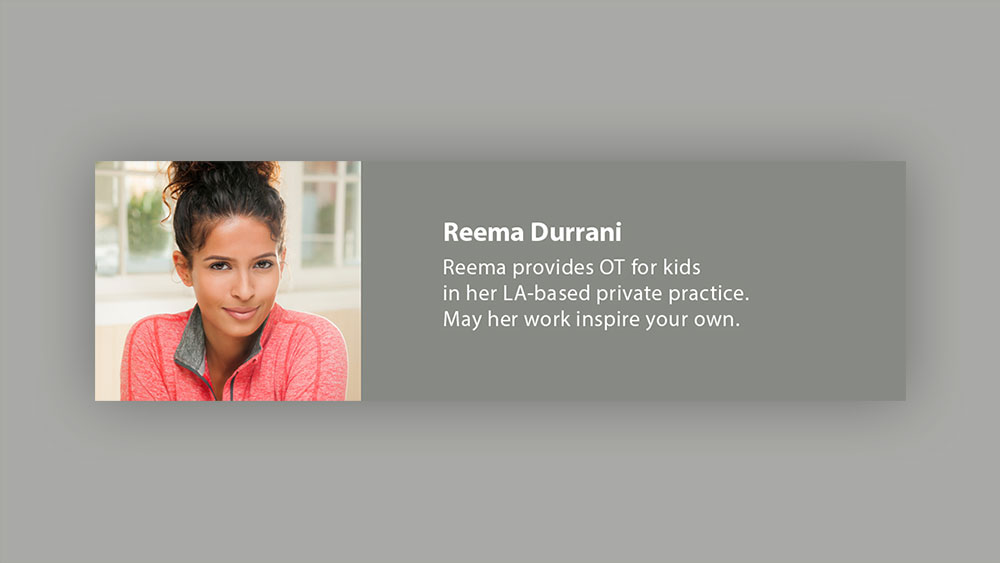 I am excited to continue our series of interviews about the different practice areas available to OTs with this conversation with Reema Durrani, OTD-R, OTR/L, SIPT, CAS. Reema is the founder of OT Studios, a pediatric private practice in L.A. You will quickly see how passionate she is about family education and creating an optimal setting for seeing her clients.
May this interview inspire your own OT practice!
---
My Interview with Reema Durrani, Pediatric Occupational Therapist and Private Practice Owner
Tell us about your OT journey and how it led to founding OT Studios.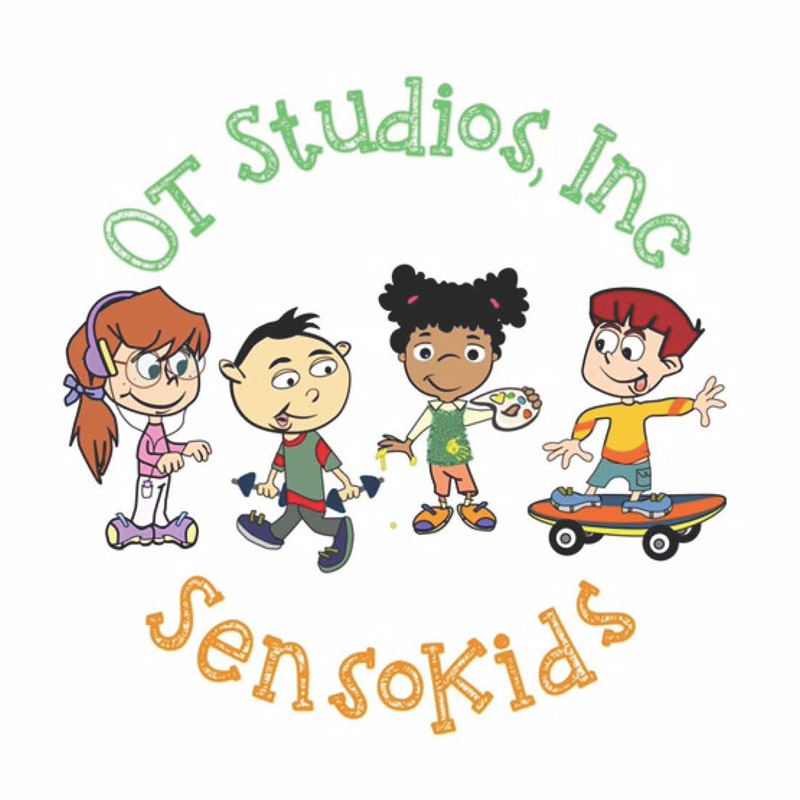 I became an OT because I wanted to make a difference in the lives of children with special needs. I received my BA in psychology and my MA in occupational therapy and am currently working on my Doctorate at The University of Southern California.
After working in the field for a few years and having a deep interest in Sensory Integration, I decided to open up my own practice in Los Angeles, which became OT Studios, Inc: An occupational therapy studio for kids. I wanted my practice to be unique so I created the brand and concept of the SensoKids.
What are some of the highlights of your day-to-day practice?
OT Studios is a small family of five and the highlight of my day is being able to walk in to the clinic and spend the day with that family. We are very close to our clients, so it's always great to see them. I love witnessing the happiness parents feel when they observe firsthand their child's progress towards their occupational therapy goals.
What are some of the challenges?
The primary challenge at OT Studios is scheduling. OT Studios is an intimate space. We don't allow more than two kiddos in the clinic at a time (which reduces the challenges of OT's having to share games or equipment.) We also prefer to use our weekends for socialization classes or play groups. While we believe this creates the best client experience, it means we fill up rapidly and have a waitlist of clients to schedule.
Tell me more about the SensoKids! What prompted their development? How are they utilized in your practice?
The SensoKids are four characters that represent the sensory systems (the vestibular, proprioceptive, tactile and audio/visual systems) we work with. The SensoKids concept was created while I was doing my SIPT (Sensory Integration and Praxis Test Certification). I was doing my coursework and treating at another clinic and I noticed that the majority of parents on my caseload had no idea what sensory integration was and found the information online went right over their heads.
I decided to use the SensoKids education videos as a fun way to address the education needs of these parents as well as entertain and educate the children. In our clinic we use the SensoKids dolls during sessions and gradually our kiddos are correlating activities related to each doll with the sensory systems they represent. The SenosKids set us apart from other practices and inspired me to create an intimate fun and create space where our kiddos can thrive and our SensoKids can educate them and their families in the process.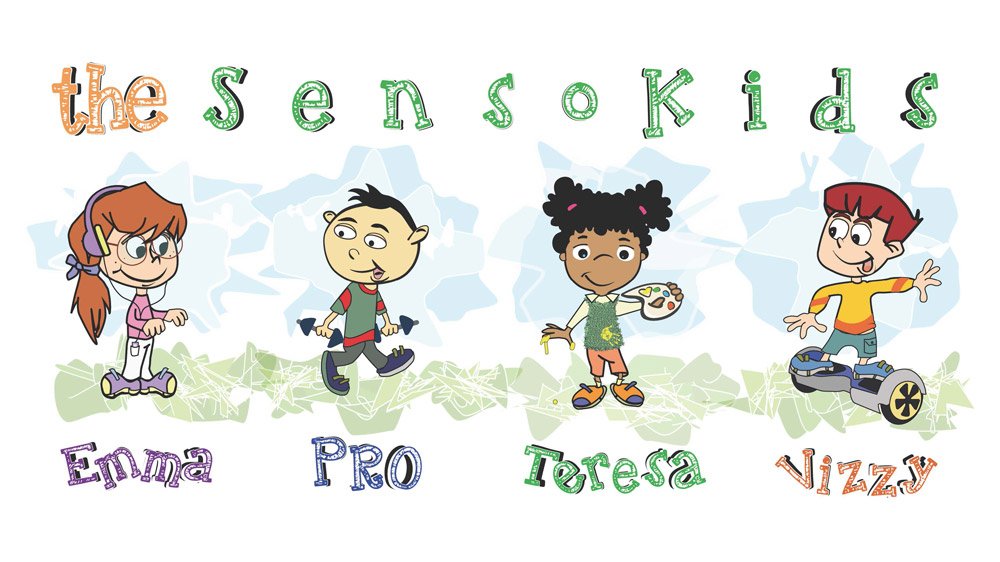 Are other therapists able to use the concept of the SensoKids in their practices? Do you have a plan to continue to build out this curriculum?
We are in the process of building a curriculum around the SensoKids and the dolls. The characters are trademarked and videos are copyrighted. We are working on introducing the SensoKids to OTAC and AOTA in the near future.
Many therapists contemplate going on to receive certifications, but often life gets in the way. How has being certified in SIPT and CAS impacted your practice? What advice would give to someone about making certification a reality?
The SIPT (Sensory Integration and Praxis Test Certification) certification inspired my creation of the SensoKids, it gave me a much higher level of understanding of Sensory Integration and enabled me to educate my employees and parents on SI.
Obtaining the CAS (Certified Autism Specialist) credential gave me a higher level of knowledge and competency in terms of Autism and the best ways to treat children with Autism.
I would recommend all OT's go become as highly certified in their practice area as possible.
One of your goals is to pioneer occupational therapy services in a new era of needs. How do you stay to date with the latest trends in occupational therapy?
I keep up with all the research, I am a subscriber to AOTA which makes keeping current an easy thing to do. Organizations like Autism Speaks and Inclusion Clubhouse are also great resources.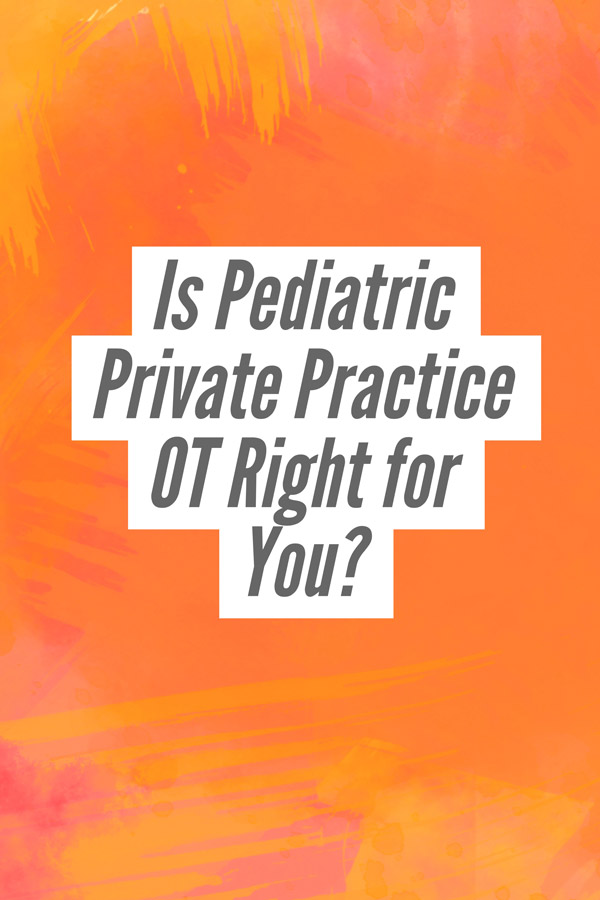 What advice would you give to fellow OTs with the entrepreneurial bug?
Be different, stand out, combine your OT knowledge with your passion outside of OT. I was always very imaginative and interested in animation and the make-believe. I found a way to combine my professional expertise with my imaginative side and that is why I am doing something I love to do and work doesn't feel like work.
What changes do you hope to see in pediatric occupation therapy offerings in the next 5-10 years?
I hope to see more creativity and more fun ways to educate parents and children with special needs. Parent education is a huge piece of therapy carry-over and without proper education they are likely to misunderstand their child's needs.
Interested in keeping up with OT Studios? Check out their awesome Instagram channel!