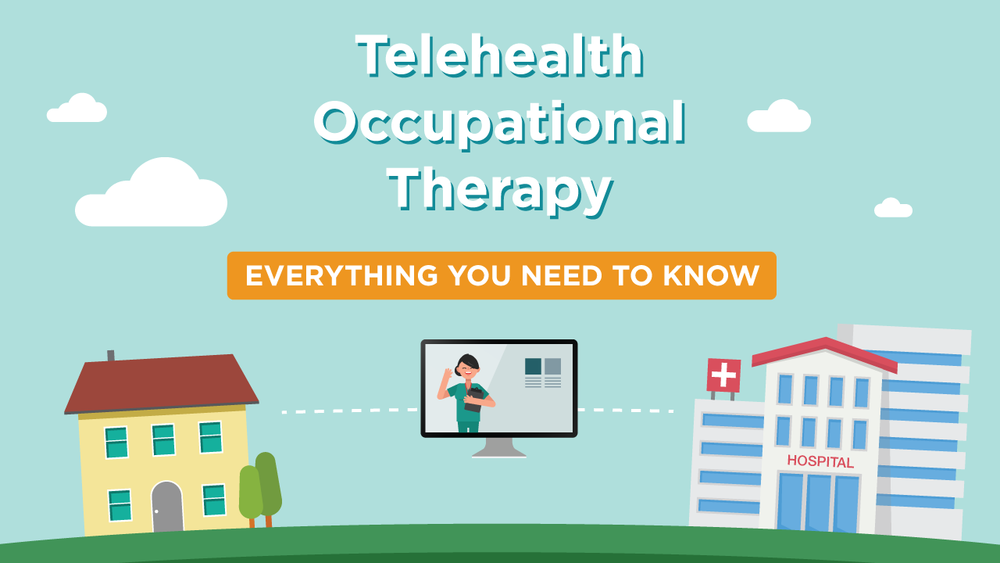 Telehealth occupational therapy continues to change the way we practice, and it will impact our profession in ways we have yet to imagine.
The more we know about telehealth, the better positioned we'll be to leverage it in ways to best serve our clients.
I set out to write this article so that we would have a comprehensive resource on telehealth OT as we know it today, along with some information to help us stay up-to-date with this quickly changing landscape.
Here's what you'll find below:
Try 2 Free CEU Courses!
⭐ AOTA-Approved ⭐
What is telehealth OT?
Telehealth OT refers to occupational therapy services provided over a technology platform. Pretty much any form of OT delivered via technology vs. in-person means can be considered telehealth.
That means some of you might already be using telehealth without even knowing it.
If you use a secure texting platform to exchange messages with your patients, you're already using telehealth.
If you deliver HEP exercises and updates to your patients, as with MedBridge Go, that's telehealth, too.
If you review patients' records in a shared health system portal, you're using telehealth.
And, if you securely message your patients with sometime like secure texting—yep, that's also telehealth.
Technically, telehealth can be broken into four categories:
Live video
Store-and-forward
Remote patient monitoring
Mobile health
Live video (also called "synchronous") is exactly what you'd think. This is what most people think of when they think: telehealth OT.
Store-and-forward is also called "asynchronous," and is used to transmit imaging, as well as store and send health records. Remote patient monitoring involves electronically transferring information like blood pressure results or blood glucose levels. MedBridge Go and other forms of patient-facing HEP software are forms of mobile health.
At this point, most forms of telehealth occupational therapy will use a blend of these methods to deliver care.
Why telehealth?
Telehealth occupational therapy was originally devised to bring much-needed healthcare services to underserved or rural populations, enabling patients to receive care when they might not otherwise be able to.
But, even for patients who can access care, telehealth has its appeal. In today's modern age of on-demand technomania, telehealth is a wonderful option in terms of convenience and, frankly, staying on trend. If other professionals are meeting customers' demands for on-demand care, why can't occupational therapists?
Here are some pros and cons of telehealth:
The pros of telehealth OT
Improves access to those who wouldn't otherwise get OT
Convenient
Often time saves money!
Clients get seen in their natural environment
Puts more emphasis on patient education and coaching
Delivers care on-demand to meet today's consumers
The cons of telehealth OT
Lacking the human touch of OT
In the United States, OTs can only treat in the state where they're licensed (this is slowly changing)
Here's an example of when telehealth OT is a good fit:
Consider a post-CVA patient whose son would normally need to drive her to OT—but now that patient can ask questions and receive teletherapy in the comfort of her own home. That means her son doesn't have to miss work! And, now that we have so many cities shutting down to stymie the spread of COVID-19, this seems an ideal way to deliver care without endangering our patients or their caregivers.
Here a teletherapy OT explains how telehealth is different than in-person OT:
In the YouTube clip below, Adam Griffin, explains what makes telehealth OT unique.
How to find a telehealth OT?
If you found this post in search of a telehealth OT, and pros outweigh the cons for you, I want to help you find the right telehealth OT for you, without further adieu.
Below you will find OTs from the OT Directory who have tagged themselves as using telehealth.
(If you are an OT looking to find an OT telehealth job or start using telehealth keep on scrolling!)
How to get into telehealth occupational therapy?
As of today, there are three ways you can get involved with teletherapy. Here's how to do each.
1. Start your own practice
If you start your own practice, you'll need to understand state laws where you're planning to treat, get licensed in the state(s) where you're planning to treat, set up a business, attract your own patients, get liability insurance, set up a fee schedule, and all that fun stuff that goes along with owning your own clinic.
Plus, there's the tech. You'll need to figure out the software you'll want to use, but most solutions make it fairly easy to hang a shingle. (In the next section we will cover available platforms.)
2. Join an existing company
If you're not feeling entrepreneurial, no problem! You can always find a job at an existing teletherapy company.
Here are some of the companies that provide telehealth OT services, where you may be able to find a telehealth OT job:
3. Convince your existing practice to incorporate elements of teletherapy
Telehealth can be a wonderful ancillary service, and it can also add value to a clinic's offerings. By incorporating a telehealth wing in a clinic or facility, you will help improve patients' access to care, and might help decrease cancellations.
This would be especially helpful in states where Medicaid is reimbursing OT treatments.If you're able to convince your workplace to incorporate telehealth into its practice, you'll grow immensely in your career. Not only will you spearhead a movement to build a program in your organization (which can look great on the resume if you ever pursue non-traditional OT career paths), you can feel proud that you helped bring your workplace to the forefront of a new horizon (cue sci-fi music)!
Platforms for providing telehealth
Of course when you are looking for a telehealth platform privacy is one of your main concerns.
During Covid-19, certain platforms were approved by HHS in the US for telehealth. For OTs in Canada, Therabyte has this comparison chart about which options meet Canadian data security standards.
But, in choosing the right platform, you will need to understand the particular privacy laws in your country. You may want to consult with an IT professional and healthcare attorney before you commit to a setup for your teletherapy.
Let's start with platforms NOT to use:
Facebook Live
Twitch
TikTok
Think: any video that is public-facing
Platforms that have been approved—but do not offer comprehensive solutions like payment and robust scheduling
HIPAA-compliant platforms that provide more comprehensive solutions:
Blink Session

Plans start at $29/month; somewhat complex pricing structure
Waiting room function
Ability to share clients among therapy team

BlueJay

Many options; must contact them for quote
Very robust; some plans come with integrated HEP and patient engagement
Some plans come with reporting and compliance features

Doxy.me

Many options including free for limited services
Reviewers on Capterra highlighted the solution's free option and ease of use
These same users mentioned that calls drop if the internet service isn't strong
eVisit

Pricing options vary for clinics vs. large systems
Robust scheduling option
Visit reminders for patients

Health Recovery Solutions

Numerous product and pricing options for various types of practices
Specialized and setting-specific platforms (e.g. home health)
Established presence in prestigious healthcare systems

HelloNote

Rates start at $45/month for EMR; telehealth rates require a quote
Integrates well with HelloNote EMR system
EMR built by therapists
How to document for telehealth?
As the list above showcases, your documentation options are built right into many teletherapy platforms.

One unique consideration you might have in your session and therefore documentation is the assessment portion. We made this post to help you choose assessments that work well via teleheath.
What about the rules—and what about reimbursement?
Telehealth OT is a bit like the Wild West. There's very little consistency between states in the way of laws. Some states have established laws and regulations regarding telehealth, while others haven't even touched the subject. The AOTA provided a chart that details information about telehealth and OT on a state-by-state basis. You can also stay up to date on OT telehealth advocacy issues on this page.
We also wrote this post on OT telehealth coverage during the pandemic, and plan to do an update when the OT licensure compact comes to fruition (which will expand the tele-health opportunities for many therapists!)
Can COTAs provide telehealth?
Telehealth legislation is in huge upheaval right now, so this answer may only be found on a state-by-state, provider-by-provider basis. But, in general, if OTs can provide telehealth (per local legislation) there is a good chance COTAs can, as well.
Several years ago, I did some research about companies that hired COTAs for teletherapy. I found that while some companies only hire OTs, a few do hire OTAs to perform teletherapy.
Here are some of the teletherapy companies that historically have hired OTAs:
The research base has already been rapidly growing.
Before diving into telehealth, we of course, have a professional duty to understand whether research backs its use.
And the good news for OTs at this time is that telehealth is not some completely unknown, desperate second option for use to just "try out" in crisis. Telehealth OT has been studied for years, and you will likely even find research that correlates closely to your practice.
As I've been reading this research myself, I have found it to be very promising. I hope you check it out for yourself: Research Articles about Telehealth OT.
Telehealth activities and skills?
As therapists quickly found out when they tried telehealth over the pandemic, this mode of therapy requires us to learn new skills. Some of the go-to therapy activities you may be accustomed to just may not work in this context.
Here are some resources that may help you: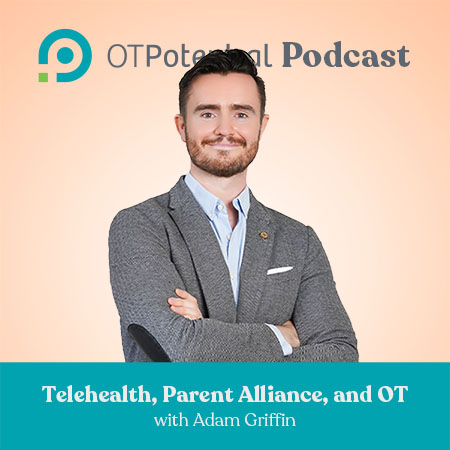 Would you like to earn an AOTA-approved CEU while listening to a podcast about telehealth OT? You can by listening to this episode of the OT Potential Podcast!
What's next for OT and telehealth?
Only time will tell where telehealth will take us, but we do know one thing: telemedicine is the future.
I am so excited for the opportunities telehealth is going to bring for our clients. They'll be able to find the exact right therapist, right when they need them. This is certainly a game changer for our clients—and our profession!
What are your questions/thoughts about telehealth? Share them in the comments and I will do my best to address them in future updates to this article!