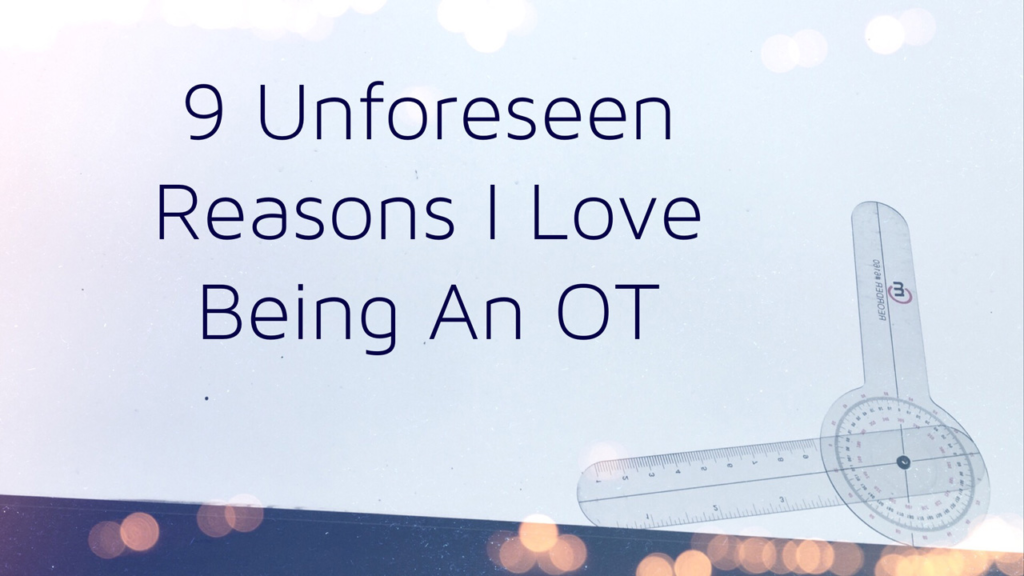 I am that stereotypical person who entered the healthcare field because I wanted to help people.
But starting a career is a lot like getting married or having kids; there is no way to fathom what the journey will hold.
I still love my profession because I get to help people, but there are so many factors that contribute to my career satisfaction that I did not consider when applying to occupational therapy school.
I feel like I got lucky.
The 9 Unforeseen Reasons I Love My OT Career
1.) Autonomy
Yes, I work in an industry brimming with regulation, but when I begin each treatment session, it feels like the brush is in my hands.
Within certain limits, it is up to me to what value I bring to my patients during my treatment sessions.
2.) The buck does not stop here
While I love autonomy, I am also glad that I do not have ultimate responsibility over health matters.
Doctors typically sign off on our treatment plans and OT is almost always part of team approach.
In the hospital setting where I work, if something goes terribly wrong, there is an emergency button I can push and more members of our care team will come running.
3.) Opportunities for specialization and mastery
Lymphedema management. Women's health. Wheelchair management. Assistive technology. Hand therapy. Myofacial release. Neonatal care. Low vision. Sensory integration.
The opportunities for specialization within OT are extensive. When I was first looking into careers, I could not fathom how long a 40-year-career could be nor the drive I would feel to keep learning and honing my skill-set.
I am thankful there are so many avenues to pursue with an OT license. Many therapists will pursue multiple specialities over their careers.
4.) Schedule flexibility
School teachers have to teach during the school year. Nurses have to provide 24-hour care. There are obvious scheduling challenges in many helping-professions.
Luckily, therapy usually happens between 9-5 on weekdays. Due to the demand for therapy, full-time, part-time and contract positions are often available.
I never would have anticipated how sick I would get during my pregnancy. Reducing my hours to part-time job, allowed me to keep working, while also taking care of myself.
5.) Knowing there are other jobs out there makes me happier in my current job
I receive voicemails and mailings at least weekly from OT recruiters. These keep me from feeling trapped in my job. There is great comfort in knowing that there are other OT jobs out there and, ultimately, I am making a choice to stay in my current position.
6.) I was able to get out of debt relatively fast
I received my masters in occupational therapy and was able to get a full-time job lined up before I even passed my boards. To be a physical therapist you have to have a doctorate (more school and more debt).
There are of course many factors to debt reduction and my story is not universal, but taking on less debt in the first place is a good way to start.
7.) The balance of new with routine
I suspect that this plays a role in why many healthcare professionals love their jobs; our work lends itself to a nice balance.
To keep us grounded, we have an established community of coworkers and certain tasks that we need to do everyday.
But, you never know who is going to be on your caseload. This variety provides new challenges and gives us something to talk about over the lunch break.
8.) An international network
OT is a growing industry globally and it is so fun to connect with colleagues from around the world. In college, we talked a lot about becoming global citizens. I never would have dreamed that becoming more invested in my local work would lead to global connections.
9.) My patients
This is so cliche, but I don't even care. My patients keep me coming to work. I have been so inspired and moved by the lives I have encountered. I can only hope that I have helped them half as much as they have helped me grow as a therapist and as a person.
---
What do you love about OT? What questions do you have about becoming an OT? Please share in the comments!
---