What is Occupational Therapy?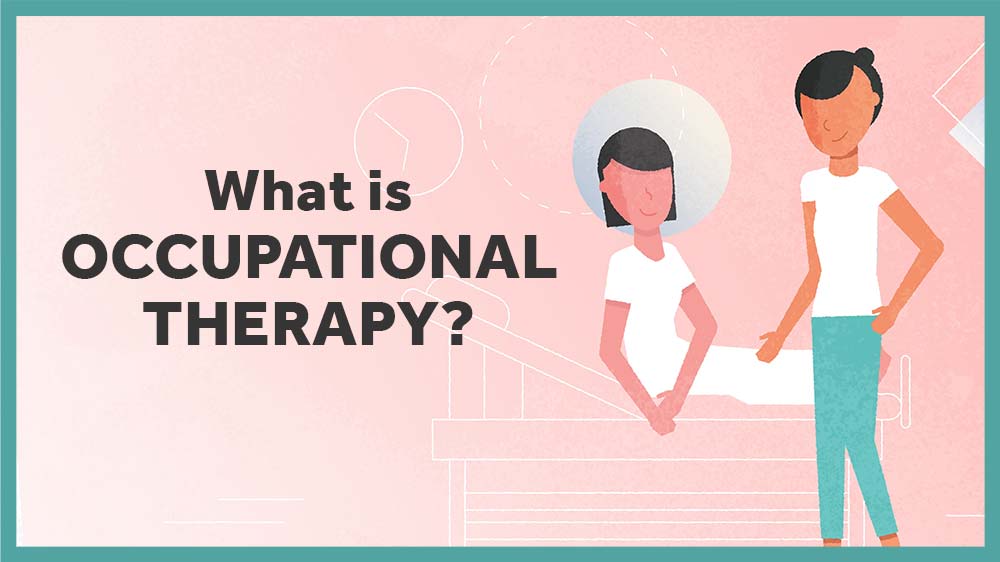 Far too often, patients invest their time and money in health services that promise a quick fix.
Many of these interventions don't offer long-term benefits—and, in some cases, people might even find themselves worse off than when they started.
Occupational therapy (OT), on the other hand, is focused on long-term health and well-being. Occupational therapists take a unique, holistic approach to care. OTs work with patients to address their clinical conditions, recommending habits and home adaptations to help them participate more fully in day-to-day life.
The best part is that OT is safe, cost-effective, and backed by scientific research. Sure, we have a title that sounds like we're only focused on jobs…but we're so much more than that! And, we're excited to share the many dimensions of our wonderful profession in this article.
In this article, we will dive into the specifics of OT, including:
A simple definition of OT
Occupational therapy (OT) helps people with health challenges participate in daily life to the fullest.
OTs help patients return to the lives that they love. We recognize that an injury or illness can be devastating, and we know that much of the healing process involves being able to participate in daily life in ways that matter the most to each specific patient.
Our role is to serve as a guide, by helping each patient establish health and life goals—and then working with them to find the interventions, technology, and equipment that work best to get them where they want to be.
Wait? Why, exactly, is it called "occupational" therapy?
It's natural to wonder what our name means. We do not help people get jobs, and we and are not focused on employment. Instead, our title comes from an old-school idea of occupation, which simply refers to whatever "occupies" someone's time. We work to understand what is meaningful for each specific patient—and then we do everything we can to help them return to those activities.
Here's a video I made to explain what OT is. It's a great intro to OT for aspiring clinicians, medical professionals, patients, family members, or anyone else who is curious about our wonderful profession!
Watch our explanation of OT on YouTube!
---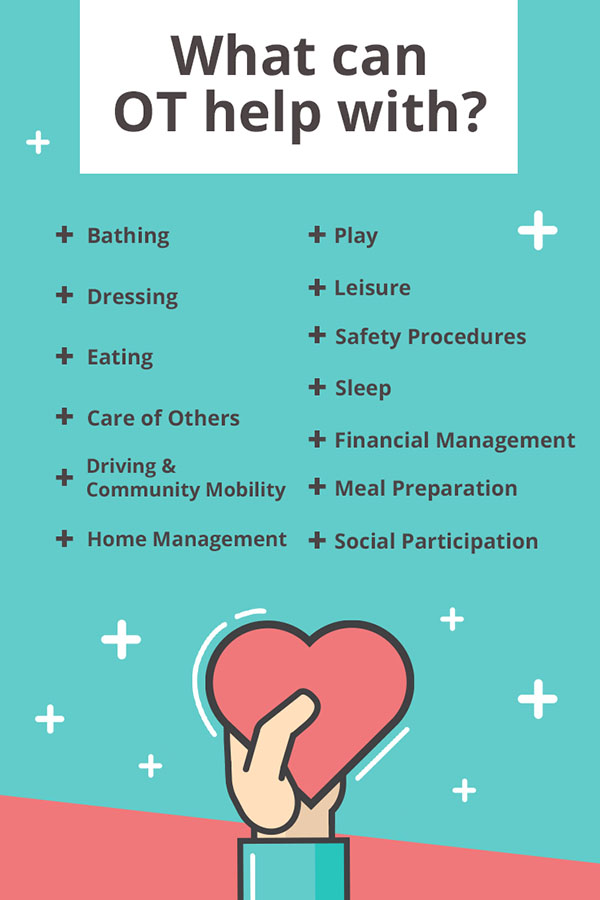 How can OT help you?
Our goal is always to make a long-term and tangible difference in patients' daily lives. We do this by helping each patient participate in the day-to-day activities that they find most meaningful.
For a child, this might mean playing with friends.
For an adult, this might mean being able to prepare a meal for loved ones.
We OTs call these meaningful daily routines "activities of daily living" or "ADLs."
These basic building blocks of daily life can become difficult after an injury, disability, or illness, and occupational therapy professionals can help people develop the skills to participate in these activities with confidence.
Here is the complete list of the activities an OT can help with:
Bathing and Showering | Toileting and Toilet Hygiene | Dressing | Eating and Swallowing | Feeding | Functional Mobility | Personal Device Care | Personal Hygiene and Grooming | Sexual Activity | Care of Others | Care of Pets | Child Rearing | Communication Management | Driving and Community Mobility | Financial Management | Health Management and Maintenance | Home Establishment and Maintenance | Meal Preparation and Clean Up | Religious and Spiritual Activities and Expressions | Safety Procedures and Emergency Responses | Shopping | Rest and Sleep | Education | Work | Play | Leisure | Social Participation
---
Why would a child need occupational therapy?
Many people are first introduced to occupational therapy through a referral for their child. Occupational therapists work with children of all ages in neonatal units, schools, and outpatient settings.
OTs help children participate in age-appropriate daily activities when doing so is made difficult by health conditions.
We strive to understand each child's unique strengths to help them navigate whatever challenges they face. We also closely follow the ever-evolving research on childhood conditions, so that we can provide the most up-to-date care possible.
Common diagnoses we see in childhood include:
Autism
Cerebral Palsy
Intellectual Disabilities
Motor Disorders
Rare Diseases
What does occupational therapy treatment entail?
An occupational therapist's work varies across settings, but the treatment process tends to follow a certain flow.
Occupational therapy evaluation
It all starts with an evaluation, where the occupational therapist collects information on a patient's health history, health status, and any activities that are currently limited. We will also listen and ask you questions about your goals.
Occupational therapists have access to an incredible number of standardized OT assessments, many of which are targeted at specific diagnoses.
The OT then uses this information to work with the patient (and/or families or caregivers) to create a plan of care (POC). A POC includes specific goals—both short-term and long-term—as well as the treatment techniques the OT will employ to help the patient achieve those goals.
Occupational therapy treatment
Subsequent treatments focus on some combination of providing physical, emotional, and/or cognitive interventions to help the patient achieve their goals.
Therapists also consider whether modification of the environment (and/or certain activities) may help set someone up for success.
Here are some examples of how Medicare (the gold standard in reimbursement) codes different treatments, meaning this is the verbiage a patient might see on their Medicare bills.
Assistive Technology Assessments
Brief Emotional/Behavioral Assessments
Community/Work Reintegration Training
Debridement of Wounds
Development of Cognitive Skills
Development Screening
Manual Therapy Techniques
Neuromuscular Re-Education
Self-Care/Home Management Training
Sensory Integrative Techniques
Therapeutic Activities
Wheelchair Management
For information on pediatric treatment options, you can visit our page on pediatric OT interventions.
Discharge from occupational therapy
After a certain point, patients will be "discharged" from OT. When someone is discharged from occupational therapy services, it means that they no longer need the skilled oversight of a therapist to continue making progress.
However, it does not necessarily mean the road to recovery is over.
When it's time for to discharge, OTs often provide additional education to help patients continue therapy on their own. This might involve issuing a home exercise program (HEP) or providing additional training and resources to family members and/or caregivers.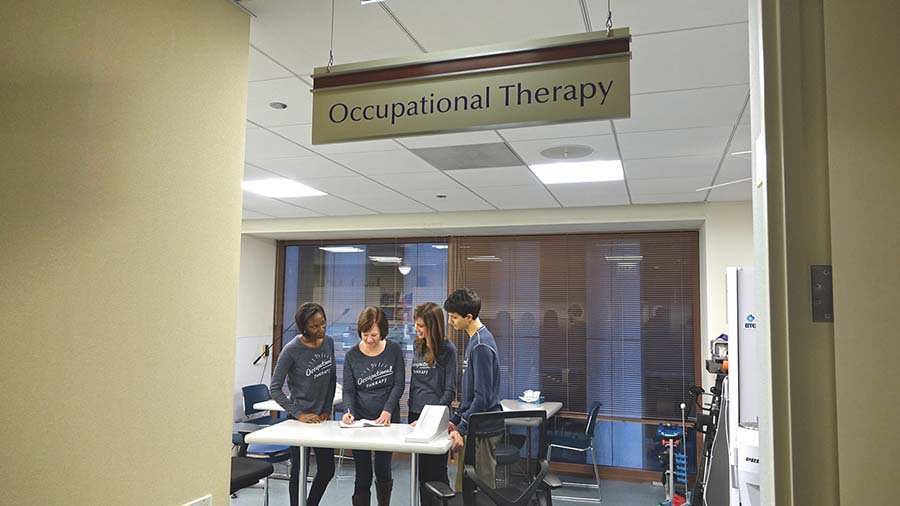 ---
What is an average OT salary?
According to our custom calculation, OTs earn $76,448 on average. This number is influenced by where you live, the clinical setting in which you work, how many years you have practiced, the types of patients you work with, and whether you have pursued a specialty.
We cover OT salary extensively in the Occupational Therapy Salary Guide.
Salary By Years of Experience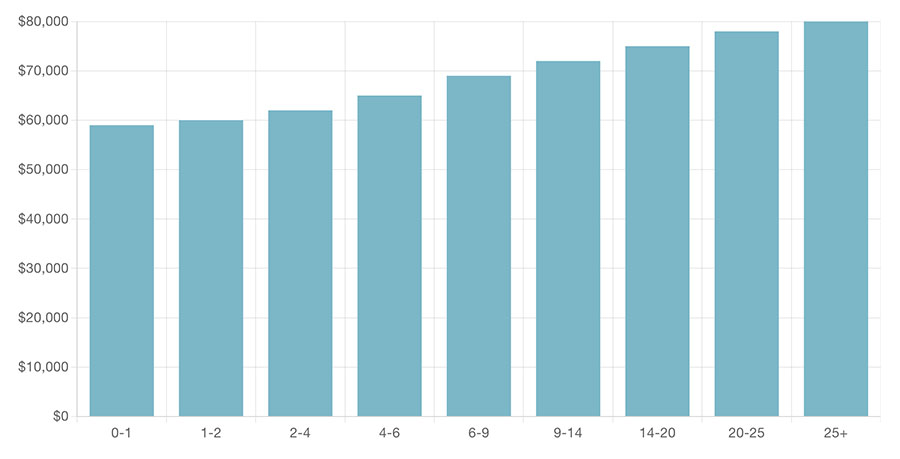 ---
How to become an OT
If you want to practice as an OT, you'll need to go through high school and college, then get a graduate degree in occupational therapy.
Once you get through OT school, you'll need to take the NBCOT (our national certification exam), as well as a state certification exam. Most states also require that you complete a certain amount of continuing education (con-ed) each year to keep your license active.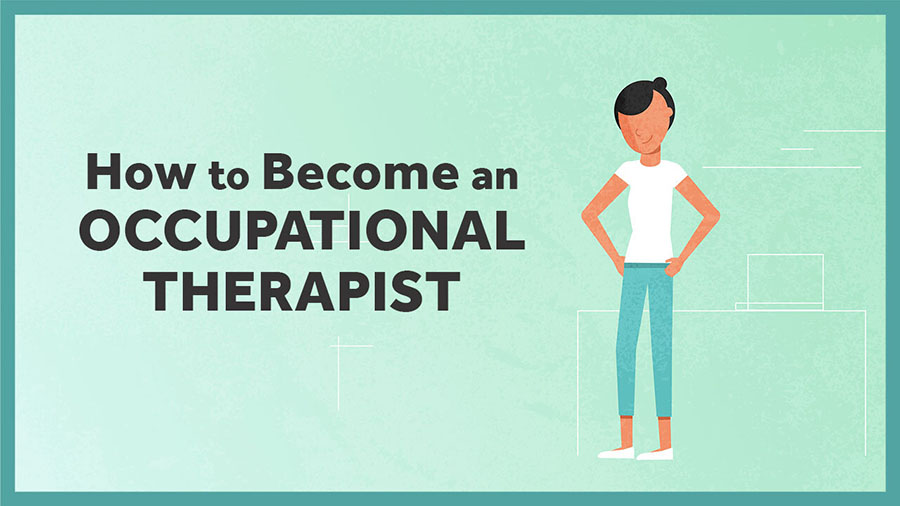 What type of education does an OT (or OTA) need?
An OT session might involve receiving treatment from both occupational therapists (OTs) and occupational therapy assistants (OTAs).
The main difference between the two is that OTs perform initial evaluations and create treatment plans, in addition to delivering your treatments. OTAs solely deliver treatments based on OTs' treatment plans.
Occupational therapists
The current entry-level degree for an occupational therapist is a Master of Science in occupational therapy. The credentials "MS, OT/L" or "OT/L" indicate this level of education. If your therapist has the credential "OTR/L," the R means he or she is also registered with our national accrediting agency. This registration is optional.
More and more programs have started offering a doctorate in occupational therapy, as well. The credential "OTD" indicates this level of education.
Prior to 2007, only a bachelor's degree was needed to practice as an occupational therapist. Those who obtained OT licenses before the educational standards increased were grandfathered into the licensing.
For more information on this career, please check out our guide to becoming an OT.
Occupational therapy assistants
OTAs earn associate's degrees from certified programs. From there, they must pass a national exam before practicing. Read here for a complete overview of their scope of practice.
Some OT departments also employ occupational therapy aides. These are non-licensed professionals who do not deliver OT treatments, but do help with daily operations of the department.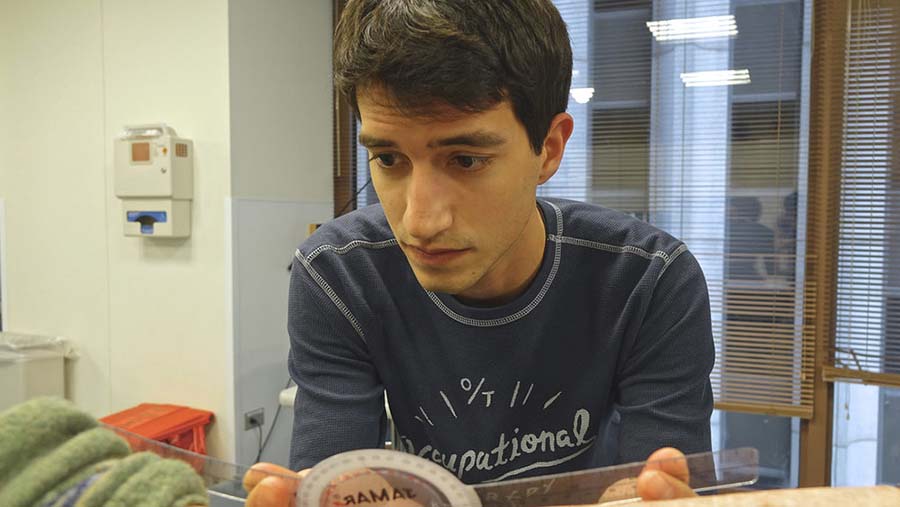 ---
Types of OT specializations
The scope of occupational therapy is very broad. For this reason, many practitioners opt to pursue advanced certification in specific areas of interest.
Common areas of specialization include:
Assistive Technology
Seating and Mobility
Aging in Place
Autism
Brain Injury
Hand Therapy
Lymphedema
Stroke Rehabilitation
Low Vision Therapy
Hippotherapy
Sensory Integration
One way to specialize is to earn an additional certification, which is usually denoted by additional letters following the occupational therapy designation. All of these letters can begin to look like an alphabet soup, even to fellow healthcare professionals.
The post "Where to Go with an OT Degree" gives you a more in-depth breakdown of the different areas and what it takes to obtain certification. I also have a post called "Your Guide to COTA Certifications and Specialties," which gives an in-depth look at where occupational therapy assistants can go with their own careers.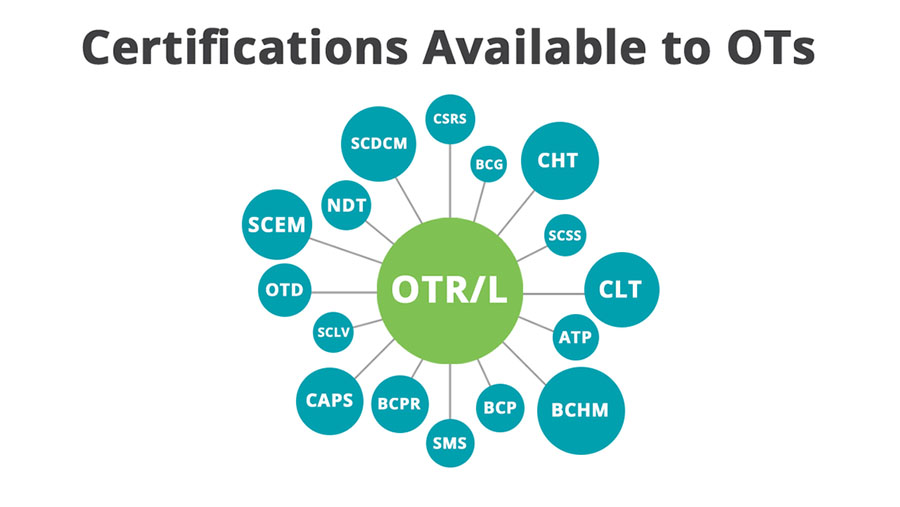 ---
Where do OTs work?
OTs address physical and mental health in clients across the lifespan—from newborns to older adults.
As you can imagine, this means we work in a number of different settings and locations.
To give you an idea of how the approximately 150,000 US occupational therapy jobs are distributed across settings, here are the percentages. This graph is derived from the AOTA 2015 Salary and Workforce Survey. (9,664 OT practitioners were surveyed.)
You can see that we most commonly work in hospitals, long-term care/skilled nursing facilities, schools, and outpatient clinics—but you'll also see us working in many other capacities.
Where OTs Work by % in Each Setting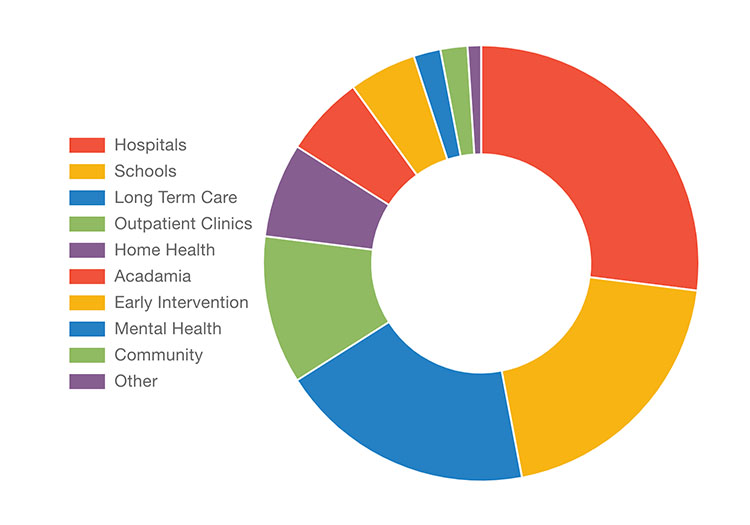 *Percentages derived from the AOTA 2015 Salary and Workforce Survey.
---
OT vs PT: What's the difference?
This is a great question.
Occupational therapists (OTs) and physical therapists (PTs) are quite similar in some ways, as both are rehabilitation professionals who strive to help patients return to their prior levels of function.
The key difference is that OT focuses more on the improvement of daily activities while PT focuses more on specific improvement of body movement(s).
You can think of a PT like a human body mechanic, and an OT as a guide to the reintegration into normal life.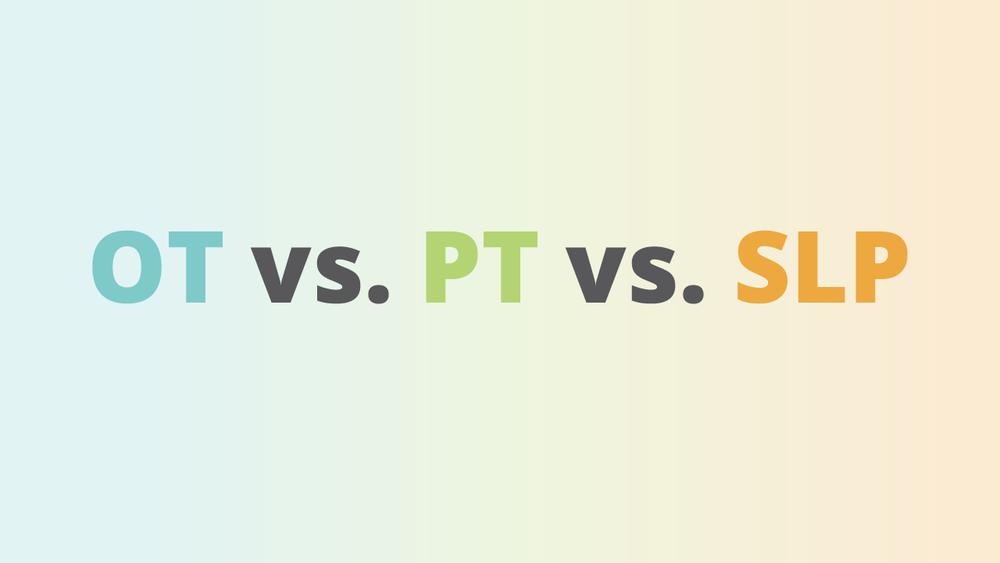 ---
Is OT supported by research?
The short answer is "yes." Research does back the efficacy of occupational therapy.
The longer answer: Right now, about 1,000 research articles come out per year containing occupational therapy. So, there is much for your therapist to draw on.
Each person is unique in their health and the challenges they face, so we always do our best to balance the science with close attention to each individual patient and their own individual needs. We call this evidence-based practice.
One of the easiest ways to find out about the evidence supporting the occupational therapy resources you are receiving is to ask your occupational therapist. I also have an article called "The 100 Most Influential OT Research Articles," which covers the most cited medical research articles that reference OT interventions.
There are several journals dedicated to sharing evidence about occupational therapy resources, including:
See our full list of OT journals here.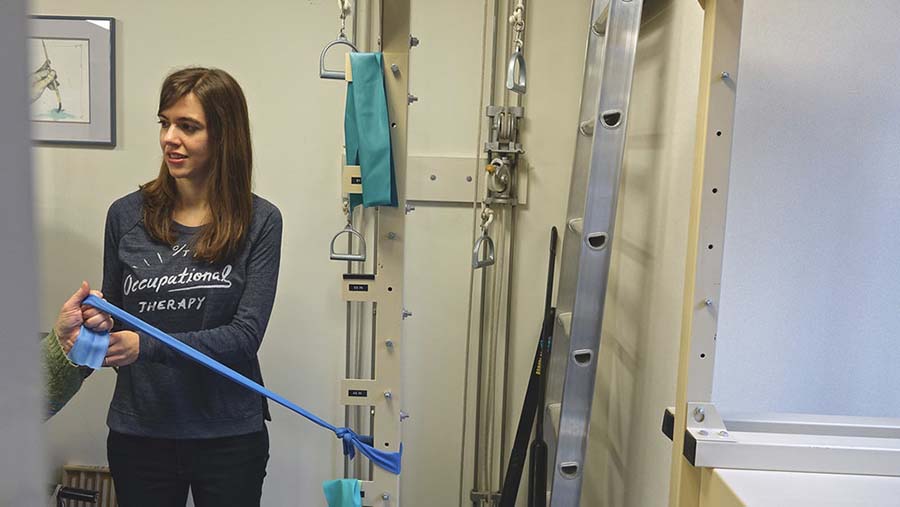 ---
How to celebrate occupational therapy?
Once you experience occupational therapy, you are probably going to want a day on the calendar to celebrate it. Well, don't worry! There are multiple days when you can do so:
World Occupational Therapy Day

– October 27th

Canada: Occupational Therapy Month

– October

UK: Occupational Therapy Week

– The first week of November

Argentina: Occupational Therapy Day

– September 10th

Mexico: Occupational Therapy Day

– July 5th

Australia: OT Week

– Starts the 3rd Sunday in October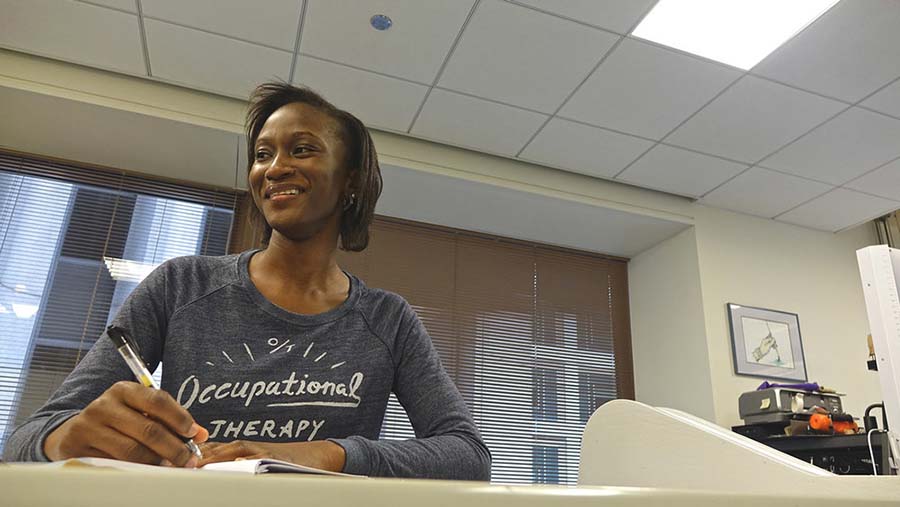 Where can I learn more about occupational therapy?
This page is geared toward occupational therapy within the United States, but occupational therapy is a globally strong profession. See the other resources below for more information about occupational therapy within your country:
Argentina | Australia | Austria | Bangladesh | Belgium | Bulgaria | Canada | Caribbean | Chile | Colombia | Croatia | Czech Republic | Denmark | Estonia | Finland | France | Germany | Greece | Hong Kong | India | Iran | Ireland | Japan | Jordan | Kazakhstan | Korea | Luxembourg | Malawi | Malaysia | Mexico | Morocco | Netherlands | New Zealand | Norway | Panama | Portugal | Romania | Singapore | South Africa | Spain | Sri Lanka | Sweden | Switzerland | Taiwan | Trinidad & Tobago | United Kingdom | United States |
There are many other countries that have occupational therapy associations, but do not have websites.
The World Federation of Occupational Therapists has 101 Member Organizations and represents approximately 550,000 occupational therapists around the world!
---
Conclusion
I hope this has flung the door wide open so you can explore the wonderful world of occupational therapy!
We are a unique profession filled with compassionate, dedicated men and women who devote their lives to helping you stay as engaged as possible in the activities that mean the most to you.