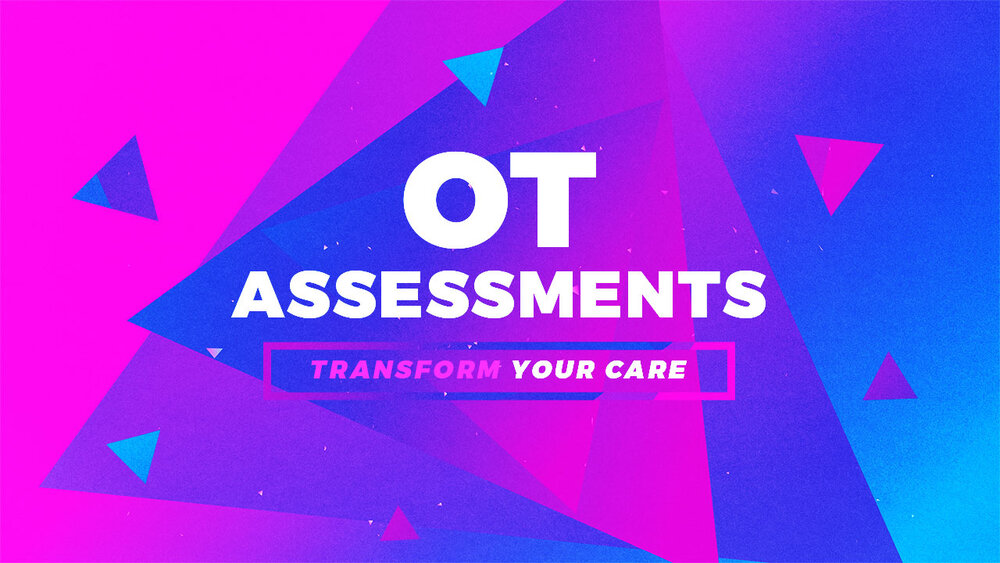 It's easy to fall into a rut with our clinical evaluations.
We're often inclined to use the same OT assessments we've used for years. That's understandable, as it's often easiest to simply defer to using whatever our facility has on hand.
But, there are more occupational therapy assessment tools out there than we realize. Many are disease- or condition-specific, and many approach the assessment process from different angles (top-down, bottom-up, questionnaire style, etc.).
The best part is that many of these assessments are FREE. 🙂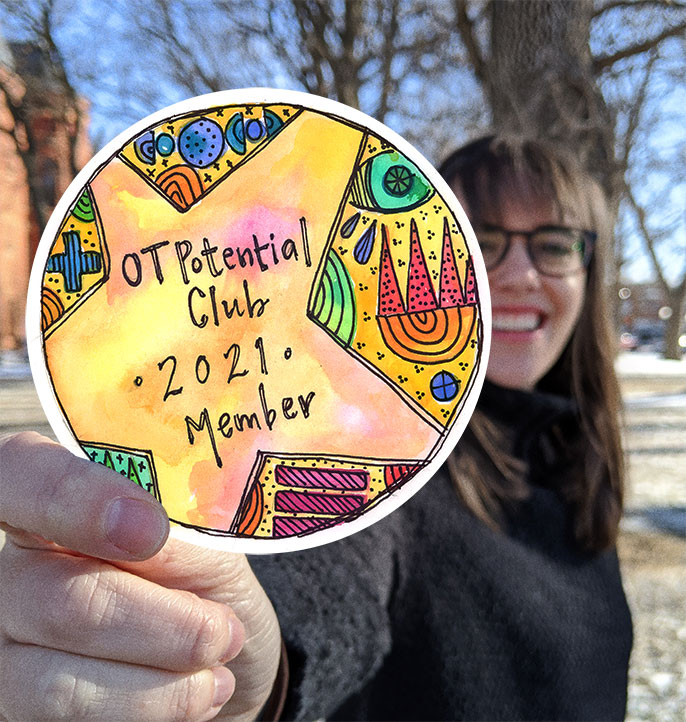 See how the OT Potential Club can elevate your OT evidence-based practice.
Weekly Research Reviews – Let us find and review the most influential research for you.
OT CEUs – Listen to monthly podcast-based courses on important research topics.
Community – Interact with passionate peers from around the world!
Our ultimate list of of occupational therapy assessments!
These assessments were either found in the in the research we've reviewed in the OT Potential Club, or were suggested by club members!
6-Minute Walk Test (6MWT)
9-Hole Peg Test (9HPT)
10-Meter Walk Test (10MWT)
30-Second Chair Stand Test
36-Short Form Health Survey (SF-36)
Aberrant Behavior Checklist | Second Edition (ABC-2)
ABILHAND-Kids
Action Research Arm Test (ARAT)
Activity Card Sort (ACS)
Addenbrooke's Cognitive Examination (ACE-III or ACE-R) – (The Short Form)
Agitated Behaviors Scale-Modified
Assessment of Life Habits (Life-H)
Assessment of Motor and Process skills (AMPS)
Assisting Hand Assessment (AHA)
Australian Pelvic Floor Questionnaire
Autism Diagnostic Observation Schedule™ (ADOS™) and Autism Diagnostic Observation Schedule™, Second Edition (ADOS™-2)
Barthel Index for Activities of Daily Living
Batten Observational Pain Scale (BOPS)
Bayley Scales of Infant and Toddler Development
Beck Depression Inventory (BDI)
Beery-Buktenica Developmental Test of Visual-Motor Integration | Sixth Edition (BEERY™ VMI)
Behavior Rating Inventory of Executive Function (BRIEF)
Berg Balance Scale (BBS)
Body Mass Index (BMI)
Borg Dyspnea Scale
Boston Carpal Tunnel Outcomes Questionnaire (BCTQ)
Box and Block test (BBT)
Brief Autism Mealtime Behavior Inventory (BAMBI)
Brief Confusion Assessment Method (bCAM)
Brief Pain Inventory (BPI)
Bruininks-Oseretsky Test of Motor Proficiency | Second Edition (BOT™-2)
Canadian Occupational Performance Measure (COPM)
Caregiver Strain Scale (CSI)
Center for Epidemiologic Studies Depression Scale (CES-D)
Children's Assessment of Participation and Enjoyment (CAPE) and Preferences for Activities of Children (PAC)
Children's Eating Behavior Inventory
Children's Sleep Habits Questionnaire (CSHQ)
Children Hospital of Philadelphia Infant Test of Neuromuscular Disorders (CHOP INTEND)
Children's Depression Inventory, Second Edition (CDI 2)
Clinical Assessment of Modes
Clinical Disease Activity Index (CDAI)
Clinical Global Impressions – Improvement Scale (CGI-I)
Cognitive Failures Questionnaire  (CFQ)
Confusion Assessment Method for the ICU (CAM-ICU)
Consultation and Relational Empathy (CARE) Measure
Dallas Pain Questionnaire
Dartmouth COOP Charts
DeCoste Writing Protocol (DWP)
Depression, Anxiety, and Stress Scale
Developmental Assessment of Young Children | Second Edition (DAYC-2)
Developmental Coordination Disorder – Questionnaire
Devereux Behavior Rating Scale (DBRS™)
Disabilities of the Arm, Shoulder and Hand (DASH)
Distress Thermometer
Edmonton Symptom Assessment Scale (ESAS)
European Quality of Life – 5 Dimensions (EQ-5D)
Expanded Disability Status Scale (EDSS)
Falls Efficacy Scale – International
Female Sexual Function Index (FSFI)
Four Square Step Test (FSST)
Frenchay Activities Index (FAI)
Fugl-Meyer Assessment of Motor Recovery After Stroke (FMA)
Functional Assessment of Cancer Therapy – Cognitive Function (FACT-Cog)
Functional Assessment of Cancer Therapy: General (FACT-G)
Functional Assessment of Chronic Illness Therapy – Fatigue (FACIT-F)
Functional Independence Measure (FIM)
General Health Questionnaire (GHQ)
Goal Attainment Scaling (GAS)
Grip Strength
Guy's Neurological Disability Scale (GNDS)
Hammersmith Functional Motor Scale Expanded (HFMSE)
Hammersmith Infant Neurological Examination (HINE)
Health Assessment Questionnaire- Disability Index
Hospital Anxiety and Depression Scale (HADS)
Independent Living Scales™ (ILS™)
Infant-Toddler Social and Emotional Assessment (ITSEA)
Jebsen-Taylor Test of Hand Function (JTTHF)
Katz Index of Independence in Activities of Daily Living (Katz ADL)
Kohlman Evaluation of Living Skills
Lawton Instrumental ADL Scale (IADL)
Little Developmental Coordination Disorder Questionnaire
London Handicap Scale (LHS)
MacArthur-Bates Communicative Development Inventories (MB-CDIs)
Manual Ability Measure (MAM-36)
Maternal Self-Efficacy Scale (MSES)
McMaster Handwriting Assessment Protocol (MHAP)
Mealtime Behavior Questionnaire (MBQ)
Medical Outcomes Study 36-Item Short-Form Health Survey (SF-36)
Melbourne Assessment of Unilateral Upper Limb Function (MUUL)
Miller Behavioral Style Scale (MBSS)
Mini-Cog©
Mini-Mental State Exam (MMSE)
Modified Ashworth Scale (MAS)
Modified Checklist for Autism in Toddlers (M-CHAT)
Modified Rankin Scale (mRS)
Montgomery-Asberg Depression Rating Scale (MADRS)
Montreal Cognitive Assessment (MoCA)
Motion Sensitivity Quotient/Test (MSQ/MST)
Motor Activity Log (MAL)
Motor Function Measure (MFM)
Motricity Index for Motor Impairment After Stroke
Movement Assessment Battery for Children | Second Edition Movement ABC-2
MS Quality of Life 54 (MSQOL 54)
Mullen Scales of Early Learning (MESL)
Multidimensional Anxiety Scale for Children | Second Edition (MASC 2)
National Institutes of Health Stroke Scale (NIHSS)
Non-Communicating Children's Pain Checklist (NCCPC)
Nottingham Extended Activities of Daily Living (NEADL) Scale
Nottingham Health Profile (NHP)
Nottingham Leisure Questionnaire (NLQ)
Occupational Performance History Interview-II (OPHI-II)
Pain Catastrophizing Scale (PCS) (child version and parent version)
Pain Self-Efficacy Questionnaire (PSEQ)
Parenting Sense of Competence Scale (PSOC)
Parenting Stress Index – Short Form (PSI-SF)
Parkinson's Disease Questionnaire – 39 (PDQ-39)
Participation and Environment Measure for Children and Youth (PEM-CY)
Participation Assessment and Recombined Tools (PART-O)
Peabody Developmental Motor Scales (PDMS)
Pediatric Confusion Assessment Method for the Intensive Care Unit (pCAM-ICU)
Pediatric Evaluation of Disability Inventory (PEDI)
Pediatric Pain Profile (PPP)
Pediatric Quality of Life Questionnaire (PedsQL)
Perceived Efficacy and Goal Setting System (PEGS)
Perceive, Recall, Plan, and Perform System (PRPP)
Personal Adjustment and Role Skills (PARS)
Pervasive Developmental Disorders Behavior Inventory (PDDBI)
Physical Function in the ICU – Scored (PFIT-s)
Pinch Strength
Preschool Confusion Assessment Method for the ICU (psCAM-ICU)
Preschool Language Scales | Fourth Edition (PLS™-4)
Quality of Upper Extremity Skills Test (QUEST)
Revised Upper Limb Module (RULM)
Richmond Agitation-Sedation Scale (RASS)
Rivermead Mobility Index (RMI)
Roll Evaluation of Activities of Life (REAL™)
Routine Assessment of Patient Index Data 3 (RAPID3)
Rowland Universal Dementia Assessment Scale 11 (RUDAS)
Saint Louis University Mental Status Examination (SLUMS)
Satisfaction with Life Scale (SWLS)
SCA Functional Index (SCAFI)
Scale for the Assessment and Rating of Ataxia (SARA)
Scale for the Assessment of Negative Symptoms (SANS)
Screen for Child Anxiety Related Disorders (SCARED)
Self-Efficacy for Managing Chronic Disease
Self Efficacy Scale
Self Perception Profile for Children (SPPC)
Sensory Integration and Praxis Tests (SIPT)
Sensory Processing Measure (SPM™)
Sensory Profile™ 2
Sharpened Romberg (SR)
Short Blessed Test (SBT)
Sickness Impact Profile (SIP)
Social Communication Questionnaire (SCQ) 
Social Responsiveness Scale™ | Second Edition (SRS™-2)
Spence Children's Anxiety Scale (SCAS)
Standardized Touchscreen Assessment of Cognition (STAC)
Stanford Chronic Disease Self-Efficacy 6-Item Scale (SSE) (SEMCD)
Stroke Impact Scale (SIS)
Symbol Digit Modalities Test (SDMT)
Test of Gross Motor Development (TGMD)
Test of Visual Perceptual Skills (non-motor) | Fourth Edition (TVPS-4)
Timed Up and Go (TUG) Test
Unified Multiple System Atrophy Rating Scale (UMSARS)
Unified Parkinson's Disease Rating Scale (UPDRS)
Vineland Adaptive Behavior Scales | Third Edition (Vineland-3)
WeeFIM
Wolf Motor Function Test (WMFT)
World Health Organization Disability Assessment Schedule 2.0 (WHODAS 2.0)
Young Children's Participation and Environment Measure (YC-PEM)
Assessments for OTs using telehealth
In light of COVID-19 and the shift toward offering virtual services, we have also gathered information on OT assessments for telehealth care delivery.
Introducing the brand-new OT Assessment Search
At OT Potential, we want to make it easy for you to deliver the best care possible. Over the last year, we have been gathering a list of standardized assessments that we found in influential OT-related research studies.
You will find these assessments listed below. Some of them will be familiar, but I suspect you'll also discover some new ones you'll be eager to integrate into your practice.
For members of the OT Potential Club, we took things one step further, compiling everything into a comprehensive OT Assessment Search. You'll be able to quickly find the perfect assessment to kick off your treatments.
For each assessment, you'll be able to quickly see:
Primary patient population
What it assesses
How much it costs
How long it takes to administer
If you need special training beyond your OT degree to administer it
Conclusion
Choosing the right assessment sets you up to provide great care—but finding the right one for your needs can be a challenge. At OT Potential, we seek to collect the scattered and hard-to-decipher information on various assessments and make it simple for you to find what you need in just a few clicks.
Please comment below with features you would like to see in The OT Potential Club Assessment Search, as well as your favorite assessments you think we should add to our list.
---
To get instant access to this growing database of OT-specific assessments, join the OT Potential Club!