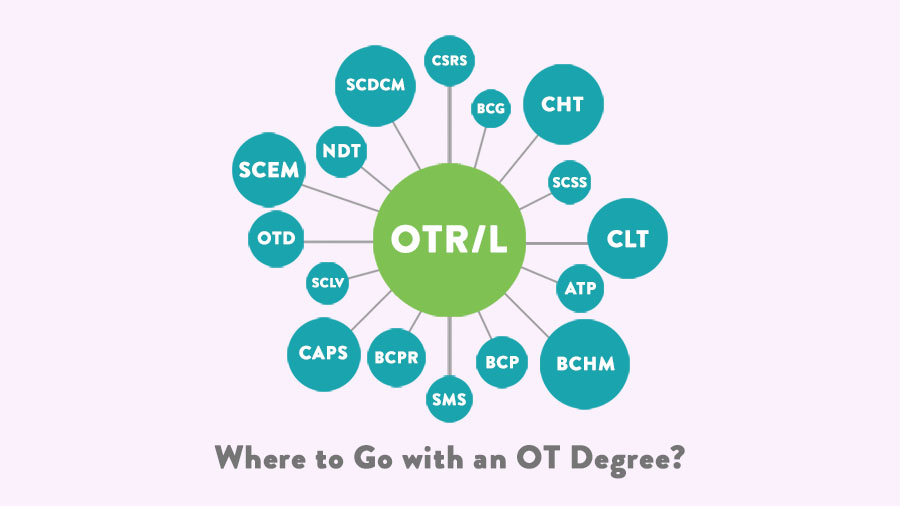 At OT Potential, we help you explore high-level OT evidence. And, we base our continuing education courses on this research. This means we end up covering a variety of topics each year.
But, there is also value in diving really deep into one particular topic, to obtain an advanced occupational therapy certification.
You'll find there are TONS of additional certifications out there, which allow you to hone your skills and master new techniques so you can better treat a wider variety of clients.
Below are the most popular OT certifications, both in pediatrics and adult-rehab. (This list will also be handy if you found this post trying to understand OT credentials!)
Try 2 Free CEU Courses!
⭐ AOTA-Approved ⭐
For each certification, I provide a ballpark figure of the amount of training and cost involved. (Please note that the figures are estimates.)
Regarding time for completion, I did not factor in the time needed to prepare for (nor take) the certification exam, as that would vary depending on the individual.
Before we dive in, here's a handy list so you can jump right to the one(s) that interest you the most. Otherwise, you can simply browse through the whole list at your leisure. 🙂
Links are not endorsements of certain programs. Please do your research if you decide to pursue a particular topic. The certifications' requirements actually change somewhat frequently, so this is intended to give you a ballpark figure of what each certification entails.
Author note: If you are an OTA, please check out my post Your Guide to COTA Certification and Specialities!
---
Assistive Technology Professional (ATP)
Thank goodness for the assistive technology professionals (ATPs) with whom I've consulted over the years. As an average OT, you will quickly discover that the world of assistive technology can be hard to keep up with when you are managing a busy caseload.
ATPs in North America are certified by RESNA. Certification requires:
Time:

1000 hours of work experience

Cost:

The application fee for the certification exam is $500

Renewal:

Every two years, $150 and documentation of related work experience and continuing education
For more information, visit RESNA's ATP info page.
Seating and Mobility Specialist (ATP/SMS)
A seating and mobility specialist (SMS) is a specialized ATP. I have worked with SMSs in wheelchair-related matters, and have relied heavily on their expertise in assessment, funding options, and follow-ups.
Prerequisite:

ATP certification

Time:

1000+ hours in seating and mobility-related service

Cost:

The application fee for the certification exam is $250
For more information, visit RESNA's SMS info page.
Aquatic Therapeutic Exercise Certification (ATRIC)
I was always jealous when our PTA headed off to the pool for aquatic sessions. It seemed like such a cool niche that OTs could also explore—so why not dive into the benefits of aquatic therapy with a certification of your own?
Prerequisite:

15 hours of aquatic therapy, rehab and/or aquatic therapeutic exercise education

Time:

Time to take the exam, as well as the 15 hours of prerequisites, if you don't have them

Cost:

There is a package for $675, Exam (onsite or online) $255

Renewal:

$49 (per renewal year)
For more information, visit the Aquatic Therapy and Rehab Institute website.
Basic DIRFloortime Certification
As a refresher, DIR stands for The Developmental, Individual Difference, Relationship-Based Model. Floortime is Dr. Stanley Greenspan's framework for understanding play. This certification prepares clinicians to develop a DIRFloortime intervention program tailored to the unique challenges and strengths of children with Autism Spectrum Disorders (ASD) and other developmental challenges.
Following the basic training, there are additional tiers of certification. You can read about those here.
Time:

40 hours for two courses

Cost:

$868 (for certificate and two courses)
For more information, visit the DIRFloortime info page.
Neuro-Developmental Treatment Certification (C/NDT)
NDT is a hands-on approach based on movement analysis, and is most commonly utilized with adults who have sustained strokes or other brain injuries. NDT is also effective on children with cerebral palsy and other neuromotor disorders.
Prerequisite:

Must be a member of the NDTA (Cost: $105/year)

Time:

Completion of a certification course, which can be completed in two weeks (or over a series of weekends).

Cost:

Courses range from $2,500-3,000
For more information, visit the NDT certification info page.
Certified Autism Specialist (CAS)
If you regularly work with clients who fall on the autism spectrum, this certification is one way to demonstrate that you have continued education in the area of autism, and have achieved competency standards.
Prerequisite:

Two years working as an OT (or 10 years, if you don't have a master's degree or higher)

Time:

14 CEU hours related to autism

Cost:

Registration fee for the exam is $495

Renewal:

$199, every two years
For more information, visit the CAS information page.
Certified Aging in Place Specialist (CAPS)
If you're like me, you've probably recommended a home modification without a full understanding of what its implementation would entail.
The CAPS certification signifies training in design, marketing, and business management—all of it being related to helping seniors age in place. The certification entails:
Time:

Three day-long courses (Cost: $330)

Cost:

$218 graduation fee

Renewal:

$83 annual renewal fee and 12 hours of continuing education every three years to maintain certification
For more information, visit the CAPS information page.
Certified Brain Injury Specialist (CBIS)
If you regularly work with patients with brain injuries, joining The Academy of Certified Brain Injury Specialists might be a worthwhile endeavor. A nice added perk for all new (paid) applicants includes a one-year subscription to the Journal of Head Trauma Rehabilitation—a $130 value!
Time:

500 hours of direct contact experience with individuals with brain injury—and completion of training or self-study.

Cost:

Application for the certification exam is $300

Renewal:

$60 annually
For more information, visit the CBIS certification info page.
Certified Diabetes Care and Education Specialist (CDCES)
This certification will be most beneficial to practicing OTs who work in primary care or community health, as a CDCES specializes in pre-diabetes and diabetes prevention and management. There are also a few roles in the acute care setting where this certification is very helpful for landing a non-clinical OT role as a diabetes educator.
Prerequisite:

Two years of OT practice

Time:

A minimum of 1,000 hours providing diabetes care and education (DCE) earned within the 5* years prior to your application date, with a minimum of 20%* of those hours (200* hours) accrued in the most recent year preceding application.

Cost:

$350 for application fee. Cost of continuing education not calculated due to variability.

Renewal:

Every five years, 75 hours of continuing ed. Cost is $250
For more information, visit the CDCES certification info page.
Certified Ergonomics Assessment Specialist (CEAS®)
If you're considering a career in ergonomics, you might want to pursue the CEAS. It's one of the more recognizable ergonomic certifications, and you can opt to stop at level i or work all the way through level iii. Many practitioners stop at level i, which certifies the ability to perform basic ergonomics analyses on multiple task jobs in office, industrial, and healthcare environments. You'll learn to use the OSHA ergonomics assessment tools: W-1, D-2, and WAC.
Time

: Live two-day workshop or online (self-paced) formats. The online format has a 90-day window.

Cost

: $475 for level i.
For more information, visit the CEAS certification info page.
Certified Hand Therapist (CHT)
The OTs I know who hold this specialty identified that they wanted to pursue hand therapy early in their careers. Due to the amount of hours required, this is not a certification that you stumble into. You can practice hand therapy on a basic level with your OT degree, but a CHT certification will set you apart in terms of obtaining referrals. Basic requirements include: 
Prerequisite:

Three years of experience as an OT

Time:

4,000 hours of direct practice experience in hand therapy

Cost:

The application for the certification exam is $500

Recertification: You can recertify with professional development hours, or by retaking the certification exam.
For more information, visit the Hand Therapy Certification Commission's info page for CHT.
Certified Industrial Ergonomic Evaluator (CIEE)
This certification is a lesser-known alternative to CEAS. However, if you're specifically interested in industrial, warehouse, and manufacturing ergonomics, you might want to opt for this cert instead. It is a great springboard to landing work in industrial rehabilitation and work hardening.
Time:

Three-day course (either in-person or online)

Cost:

$900 for course, $250 for application

Renewal:

Every four years, $250
For more information, visit the CIEE certification info page.
Certified Industrial Rehabilitation Specialist (CIRS)
The CIRS is similar to the prior certification (CIEE), but focused more on the rehabilitative side of things. This cert is a great pick if you're looking to implement or enhance a full industrial rehab or return-to-work rehabilitation program!
Time:

Three-day course (either in-person or online)

Cost:

$975 for course and $350 processing fee

Renewal:

Every four years, $350
For more information, visit the CIRS certification info page.
Certified Kinesio Taping Practitioner (CKTP)
If you love that colorful tape, a CKTP certification is a great way to incorporate Kinesio Taping into your practice with full confidence. Through the certification process, you can specialize in: Neurological Concepts, Sports Orthopedic Concepts, Myofascial Massage Concepts, Lymphatic Concepts, Pediatric Concepts and Hand Therapy Concepts. This certification is also available to OTAs!
Time:

Four eight-hour courses

Cost:

$1,049

Renewal:

Annual membership in Kinesio Taping Association International is required ($49/year)
For more information, visit the CKTP info page.
Certified Living in Place Professional (CLIPP)
The course teaches the skills to help make homes accessible, comfortable, and safe for everyone—regardless of ability. CLIPP-certified professionals perform comprehensive home assessments, enabling them to identify and offer solutions for home accessibility and safety.
Prerequisites:

There are some requirements for those pursuing CLIPP, including five years of prior work experience, liability insurance, etc.

Time:

Two-day course followed by an examination

Cost:

$999 (there may be scholarship funds or savings for members of trade associations; also a $50 early-bird registration discount)

Renewal:

$85 per year
For more information, visit the CLIPP info page.
Certified Lymphedema Therapist (CLT)
In the SNF setting, I practiced basic lymphedema management under the close supervision of a CLT. However, the opportunity to serve more clients by expanding my expertise was apparent. There are many CEUs out there about lymphedema management, but to become a full-fledged CLT, it will involve:
Time:

135 hours of instruction

Cost:

$3,000

Recertification:

There's a pretty involved, two-part recertification process, details of which are on the info page linked below.
For more information, visit the Norton School of Lymphatic Therapy's info page.
Certified Low Vision Therapist (CLVT)
The CLVT uses functional vision evaluation instruments to assess vision impairment and address disability. CVLTs will look at visual acuity, visual fields, contrast sensitivity function, color vision, stereopsis, visual perceptual and visual motor functioning, literacy skills in reading and writing, etc.
Prerequisites:

Verification from CLVT supervisor that the applicant demonstrates basic competency in all core domain areas

Time:

350 hours of discipline-specific, supervised practice

Cost:

Eligibility, exam, and certifications fees amount to $680
For more information, visit the Academy for Certification of Vision Rehabilitation and Education Professionals' CLVT info page.
Certified Neuro Specialist (CNS)
Created by OT, PTs, and assistants, the CNS Certification Course is an in-person advanced-level continuing education course that introduces evidence-based interventions for the stroke and brain injury population. This course is intended to educate and equip healthcare practitioners with the certifiable knowledge and skills to provide effective interventions based on current, high-level evidence.
Time:

36-hour, see website for course dates

Cost:

$895

Exam:

Participants must complete an in-person certification exam and receive a passing score of 80% in order to obtain the certification credentials of "CNS."

Recertification:

After the initial four year certification period, a renewal application and application fee ($65.00) is required to maintain certification status every four years. Individuals must provide documentation of continuing education (CE) requirements (24 hours total)

.
Certified Psychiatric Rehabilitation Practitioner (CPRP)
The CPRP credential is for professionals who work in adult psychiatric settings and wish to stay up-to-date on best practices for serving adults with severe and persistent mental illness. The test provides credentialing, and also demonstrates competency in best practices.
Prerequisite:

Work experience must be in a psychiatric rehabilitation/recovery-oriented environment, and must have involved serving adults and transition-age youth (ages 16+ years) with serious and persistent mental illness

Time:

45 training hours that relate to the seven practice domains of psychiatric rehabilitation

Cost:

Exam fees amount to $495

Renewal:

Every three years, 45 contact hours, $245
For more information, visit the CPRP info page.
Certified Driver Rehabilitation Specialist (CDRS)
If you've always wanted to become a driver rehabilitation specialist—or you're already working in driver rehab, but want a few extra letters to validate your skills—take the wheel and apply for certification through the Association for Driver Rehabilitation Specialists.
Time:

1,664 hours of experience providing direct driver rehabilitation services

Cost:

Examination fee is $550
For more information, visit the CDRS info page.
Certified Hippotherapy Clinical Specialist (HPSC)
It takes the right setup to provide hippotherapy, but for occupational therapists who have experience with horses—and access to the necessary facilities—this is a great opportunity.
Prerequisites:

At least three years of full-time—or the equivalent (6,000 hours)—experience as an OT AND two years of experience riding horses

Time:

A minimum of 100 hours of one-on-one direct treatment in hippotherapy practice within the three years prior to certification application deadline

Cost:

The cost for applying for the certification is $375

Renewal:

Every five years
For more information, visit the Hippotherapy Certification Board's info page.
Lee Silverman Voice Treatment- BIG (LSVT BIG)
Don't be thrown off by the name. LVST treatment is for people with Parkinson's disease. While the program began with a focus on voice treatment, it now includes a BIG certification that focuses on utilizing "bigness" of motions to improve overall movement quality. This certification can be completed completely online!
Time:

Online workshop, approximately two days 8am-5pm

Cost:

$580 for the workshop
For more information, visit LSVT Global's certification info page.
Physical Agent Modalities (PAM) Certification
Many states do not consider PAM application to be an entry-level skill, so it in important to look-up whether PAMs are covered within your license or if you need an additional certification.
As for my experience, when I first started working, my COTA was certified in PAM and I was not. As the requirements vary from state to state, the ongoing training hours and costs will vary as well. Here is one example of a course:
Time:

Two-day course

Cost:

$600
For more information, visit PAMPCA's PAM information page.
Skills2Care® Certification
I have heard great things about the Skills2Care Certification, which is designed by occupational therapists for OTs who work with people with dementia. The certification trains you in home program that improves well-being and skills of family caregivers, slows decline in daily functioning of persons with dementia, and reduces challenging behaviors that can trigger nursing home placement.
Time: 30 hours (self-paces and online)
Cost: $2,200
Renewal: Every 2 years
---
AOTA-sponsored certifications
AOTA Board Certifications are offered in the areas of…
Gerontology (BCG)
Pediatrics (BCP)
Physical Rehabilitation (BCPR)
Board certification in these practice areas is awarded through the AOTA.
Requirements include:
Three years of experience as an OT
3,000 hours in any capacity in the certification area in the past five years
500 hours of delivering OT services as a OT in the certification area in the past five years
An application and exam
Renewal after five years
For more information about AOTA's board certifications, visit their info page.
From what I can tell, these certifications also used to be available, but new applications have been phased out. OTs may still carry these credentials:
Mental Health (BCMH)
Driving and Community Mobility (SCDCM)
Environmental Modification (SCEM)
Feeding, Eating, and Swallowing (SCFES)
Low Vision (SCLV)
School Systems (SCSS)
---
Obtaining your post-professional OTD or related degree
If you look at the list of certifications above and none seem to provide the growth you are looking for, then another route to consider is obtaining another degree. Pursuing another degree is a big decision, and so we've dedicated a whole post to explore your options: Which OT Degree? (OT, OTD, PPOTD & More!)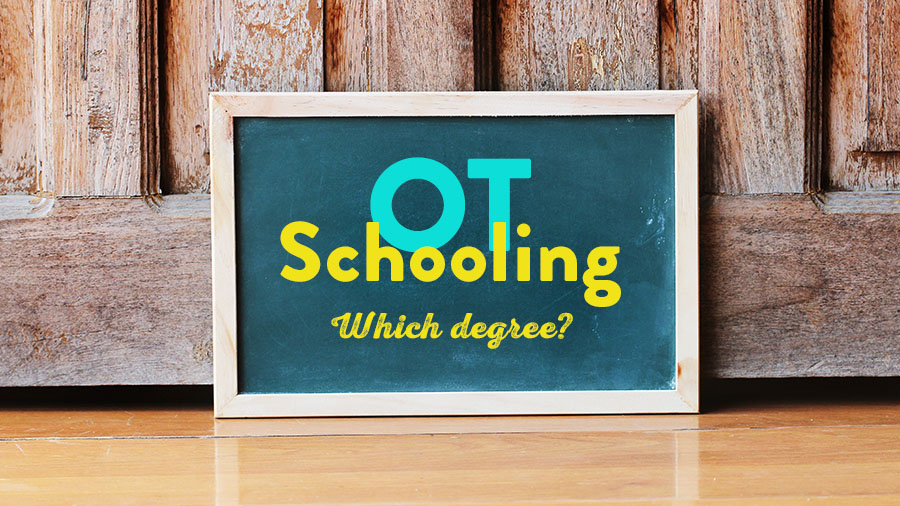 ---
Conclusion
There is so much to learn about the different conditions and treatment techniques that can enhance our delivery of occupational therapy. I hope this article has inspired you, and given you concrete information for exploring which certifications/specializations will best help you grow your career.
I know for many of us, choosing whether to pursue one of these certifications will come down to time and money. We definitely recommend doing ample research. A great way to hear from OTs in different practice areas is the check out our OT Potential Podcast episodes! Best of luck in your decision making!