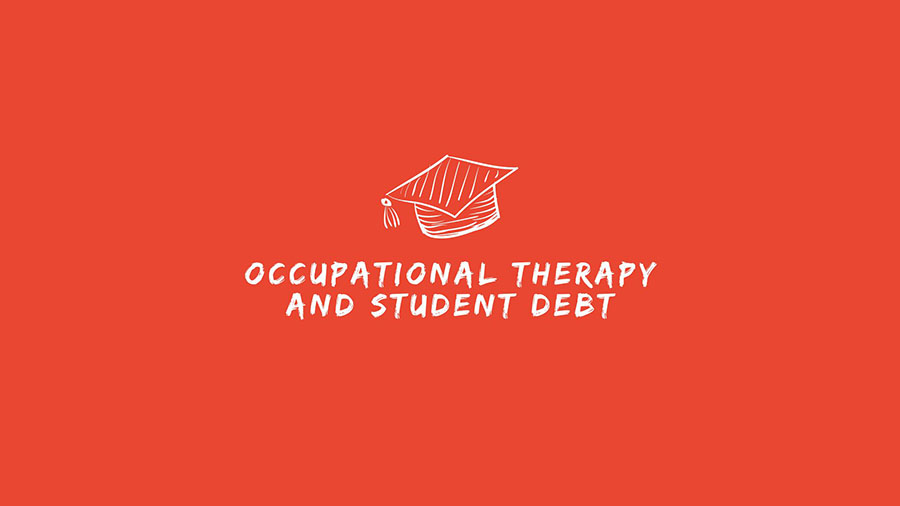 If you've graduated from occupational therapy (OT) school, congratulations!
If you're just beginning your journey, it's worth it.
No matter where you are in the early stages of your OT journey, debt is a major problem for many of us along the way.
It is common knowledge that student debt is a massive problem in today's economy. According to the Federal Reserve's report on Consumer Credit G.19 (2023), the total outstanding student loan debt in the US was $1.76 trillion. That number seems hard to fathom, yet it's nearly tripled in only the last decade.
I've personally struggled with debt, but in the last two years, I've lived most of what's written below with success. I still have student loans, but I will finish paying mine off this year. With strategic planning, I doubled my OT salary. However, rather than let it go to waste, I also followed a budget with intensity to maximize every dollar. My goal in this article is to share what I've learned and help you enjoy your OT career and become debt free as soon as possible.
How much debt is "normal" for OTs to take on?
Unfortunately, there isn't great data out there on the average amount of OT debt.
But, there are some helpful benchmarks.
The American Physical Therapy Association has taken a lead in understanding student debt. If you dig into their report you will find this key paragraph:
"Nearly 93% of recent physical therapist graduates are carrying debt, at an average of $152,882 for all debt except mortgages. For 90% of these PTs, that amount includes considerable outstanding balances in education-related loans; the average amount is $142,489. Broken out even further, for 89% of PTs with education debt, most of that amount (80%) is attributed to loans for their PT education, the average balance being $116,183."
This is a lot of debt. Luckily, we can assume that the average OT debt is lower than this, as we have the option to practice with a Master's degree, which means less school.
But, smaller pools of data definitively point to the reality that some OTs end up with an even higher amount of debt than the PT average. Recently, Student Loan Planner shared that the occupational therapists they work with have around 200k in debt.
To be honest, these high numbers will lead to an imbalanced debt-to-income ratio. So, let's look at 3 steps to managing your debt.
Try 2 Free CEU Courses!
⭐ AOTA-Approved ⭐
3 Steps to Managing Your OT Debt
Step #1: Take On Less Debt From the Beginning
An old proverb goes, "The best time to plant a tree was 20 years ago. The second best time is today."
The road to managing your OT debt begins with shopping for a cost-effective program. I also suggest that you deeply consider the difference between an MOT and OTD program, as this will be a major cost factor.
Unfortunately, there is no perfect advice on the trade-off between affordability and program quality. There is a general rule that one should not go further into college debt than one stands to make after graduation as an annual income. If the average income of an OT is around 86K, that is a good point of reference.
Consider becoming a COTA first
Often technical colleges can provide an affordable COTA program. There are an increasing number of online and bridge programs for COTAs to advance their education without having to restart at the University, depending upon the program and style, it's possible to continue working for part of the program to offset costs should you want to pursue advancing your degree.
Consider your hospital scholarship programs
Most major hospital systems have scholarships for bridge programs or continuing education. More often these programs are designed for certified nursing assistants on the track to becoming registered nurses, but there can be hidden opportunities. Don't forget that just because it's not stated, doesn't mean you can't ask.
Consider all scholarships
Many scholarships go unclaimed each year because students are not aware of them or do not take the time to apply. Researching and applying for scholarships that match your qualifications and interests, and applying for multiple scholarships, can increase your chances of receiving one.
General scholarship options:
OT-specific scholarship options/info:
Step #2: Create a Plan to Pay Off Your Student Debt
Assuming pay-as-you-go didn't cover all of your expenses, don't wait to start planning to pay off your student debt. It's difficult to feel like you're on your last mile simply to reach graduation and see the goal-post move.
After passing the NBCOT, and getting your first job, life keeps going. It's hard to focus on student debt with auto loans, mortgages, and that dentist bill that bites you when you least expect it. While you may not please your dentist by flossing to perfection, budgeting may need to be your highest priority. As Charles Duhigg (author of the Power of Habit) describes, the cascade effect of targeting a high-priority habit like budgeting can cascade into a positive effect on all the other stresses in your life.
Set a budget
Budgeting may not increase your annual income, but it may increase the amount of financial power you have to make decisions.
As Dave Ramsey says: "live like no one else, so later you can live like no one else."
According to Financial Independence, Retire Early (FIRE) movement, cutting expenses is one of the first strategies for doubling up your efforts to pay off debt.
There are so many budgeting tools out there, take time to find the one that you can stick with.
Consider loan forgiveness options
Public Service Loan Forgiveness (PSLF)
This topic deserves a detour. A highly debated, controversial, and changing situation according to the White House. I highly recommend you read and research this for yourself. Yet to summarize, the program initially allowed for certain professionals such as occupational therapists to work for qualified non-profit organizations for 10 years and have the remaining balance of their federal student loans forgiven IF they made 120 monthly payments.
Yet, many found out that only after 120 payments, they did not qualify. Often this was due to having consolidated their eligible loans with their private loans thereby disqualifying them, or by working for a non-profit that was not eligible for PSLF in the first place. As of 2023, the current US government administration is overhauling and modifying these programs which could be quickly outdated minute by minute with new information.
Income-Driven Repayment Plans (IDR)
If one qualified for PSLF, then one could also qualify for IDR, which is especially useful for those new graduate OTs beginning with a lower salary. If an OT graduate had $60K in federal debt, they may have payments near $600 a month, with IDR the qualifying payments could be reduced to $100 depending on total household income.
Other options include the:
Consider negotiating with your employer
When it comes to paying off student loan debt, it's important to explore all of your options. One strategy that may be worth considering is negotiating with your employer. Even if you qualify for the Public Service Loan Forgiveness (PSLF) program, it may be worth considering working for a for-profit organization that is willing to assist you in paying off your student loans.
By taking the time to do a little bit of math and weighing your options, you may find that the added financial assistance from your employer outweighs the benefits of PSLF. Remember, any help you get in paying off student loans will be beneficial and may help you to become debt-free faster. Furthermore, It is always important to keep an open mind and consider different ways to tackle your student loan debt to make the best financial decision for your current situation. But, please don't forget to negotiate.
Find the right financial advice for you
Don't wait to begin searching for a financial advisor, or two! There are a variety of places to look for additional advisors such as your employer, your alma mater, or the local library.
Here are a few more options that may be helpful for occupational therapists looking to manage their personal finances:
Step #3: Keep Increasing Your Revenue
In finance, offensive strategies refer to tactics used to actively generate more revenue, as opposed to defensive strategies. As an occupational therapist, there are several offensive strategies you can use to increase your revenue. Negotiating a raise is notoriously tricky, it may be time to consider something new.
Consider PRN or extra work
There are often ways in which OTs can improve their income beyond the average. For starters, try PRN positions. Pick up extra hours, or consider the higher paying positions until after student loans are paid off. Often OTs are guilty of being bleeding hearts, but the crushing debt on our shoulders ultimately affects our emotions which can affect our practice. Let's get this out in the open: It's not wrong to be financially motivated. Especially if it puts us in a financially free place to do that pro bono work you always dreamed of.
Often PRN positions may pay higher. For example, if the full-time OTs in a setting make $30-40/hour, you may be able to make $45-60/hour. Be sure to monitor your area for new OT PRN jobs. It never hurts to know what is out there.
Consider Travel Therapy
Travel therapy often requires negotiation for rates, however, travel therapy remains a fantastic opportunity to increase your pay. Especially useful for broadening your experience to a variety of settings and places. Beginning a new salary position, the common etiquette is to hold a position for two years. Typically, there may be hiring bonus stipulations that require two years of service. However, with travel therapy, you can try out different settings with diverse patient populations before anchoring down in any facility or specializing.
Aside from work, traveling itself creates the opportunity to visit places that tend to be near vacation destinations and state parks in the southwest. For more information, check out: The Scoop on Travel OT.
Consider being an entrepreneur
Additionally, entrepreneurial options may be the option for you. Try connecting with other therapists to mentor you. Private practice is risky, but the payoff may be worth it.
Or if you are the Robert Kiyosaki (Rich Dad, Poor Dad) type, leveraging your background as an OT may give you an advantage in real estate from an accessibility perspective. Airbnb and rentals are often in dire need of accessibility features. Try renting out a room: If you have an extra room in your house, consider renting it out to help cover your expenses and pay off debt faster.
Summary
Proper planning is crucial for achieving financial stability and paying off debt.
Many individuals make poor financial decisions simply due to a lack of knowledge about alternative options. While managing your finances and paying off debt may take time and effort, there are steps you can take today to increase your income potential.
You can improve your financial situation by actively seeking out job opportunities that align with your career goals and offer higher earning potential. For more information on occupational therapy salary, be sure to check out the Occupational Therapy Salary Guide.
What resources have helped you on your financial journey? Please, share below!