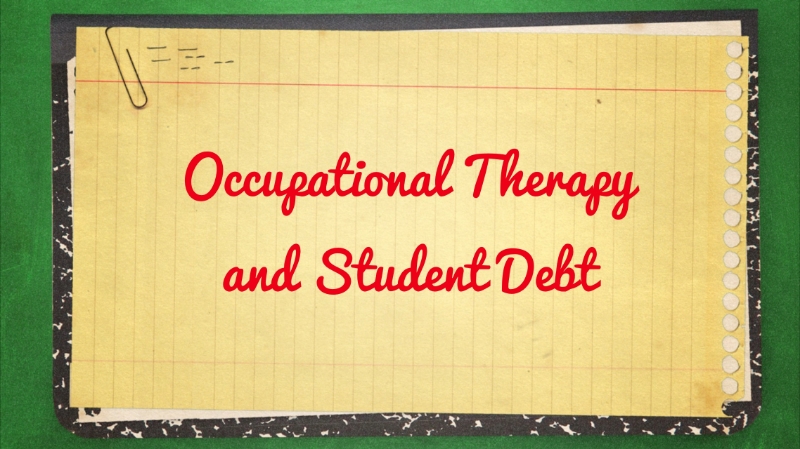 An occupational therapy degree can be a great investment. Most importantly because you get to spend your time helping people participate in meaningful activity.
But, just because the work is great, doesn't mean the debt can't weigh you down.
I was able to pay of my OT debt fast and I'm so grateful for the freedom this has afforded me. I've been able to take the jobs that I'm most passionate about versus the ones that pay the most. I've also been able to take on the risk of starting this website.
Below is my best advice for managing occupational therapy debt, divided into three categories. The last section is in the form of an interview with Nicole Lamoureux, Vice Chairperson to the AOTA Assembly of Student Delegates Steering Committee.
---
3 Steps to Managing Your OT Debt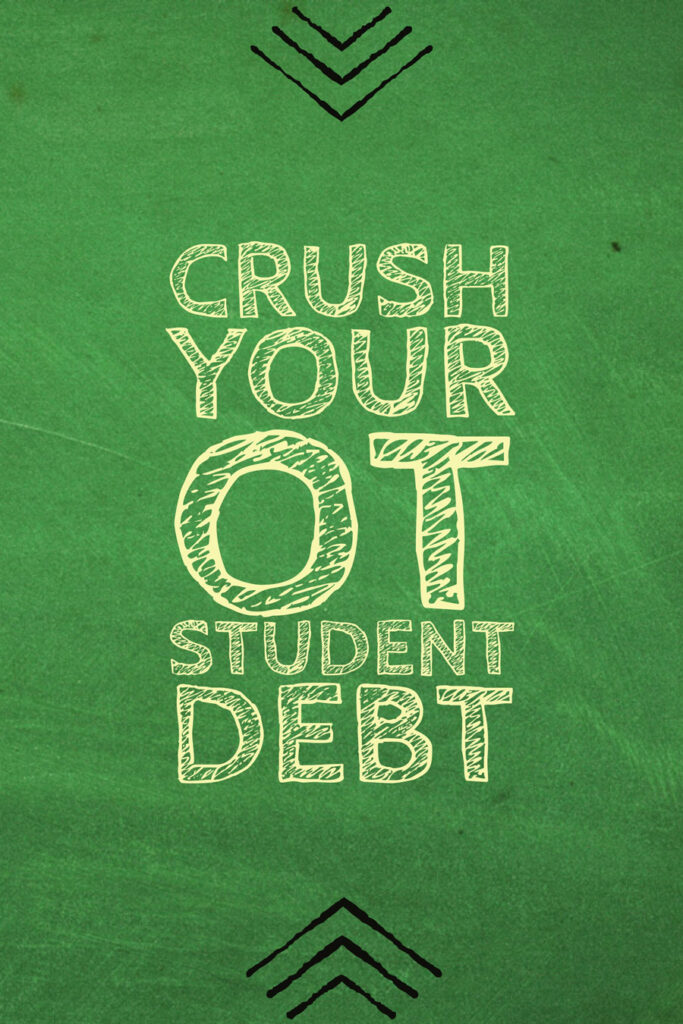 1.) Take on Less Debt
Limiting your debt is the first step to managing it. The large numbers can seem abstract in the beginning, but as you are making monthly payments the reality of each dollar becomes all too real.
Consider Being a COTA
If controlling debt is important to you, becoming a certified occupational therapy assistant is a great avenue to explore. I've worked with amazing COTAs and can testify to the difference they make for patients. I would recommend this career to someone who is interested in spending lots of time with patients, without taking on many additional responsibilities.
Only Get a Masters
If heading up research projects or becoming an OT professor is not in your future, a masters degree is often sufficient. With a masters degree, you will likely be able to compete for the same jobs and same salary as those who have a doctorate.
Focus on Getting a License; You Can Always Specialize Later
One way to approach your education would be to focus finding a school that is close by and affordable. Don't make a cross country move to attend an expensive school, just focus on getting your license. All OT programs will help you meet licensing requirements. Your local program may not focus on your particular area of interest in OT, but you can compensate by taking continuing education later to specialize in your area of interest, as your finances allow.
Apply for All the Scholarships
I remember my senior year of college as one of the busiest times of my life, mostly because my emotions took up so much time and energy 🙂  I did apply for some scholarships, but wish I had invested even more time in exploring options. Look into options from your school, your region and national programs.
I hope to build a list of OT scholarships here, so if you know of one please leave it in the comments:
2.) Start Crushing Your Debt as Soon as You Graduate
To avoid years of accruing interest, make a plan to pay your debt off fast. It can be tempting once you land your first job to simply enjoy getting paychecks, but the first years out of school are the absolute best time to hit your debt hard.
Explore Loan Forgiveness Options
If I had been a better planner, I would've applied for one of the many opportunities to gain loan forgiveness by participating in awesome work opportunities (win-win) like the peace corps, americorps, the army, the navy, the airforce, and the Indian Health Service. You can also look into the Public Service Loan Forgiveness (PSLF).
Also, ask your employer about loan repayment options. At my first job, they offered to set aside $2000 before taxes for loan repayment, but I negotiated to have the maximum amount of $6000/year. Every little bit helps!
Start Working Right Away
ABC Therapeutics has a great post about the factors you should consider when taking your first job (Think: The people who need you the most may not be able to pay you the most.) I hope that many of you are able to take your dream job right out of school.
But, if you don't, that's OK. Get to work and start paying off your loans anway. I lived in a region where there were no job openings in my preferred area of mental health, so I took some good paying hospital OT jobs. I learned so much on these settings and really solidified my skills. When a mental health job did open up in my area, I applied and found my physical rehab skills invaluable. Plus, even though the mental health job paid significantly less, I was able to swing it financially because I had already paid off my debt with my higher paying hospital jobs.
Take on an Additional PRN Job
It can be very difficult to work on the weekends when you've put in a full week. But, PRN work is probably the best way to supplement your salary. If you are looking to earn money fast in the first few years, this is the most sure-fire way to have each hour of your work pay off. AND the pay off is often pretty good. PRN jobs usually pay around 1.5x times as much as the full-time wage. For example if the full-time OTs in that setting make $30/hour, you may be able to make $45/hour.
I am constantly monitoring my area for new OT PRN jobs. It never hurts to know what is out there.
Continue to Live Like You Are a Student
Once you leave the classroom it is tempting to leave the student life-style behind. You may want to upgrade your car, say goodbye to roommates and get your own place, or invest in some luxury items you had to forgo during the financially-tight student years.
But, once you upgrade your life-style it is very hard to go back. Don't leave your thrifty habits from your student years behind too quickly. If it is at all possible, keep living on that budget even once the paychecks start rolling in.
Explore Entrepreneurial Options
This category option is the riskiest so I recommend it tentatively. There are students who take on entrepreneurial efforts immediately out of school. Some try to earn money through on online business or private practice. I know of a few cases where people have been successful at this.
If you feel the entrepreneurial spirit, I suggest connecting with other therapists to mentor you.
3.) Pay Attention to the National Conversation
Occupational therapists aren't the only ones talking about debt. As education price continue to rise, debt is becoming an increasingly hot topic. I am not en expert in this area, so I caught up with Nicole Lamoureux, who just completed an advocacy trip to Washington to learn more about the conversation that is happening on the national level.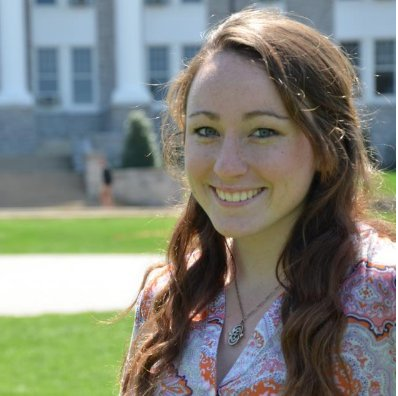 Nicole Lamoureux, MOT, OTR is a recent graduate from James Madison University and new practitioner with Novant Health. She is passionate about student issues and enjoys speaking to OT students in her role as OT Vice Chairperson to the AOTA Assembly of Student Delegates Steering Committee.
Nicole: On February 26, 2015, I had the pleasure of representing OT in an interprofessional health care group to lobby on Capitol Hill for a cause that affects each and every healthcare discipline in the United States. Our group comprised of student leadership from nursing, physician assistants, pharmacy, medical students, and occupational therapy.
We were successful in attending 12 appointments with senators and representatives from Virginia, California, North Carolina, Tennessee, and Maine.
Overall, our primary message was well received: As the need for more health care professionals continues to grow, the cost of undergraduate and graduate health program tuitions continue to skyrocket. This trend is alarming. According to the Association of American Medical Colleges, on average, medical students graduate with $176,000 in debt. Pharmacy students can expect up to $123,000 in student loans, physician assistant students range from $50,000-$100,000 in debt, and nursing students average at about $30,000 in loans post-graduation.
After I was invited to attend this event, and saw the bold numbers on our leave-behind document, I was curious about occupational therapy. I created a brief survey, used social media and my Assembly of Student Delegates Representatives to distribute the poll, and received an overwhelming 500+ responses within the week.
The primary question? How much can occupational therapy students expect to owe in student loans after graduating?
The answer? It varies; however, OT and OTA students reported a range between $40,000-$100,000 in student loans.
Our secondary message: opportunities that have been established to address these rising rates such as Public Service Loan Forgiveness (PSLF) were restricted from graduate students in new legislation while other programs were insufficiently expanded, like the National Health Service Corp (NHSC).
Our collective group decided on suggesting an approach that was manageable for Congress. We weren't necessarily asking for more programs or increasing funding, but to maintain what was already established. If there were opportunity in the future to expand existing programs, such as PSLF and NHSC, and create new student loan repayment plans we were asking for their support.
What was most comforting was to hear the congressional feedback. Many were shocked at the statistics we provided and could relate to student debt. Some were pleased to state that their office already fully supported efforts that reduced financial burden for students. One staff member in particular left a lasting impression on me. Veronica Wong, Deputy Chief of Staff for Representative Issa, stated, "We have to find the core issue. What is Congress doing to continue to inflate these rates? What are the academic programs, universities, and colleges doing to allow this to happen? How can students get more involved with this process?"
These are very important questions for occupational therapy students to further research and consider. What is the cause of this issue and what can we do about it?