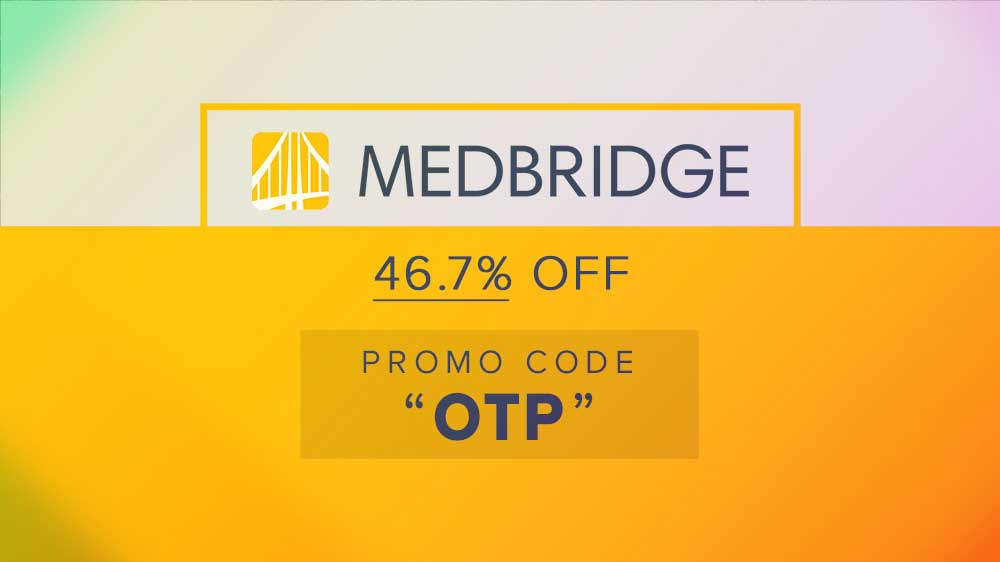 The "OTP" MedBridge Promo Code
When you're purchasing a MedBridge subscription, there is usually a promo code automatically applied—but it is not the best price out there!
It is TOTALLY WORTH IT to take the time to write in: OTP
The MedBridge promo code, OTP, will give you the best available discount to MedBridge Education— starting at $95 for SLPs and $200 for OT, PT, ATC, RNs, etc. (That equals $175 off for everyone!) The membership will give you access to 1,941 continuing education courses.
At 46.7% off, this is the best discount available to individual OT/OTAs, PT/PTAs, AT/ATCs, and RNs.
SLPs have a lower starting cost, so for them the discount equates to 64.8% off!
Copy and paste this MedBridge Promo Code:
OTP
OR
THE BEST PART ABOUT THIS DISCOUNT: Once you use the promo code at MedBridge to obtain a reduced price point, it will renew at the discounted price!
2021 MedBridge Promo Code Discounted Subscriptions with "OTP"
Here's what you'll pay when enter my code, broken down by profession:
OT / COTA / PT / PTA / RN / AT: $200 (Education)
OT / COTA / PT / PTA / AT: $250 (Premium)
SLP: $95 (Education)
SLP: $145 (Premium)
MedBridge Student Discount: $100*
*All Students: There's a special code for you! The code OTpotentialStudent lets you pay just $100 for a student subscription plan. Please note that the code should only be used by students, as CEUs are not awarded with this code. Students must use a ".edu" email address to receive the discount.
Wait? Is 50% off MedBridge still a thing?
You may be getting ready to subscribe with a $175 off promo code, but then you see old blog posts floating around the internet, promoting 50% off MedBridge. This might make you wonder if you could be missing a better discount out there.
The short answer is no.
$175 off is the best discount available to individual subscribers.
You have always been able to subscribe to MedBridge for $200, if you are an OT, PT or AT professional—but in the summer of 2017, MedBridge launched new features, added a premium tier, and started offering a flat $175 discount. This slightly changed the percentage discount.
This flat discount now equates to about 46.7% off the Education Membership and 41.1% off the Premium Membership.
Is there an option for a free trial of MedBridge?
Yes, you can watch the first chapter of the videos for free!
No, you cannot earn free CEUs from this.
The first chapter of each course is typically around 10 to 15 minutes long, so I recommend that you check out a couple videos in the course section of your discipline to see if the service is going to be a good fit for you.
Should I wait until Black Friday to purchase?
Black Friday is one of the most popular times to purchase MedBridge, partially because many licenses renew at the end of the year.
For that reason, you will see lots of promotions around the time.
But, it is not worth it to wait for a special discount, and here's why.
MedBridge often runs promotions, but they are the same as you will find year-round right here on this page! That means even those Black Friday deals still yield you the same discount ($175 off) that you'll find here.
Wishing you could purchase MedBridge for your entire clinic/business?
You can!
You can get an even deeper discount when your whole clinic/department signs up through the MedBridge Enterprise Solution. (This is actually the best discount available!)
Not only do you get a significant discount, but you also get access to their sweet Learning Management System (LMS)! Please note that only teams of five or more qualify for this.
Do you have even more questions?
If you are still on the fence about whether this is the right CEU service for you, you can see my posts:
You can also leave me a comment below with your question, and I will do my best to answer it!
Ok! Ready to get started?
Copy and paste this MedBridge Promo Code:
OTP
OR
Disclaimer: I am a long-time affiliate, user, and admirer of MedBridge. When you sign up use our promo code, a cut of the sale goes toward OT Potential, which helps us create more resources for therapists.