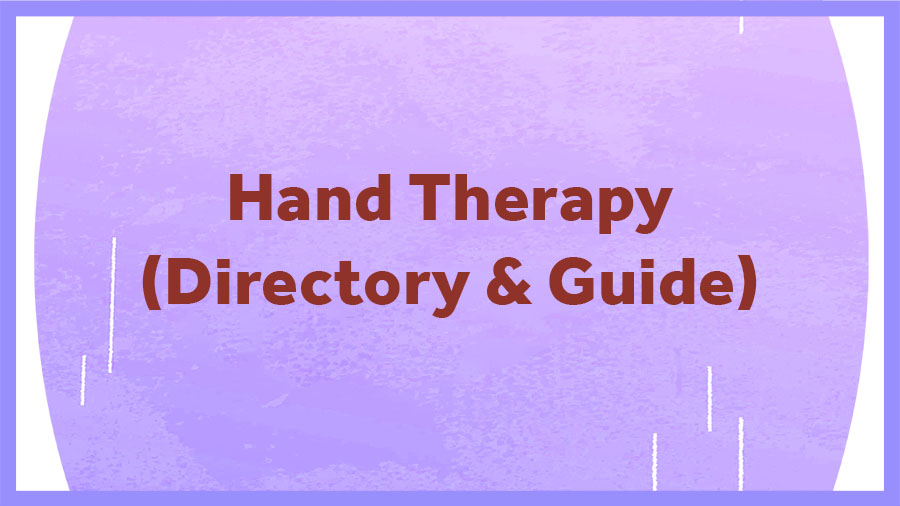 Hand therapy is rehab of the hand, wrist, elbow and shoulder.
If you've been injured, had a surgery, or have a condition that impacts using your arm, you may benefit from seeing a hand therapist.
In this guide, we'll walk you through common hand therapy questions including:
Who is called a hand therapist?
Hand therapists can be either occupational therapists or physical therapists. Both of these professions have basic training in rehab of the hand and arm.
Certified hand therapists (CHTs) are OTs or PTs who have gone on to earn a specialist certification in this area. This means they have documented over 4000 hours of direct practice working with the arm, then have passed the hand therapy certification exam.
How do you find the right hand therapist for you?
Given the variety in hand therapists, here are some helpful questions to ask:
Does your therapist need to be a CHT?
Do they need to be near you, or could you do telehealth?
Do you care if they are a PT or OT?
I'll give my thoughts on most of these questions:
Does your therapist need to be a CHT?
When friends ask me about hand therapy, I almost always encourage them to find a therapist who is a CHT. This gives you assurance that they have extensive experience and expertise in hand therapy.
The only exception would be if your hand condition was something like a burn or rheumatoid arthritis, where you might benefit from seeing a therapist who has specialization in this particular area, and the hand is secondary.
In our OT near me directory (below), you can search for therapists who have an interest in hand therapy, then scan to see if they have the "CHT" after their name.
Our directory only includes OTs. To find a CHT physical therapist, you can use this directory.
Does the hand therapist need to be near you or can you do telehealth?
Many hand therapists have begun offering telehealth. (I've personally done hand therapy over video, and it was awesome!)
Some therapists even offer evaluations in person, with the option to do telehealth sessions.
In the United States, our OT and PT licenses tend to be state specific (this is slowly changing). So you may still have to find a therapist in your state, even if you are doing telehealth.
Should your hand therapist be an OT or PT?
In general, I tell people to go with their gut on which particular therapist is right for them, irregardless of whether they are an OT or PT.
We of course are totally biased to OT on this site. 🙂
What are common diagnoses that hand therapists help with?
There are several common diagnoses that hand therapists work with, listed below.
Don't hesitate to ask the hand therapist if they have experience with your specific condition before booking your evaluation.
We therapists have a tight knit community, so if we don't have expertise in your condition, we may know someone else to refer you to!
This list is derived from the journal article Hand therapy interventions, outcomes, and diagnoses evaluated over the last 10 years.
Arthroplasty
Boutonniere deformity
Burn
Carpal tunnel syndrome
Distal radius fracture
Distal radial fracture
De Quervain
Dupuytren
Edema
Extensor tendon repair
Flexor tendon repair
Gamekeeper thumb
Mallet finger
Nerve repair
Osteoarthritis
Rheumatoid arthritis
Skier thumb
Swan neck deformity
Tenolysis
Tenosynovitis
Tendonitis
Trigger finger
Ulnar collateral ligament repair
What happens at hand therapy?
Every patient is unique, and so are our treatment sessions.
But, we do follow a certain flow, which begins with evaluating your specific condition—and working with you to set goals.
From there, each session will be focused on your goal area. There will likely be some combination of the following types of hand therapy interventions.
This list is also derived from Hand therapy interventions, outcomes, and diagnoses evaluated over the last 10 years.
Education
ADL/adaptive/assistive/ergonomic device training
Compensatory techniques
Energy conservation
Ergonomic and activity modification
Home exercise program
Joint protection
Nutrition instruction
Orthotic/prosthetic training
Patient/family education
Wellness education
Exercise
Range of motion
Tendon glides
Strengthening
Activity
Functional activity
Therapeutic activity
Work hardening
Work conditioning
Handwriting
Manual techniques
Manual therapy
Joint mobilization
Nerve mobilization
Edema mobilization
Myofascial release
Therapeutic massage
Scar management
Hypertrophic/keloid management
Pressure therapy
Scar mobilization/massage techniques
Skin management
Modalities
Contrast bath
Cryotherapy
Diathermy
Fluidotherapy
Hot packs
Iontophoresis
Laser/light therapy
NMES/electric stimulation
Paraffin
Phonophoresis
TENS
Ultrasound
Whirlpool
Orthosis/prosthetics
Orthotic design/selection/fitting/fabrication
Fabrication of temporary prosthetic for functional activities
Miscellaneous
Biofeedback
Compression therapy
Desensitization
Sensory re-education
Taping techniques
Wound care management
Design/selection of adaptive/assistive/ergonomic devices
When to start hand therapy and how long does it last?
As therapists, we are so thankful when we get to see someone right away after their injury/surgery. During this phase your brain is learning new habits to cope with your injury/condition—so this is an important window of opportunity to make sure your hand heals in the best way possible.
This acute phase is typically 4-8 weeks after the incident. When possible, it's helpful to see someone over the full course of this phase, so we can pair our treatments with the active healing process your body is undergoing.
Depending on the severity, your injury may continue to heal for up to a year, and while active treatment will not be required this whole time, we want to remain available to you to navigate any changes/questions as they come up.
What can you be doing on your own?
I like to refer both therapists and patients to the videos at Virtual Hand Care to learn about exercise they can do at home!
I'm not affiliated with this channel, I just think it is really helpful! I did consult with Michelle when I had my own wrist injury. (Yes, even OTs seek out CHTs!)
There are of course many other resources out there. And, I encourage you to ask your hand therapist at the first visit, or even when scheduling what you can be doing from home to aid in the therapy process!
Conclusion
The hand is a remarkable part of our body, and you do not want to delay if it's in need of some rehab.
Luckily, there are highly trained therapists in almost every community to help you navigate this rehab, and we hope this post has helped you understand which hand therapist is right for you!