OT Capstone Membership
for Classrooms
Help your occupational therapy students:
⭐️ Disseminate their capstone work
👋 Connect with working practitioners
🚀 Jumpstart their career
An engaging way to disseminate capstone projects
As a capstone coordinator, you are looking for the most meaningful way to help your students meet the requirement of disseminating their work.
This is why the OT Potential Club now offers a public-facing Capstone Catalog. Now students from different schools have a centralized location to disseminate their project, get feedback from OT professionals, and contribute to the important growing OT research knowledge base.
When your student shares their project, we blast it to our email list of 20K occupational therapy professionals.
How does the Club help students establish their professional identity?
Oftentimes the capstone project is a deep dive into a professional interest, and the beginning of a career path.
Through our capstone plan, students will also have the ability to create a profile on the OT Near Me Directory. This will help future employers, clients and fellow professionals find them. Should they keep their membership, the directory will also provide you and other alumni a chance to follow their work. (One of the features of the directory is that you can sort by school!)
What does the Capstone Catalog look like?
The OT Potential Capstone Catalog is a repository of capstone projects that are submitted directly by students. The capstone summary is reviewed before it goes live. The catalog is viewable by the public, but can only be commented on by members of the OT Potential Club.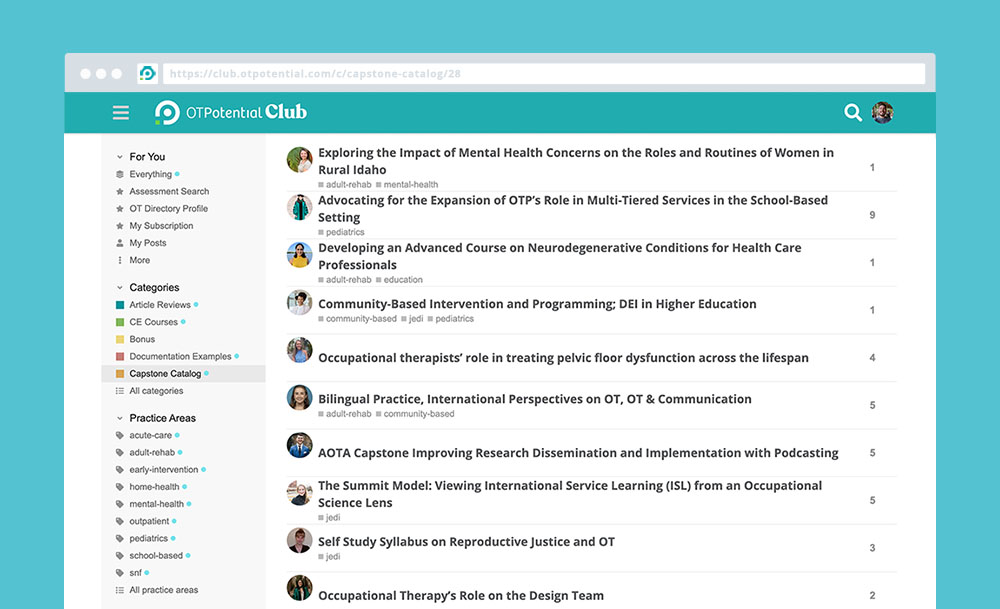 Please note. The Capstone Catalog is intended to host a student generated summary of the work. Often times student link out to their full project. We do have the ability to host PDFs and videos, if allowed by your school rules.
Here are the components students are required to submit:
One sentence description of your project
Student name
Name of Mentor
School
Setting and location
Virtual / In-person / Hybrid
Purpose
Method/Design/Approach
Results/Outcomes
Conclusions
Ideas for next steps to build on this topic
2-3 tips for students undertaking a similar project
Deliverables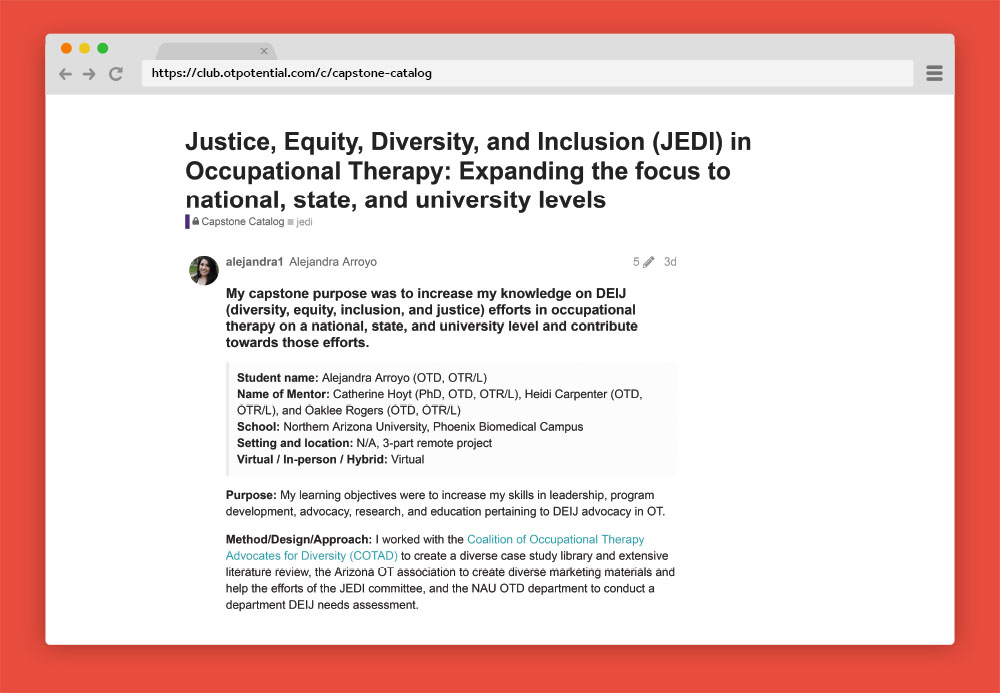 Are your students looking for capstone mentors?
As a free benefit to student, we also encourage them to utilize the OT Near Me Directory to search for potential capstone mentors. Below are the people on our directory who have expressed the willingness to be a mentor. You can click into their profile to see if they have given specifications on what types of projects they would be interested in mentoring students on.
You and your students will also get:
With their membership, your students will also get access to the other resources within the OT Potential Club.
💬 Discussions of OT research
🔍 Assessment search tool
📋 Example OT notes and evals
📍 OT Directory listing
What happens after we sign up?
After the capstone coordinator (or admin) joins at the $99/yr price, they will be sent a special coupon code to share with their students. This code will give each student 93% off.
After a student signs up, they will manage their own accounts.
$99
/ year
(Professor price)

+ $3.99 paid by each student
Dissemination Platform for your students
➕ Everything in the OT Potential Club
➕ Special Discount Code sent to the professor
or admin to share with their students—so they
can enjoy a steep discount
If you have any questions about the sign up process, don't hesitate to contact us!