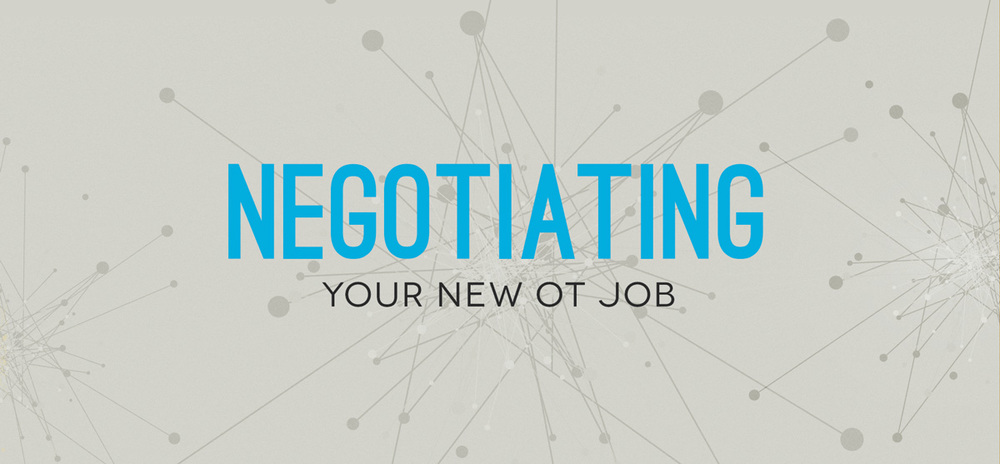 Congratulations on your occupational therapy job offer!
Now it's time to negotiate. Always negotiate. Whether you have the upper-hand in negotiations or you desperately want the job, you will set the tone as a therapist who thoughtfully advocates for what is mutually beneficial for the company, yourself, and ultimately your patients.
Don't ask; don't get–that is what my traveling therapist friends says. I can also add that my own job satisfaction has been higher in therapy jobs where I negotiated.
So, take an inventory of what is important to you and chose at least one thing to negotiate.
Side note: Occupational therapy is predominately a field of women, and women tend to negotiate less than men. Don't be hard on yourself. This may be because there is a higher social cost for us. Luckily, there are strategies to overcome the gender divide. I recommend reading Sheryl Sandburg's advice for negotiating.
Join the Global Community
that is Transforming OT Care
6 items to negotiate before starting your new OT job
1. Unpaid leave for already scheduled trips
This is a no-brainer. If you already have a wedding, family vacation, or conference that you are planning on attending, ask for it off. Unpaid is fine. This is especially important since vacation time can accumulate slowly in the first months of employment. Also, the first months of a new job are often the most stressful, so a little break can be quite nice.
2. Mutually beneficial continuing education
You can bet that as you start working, you will want to hone your skills in a certain area. If you already have an inkling of what you would like to specialize in, make it known upfront and suggest particular courses to your employer. Every therapy department I've worked for has been looking to expand their offerings and during negotiations you can position yourself to help the company expand and hopefully get some of your education paid for.
3. The ideal schedule
Both when I was a part-time therapist and when I was a full-time 4-ten-hour-shifts employee, I always started with putting my ideal schedule on the table and ended up with something close.
There are of course typical patient hours that you have to work around, but whether you get in early, stay late, or take a certain amount of time for lunch are often negotiable. If you are not locked into M-F, let me strongly recommend not working Mondays– these tend to be busy days, whereas Fridays tend to have a more laid-back feel.
4. AOTA and NBCOT membership
I have a hunch that cost is the primary reason that people do not keep up with these memberships, so talk to your employer. Engagement in professional organizations will give you access to more information to serve your clients. You could even offer to host a monthly article discussion for you team in exchange for the membership.
5. Loan repayment options
At my first job, they offer to set aside $2000/year before taxes for loan repayment. I was able to negotiate to have the maximum amount allowed by the program which was 6,000/year. When it comes to debt reduction every little bit helps.
6. Salary
In Women Don't Ask the authors note that by not negotiating a starting salary at their first position, an individual stands to lose more than $500,000 by age 60. Know what you are worth and don't be afraid to ask for it. There are tools out there to help calculate the value of your work according to your field within OT, years of experience, and geography.
(If you check out my new page 6 Steps to the Right OT Job, you will find an overview of salary information resources.)
In my own experience of successful salary negotiation, I told them what I had been making before; what the national average was for mental health; and framed it that increasing the salary could make them a more competitive employer, as they had had troubles attracting OTs for the position.
Do you have any occupational therapy negotiation stories or questions to share? Post them in the comments below!