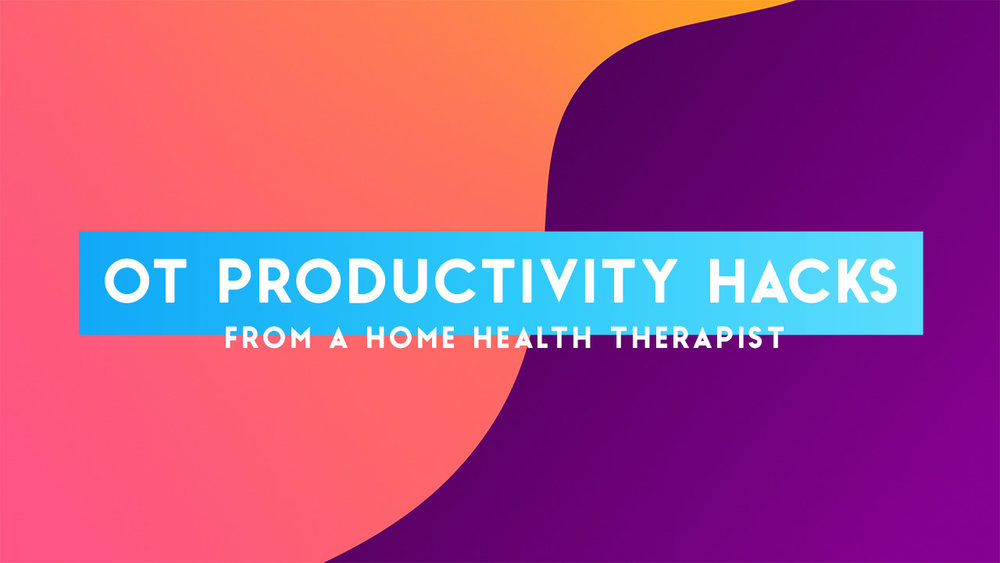 Home health is an incredibly fulfilling practice setting for an occupational therapist. Not only do you provide extremely functional treatments in the comfort of patients' own homes, you enjoy unmatched freedom, creativity, and compensation.
But the best things about home health OT can also be the worst things about it.
Sometimes, all that flexibility winds up turning 8-hour days into 10-hour days, tanking our productivity and leaving us feeling burned out from the unpaid overtime.
Once we factor in all the non-billable time we spend on driving, coordination with medical staff, and documentation, the authenticity of home health OT isn't quite so appealing. Or is it?
I recently found myself wondering how other OTs do it.
I knew there were plenty of other OTs out there working in home health. Surely someone had researched ways to stay productive and avoid going into overtime. Surely a few articles had been written with tips. Or not 🙂
I found that there was virtually nothing written on the topic of specific, do-it-today tips or hacks for the home health occupational therapist.
Until now.
Try 2 Free CEU Courses!
⭐ AOTA-Approved ⭐
It was time to dig. It was time to dust off the hacks that were allowing quality individuals (in any profession) to treat effectively, without burning out in the process. It was time to share this with the rest of the pack.
Thus, my research on productivity launched.
The results?
There is hope!
By using the hacks I found during my research (sprinkled with a bit of occupational therapy dust) I was able to reignite my passion and spark the resilient genius that is part of every home health OT I know.
Adding a personal timekeeper for awareness.
Using a different weekly scheduler.
Using an app to track my time.
Before I knew it, I was getting more work done with less stress, and proving that not only is home-based occupational therapy valuable to clients, it's also a cost-effective and productive service for home health agencies themselves.
Suddenly, I could consistently be done in eight hours of work. I could be done by 5 pm.
Let's rewind a bit before we move forward:
Home health OTs are not the only professionals feeling the productivity squeeze. Nor are OTs the only professionals in healthcare with increasing time constraints.
My research started with personal reflections on my own experiences and pain points.
Next, I expanded the research beyond occupational therapy—and even healthcare—for answers to the challenge of productivity.
Two key professions were included: remote workers and physicians. Making this expansion proved golden.
Dragging out your days as a home health OT can be a thing of the past now. Try one, or all, of these hacks to take an edge off the stress. Work within the boundaries of your company without wearing out your life.
Yes, it's possible.
Nine OT productivity hacks that helped me prevent burnout
1. Define productivity. Then decide why (and if) it matters to YOU.
Sharon Litwin, RN and Senior Managing Partner of 5 Star Consultants, LLC, defines productivity as the measurement of a result (2012). Home health OTs typically achieve productivity by completing X amount of treatments per day (or per week). (Doing this within 8 hours per day or 40 hours per week has often been the true challenge when you factor in documentation, drive time, meetings, and case management.)
But, productivity can also be "weighted." An evaluation may be worth 1.5 points when the productivity is 4-5 points a day. A half point may be given for days when mileage exceeds 50-60 miles. Already, the waters grow muddy, with room for potential misunderstandings.
Sick of the stress of often feeling behind on productivity, I asked for a meeting with my manager, to get 100% clear on the topic of my productivity. It was the beginning of drawing a line in the sand of my life and my work. I couldn't change what I didn't fully and clearly understand.
This is a highly simplified version of the theme of my interview with her:
Me: What exactly is my productivity?
Defining productivity? Done.
(Feeling hesitant to do the same? If you need support, here's a productivity interview template to help guide your own interview with your manager.)
Deciding why and if productivity was important to me was simple.
I knew that quality productivity meant sustainability.
This was the case because I had a personal history (involving sales and entrepreneurialism) that taught me to think differently about why and how I worked. It imbued an empowered, assertive mindset of "I work for myself."
This small mindset shift is what led me take more accountability for not only my ongoing OT training, but also my results— including my productivity.
But then I had to admit to myself: I was able to meet productivity, but I would wind up feeling overwhelmed or going into overtime in the process.
When I made productivity more important, it meant making the entire picture of productivity a priority, which meant I'd have time to rest, relax, and have other hobbies beyond clinical OT.
The reason productivity (including the big picture of being able to meet it without losing my life balance) was important to me became very simple as I watched the healthcare scene change all around me.
Ultimately, healthcare is a business. And healthcare companies will keep hiring and using the disciplines that fulfill two needs: a balanced budget and happy customers.
After all, if you were an intelligent manager of a company with a tight budget, would you keep utilizing a discipline that was not meeting the company's financial and customer satisfaction goals?
If OTs cannot meet productivity and quality demands (while other professionals are doing so), then we will be eliminated from healthcare budgets and, therefore, the healthcare team.
Get 100% clear about your productivity.
How do YOU define productivity?
What are the productivity standards of your OT position?
What if you would only be paid your next paycheck if you could write down, with 100% accuracy, your productivity goals as an OT on the home health team?
If you are not 100% clear on your productivity goals, schedule 30 minutes with your manager and get clarity. This is what I used to help guide my productivity interview with my manager.
Decide why (and if) productivity matters.
Do you care if you meet the productivity standards?
Why?
Why not?
Why did you decide to read this article?
If you've read this far, there's likely a pain point surrounding productivity that you'd like to change.
Why do you want it to change?
Do you want work-life balance?
Do you want to continue to see OTs serving in home health a few years from now?
Understand when to speak up or walk away.
It is merely a hunch to say this. It is possible that the productivity demands on you may be…unreasonable. In cases where the demands are unattainable, I am not advocating that you find a way to be superhuman.
That's impossible.
I am advocating that you at least get clear on what's expected of you, so that you can rise to the occasion. You must either commit to working there in existing conditions, begin a conversation with your manager about adjusting productivity with win-win results, or start looking for another job.
2. Pick one clear target.
Sales guru Zig Ziglar once said,
"If you aim for nothing, you will hit it every time."
Is this how you are addressing your productivity? My outlook toward productivity changed dramatically when I went from working 32 hours/week in home health to working 40 hours/week.
The physical area I covered also expanded by six zip codes. So did the amount of hours worked beyond my scheduled shift each week initially. So did my stress levels. I'd had it.
A new determination emerged:
I would get creative about being effective and productive for realistic company goals within 40 hours a week, no more.
So I had to get really clear that my productivity goal meant overtime was not an option.
Pick a target and aim.
Choose a very specific target. Make sure it's simple, and in alignment with your own and company standards. Here are a few sample goals. Try just one.
What is your personal productivity goal for the day?
What is the boundary for how many hours you will work today? Eight? Nine?
What time of day will you be done (if applicable)?
What percentage of documentation and case management will you have done before you get home (leaving you with only a portion vs. all of it to do at home)? 50% of documentation done by the time you drive home?
Consider writing your goal numbers down every day or week as a gentle, but clear, target that you can measure later.
3. Measure the outcome (so you can manage it).
Measure it: Time.
Clock your time for your own accountability.
Eight hours. That's the time frame per day I allow myself to get the work done.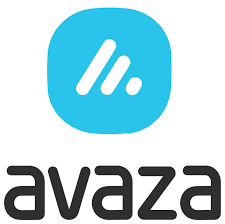 Avaza is an easy-to-use (and free) online system that allows me to clock in and out. The app for the iPhone makes this so simple. It's a very objective way to measure the time at work that can otherwise feel like there is no end to it. American management consultant, educator, and author Peter Drucker said, "You can't manage what you can't measure." You get the point.
Measure it: Productivity.
Tally up your productivity each week. Compare it to last week. Remember why productivity matters to YOU. Allow this measurable feedback to inform how you practice. Change what isn't working. Begin measuring your own productivity.
Measure it: Disruptions (with a 0-10 snapshot).
Make a general baseline measurement on a 0-10 scale, then reassess.
How many unnecessary disruptions do you allow into your work time as a home health OT (on average)? From zero being "I allow no preventable disruptions at all in my home health OT work day" to 10 being "I allow way too many distractions, and am overwhelmed daily."
4. Schedule as if…
What if you created your own schedule as if you were creating it for one of the most respectable OTs you knew—one who also had a full, beautiful life beyond OT.
Imagine this person entrusted you to schedule his/her day and week to allow for time to be a spanktastic OT within the contracted hours (i.e. 32, 40).
Period.
No overtime.
My guess is you'd do a few things differently in how you approached scheduling. Consider the following tactics:
Schedule more wisely: Use a paper schedule.
After trying to use only online scheduling, I noticed one or two clients being missed.
The only way I could accurately account for all the clients already on my schedule—plus the (up to eight) evals that showed up on it per week—was to take stock on paper, in pencil.
For days, weeks, and then months, I scoured over a handmade template, wishing someone had created a sleek, easy-to-use (and home health-specific) paper schedule.
Then I realized I had pretty much already designed it through all my own failed attempts.
Finally, I have a quick, simple and accurate way to assess my schedule, visit types, zip codes, and re-assessments.
By Friday (at the latest), I would fill in the next week's schedule carefully.
Schedule in clumps: Clump visit types.
This tip was initially issued to the MDs out there. Jacoby calls it "minimizing variability" (2017). But it applies here, too.
Try experimenting with clumping evals and reassessments to Mondays and Wednesdays. (Note: Drop any expectation of perfection here. I'm not always consistent with this, but even small changes have been helpful.)
Zip it up: Use your zipcodes.
At one point, I moved to a new city more than five times the size of the city where I first served as a home health OT. I was unexpectedly left nearly drowning in the mileage I'd rack up in one day.
Finally, I decided to list zip codes along with names when scheduling, highlight the same zip codes, and then try to schedule zipcodes together.
Slot your availability.
Instead of negotiating a new appointment time for each day, experiment with choosing 4-5 key time slots such as 9:30 am, 11:00 am, 1:00 pm, 2:30 pm or 9:00 am, 10:30 am, 12:30 pm and 2:00 pm.
Then when you call to schedule, you'll just plop visits into these key times (ones that work for you).
Choose slots that allow you to achieve your goal and work within your departmental policies. For example, some people may be able to start late/finish late or start early/finish early.
Copies + supply refills + case management = time.
Allow yourself time to make copies, refill supplies and make phone calls for case management. These tasks are invaluable… and take time. Often, pre-made schedules (except the newly designed one) only account for visit time, and nothing more.
5. Communicate as if your sanity depended on it. Because it does.
It's hard for people to give what was never asked them. So if your time is valuable and you know you'll only have a limited amount of it to offer, it's essential to communicate this to clients and their family members.
Here are a few specific tips.
Start with your manager.
Be open and honest with your manager. When I was struggling to manage the two new evaluations that were showing up on my schedule every day, I took initiative to develop a new system to ease the stress it was causing me. I then asked my manager for time to discuss what was happening, the system I had developed to handle it, and if she had any other (or better) ideas.
She listened and said she had no better ideas, and has continued to be supportive of me finding a reasonable path forward.
Consider having candid, non-assumptive, and kind conversations with your leadership as often as needed. Be clear about what feedback you would like from your leadership BEFORE you begin the conversation. It can build respect, as long as you are also clear about your current strategies and ideas (not just calling to complain).
Set boundaries.
Yep, this is listed as a key tip for new grads to be productive (Culwell, 2017).
Tell the client or family member how long you will have for the visit, as well as the goal for the visit.
Ask for supplies to be ready (especially if it is a shower session). Then kindly and firmly honor the boundaries set (if possible).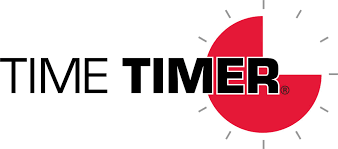 Consider using the Time Timer as a respectful boundary for both you and clients. (Yes, I'm seriously considering it.) Here are some statements that gently drive your point home:
"Mrs. Baker, today we have approximately 30 minutes to work together on completing your home exercise program, and progressing it to match your goals."
"Mrs. Thomas, before we get started, I'd like you to know we have only a limited amount of time together for these visits, AND we can still get a lot done. To help me make sure I give all my clients quality care, I must keep an eye on the time. Let's go ahead and get started. Stop me at any point if you have questions."
"Mr. Owens, in order to be respectful of our time together, I'd like you to know we have about 15 minutes left before I need to move to my next appointment, is there anything we have missed today? Let's do a quick review."
Involve the client.
Involve the client in the process (and yes this one was actually for the MDs out there) (Pratt, 2017).
Communicate what you need the client to do to prepare for a timely session, and communicate what their homework is for next time.
Doing this helps to make sessions efficient, without sacrificing quality.
HEADS UP NOTE: No texting clients or family. Stick to phone calls. If that's not working, bring it to your manager for further problem solving, as you risk jeopardizing HIPAA compliance with texting.
6. Minimize disruptions.
This is a hack mentioned in recommendations for both remote workers and MDs.
According to dictionary.com, a disruption is a noun (which is somehow fascinating) that is "a forcible separation into parts." A few synonyms for disruption? Interruptions, splits, breaks (thesaurus.com). Ever feel like that's your entire day? You're not alone.
Document in the home.
Yep. Just DO it.
Call it Point of Service, or call it POS. Call it what you want, but find a way to finish at least 50% of each patient's note in their home before you leave.
Make it a part of the visit. (Full disclosure: This is a true challenge for me and just because I write about it, I in no way claim to have nailed it). You'd never walk out in the middle of a visit…so adopt the mindset that if you left before the note was 75-100% done that you'd, well, be doing that.
That thing you've been meaning to do to make your day easier? Do it.
Great ideas have swum through my mind for months (even years) at a time, before I acted on them. It's often an irrelevant excuse I make that sounds like this: "You don't have time to get more organized or try that thing."
BS.
Whatever your grand idea (the one that you think, "If only I had time to do ____, my work day or week would run so much more smoothly"), do it this week. Take the two hours to do it. Trust me.
Maybe it's making office supplies easy to reach: a pen, pencil, and highlighter.
Maybe it's putting the frequently used papers into one file folder in your home health bag (in a quantity of five to reduce bulk).
Maybe it's creating your own "stacker system" of frequently used education handouts.
Maybe it's developing your own weekly planner.
Maybe it's getting a second plug-in for your computer to just keep at your desk (if you have an old computer).
Make time to organize your system. No one else will do it. This is about your sanity and your career. Plenty of professionals do not get paid time to organize their setup, so don't let that stop you from taking action. Own it for your sake.
You may not be paid directly for the time you invest in getting (re)organized, but I would bet money the pay off will be priceless.
(Get) Smart (with your) Phone(s).
Two key points here. First, literally give your phone a home in the car. (I'm assuming you use it as your GPS).
So do yourself a favor and invest in the Nato Mount.
Game. Changer.
A magnetic strip makes transitions a cinch.
Secondly, if you use a separate phone for work, only bring that phone in to appointments.
Only check your personal phone at lunch (or at least less than you likely are checking it now).
Handouts of the year: A DIY OT Stacker for your car.
Interest checklist. Talking Books applications. Fall prevention education. Modified Barthel Index. Modified Falls Efficacy Scale.
Handouts are a part of this gig. You've likely got a top 10 list that you frequently use. If you haven't yet, create a system to make them easily available to you. Keep an original. Get a portable file system for the car. Make 15 copies. File 'em away. Eliminate the time spent rummaging.
Set your office space up for focus.
Set up an office at home, and ensure it's created in a location and manner that allows you to focus easily.
What could you adjust, add, or remove to eliminate one or two distractions?
Set up a space in the car to type with ease.
Create a place to document and make calls from your car easily (with pens, the computer, and any other supplies within easy reach).
Can you sit comfortably and interact with your supplies easily, without needing extra bending or twisting?
(I rearranged my car to create space in the back seat on the passenger side; this meant I didn't need to adjust the driver's seat and move my roller bag each time I moved to sit to document in the back seat.)
Yes, both the Huffington Post and Medelita (aka remote workers and physicians) recommend using the principle behind this strategy (Jacoby, 2017; Wong, 2017).
Eval yourself on how effectively you work.
Yes. Eval yourself.
Seriously.
Where are the top three disruptions in your day? What would an OT recommend if they observed your daily practices? What's keeping you from doing what works? Taking a few moments to tune into the wisdom already pulsing through you can be a game (and life) changer.
Add a predictable disruption: 30 minute warning til closing.
Yep. This was a tip for the remote worker (Wong, 2017). Set a daily reminder for a 30-minute wrap-up warning. I was pleasantly surprised at the level of helpfulness of this tip.
7. Create documentation workflow.
Don't reinvent the wheel for every evaluation, or even every regular visit. You can make your documentation process much more simplified with these tips.
Create and use templates.
Creating templates maximizes the quality, and minimizes the unnecessary repetition. Use either Word or Notepad to hold the "spine." Here's an example of an eval template I've started to use.
Use a weekly planner that works. Or make your own.
Get picky about where (and how) you account for your weekly schedule.
After endless stressing over each new home health OT travel assignment, I decided to make a change.
I now make absolutely sure I always use a quality paper weekly planner; I know if I get my scheduling process nailed down and have a helpful planner to do it, I can save so much time and stress.
An all-in-one weekly home health OT planner can be invaluable and instrumental.
It's especially critical if you're serious about maintaining productivity while managing high caseloads, 10+ zip codes and varied visit types (i.e. evaluations, re-assessments, discharges).
8. Get an accountability partner.
Tell someone what you're going to do.
Hey Betty, I'm going to complete 20 quality OT visits this week in 40 hours, no overtime.
Yes, it can be that simple.
Some personalities do best when they're accountable to others, even if it's just informing them of what they intend to do.
And no, this doesn't need to be a co-worker or manager. Sane productivity is a personal issue as much as a professional one. Just telling someone who can kindly and non judgmentally help hold you accountable is the key. Think fellow OT friend, partner, spouse, or family member.
9. Embody the balance.
Call it crazy, but it works.
Some may call it law of attraction.
The essence of it is allowing yourself time (even if five minutes) to literally act as if you are already experiencing the balance you are striving to achieve.
Allow me to paint the picture of a few examples:
What would it look like if you were already living the life of an OT in home health who worked 40 hours a week and was a bada** OT? How would you hold yourself, eat your food, get in the car or walk if you already were the OT you've been wanting to be?
Embody it.
What would it look like to be an OT with a balanced life, and a highly potent practice?
Embody it now.
If the concept of this seems far fetched, consider tapping into Qoya, which is a movement-practice based on the premise: through movement, we remember (our essence).
It's been equally powerful to practice being (at a cellular, active level) the OT I am most curious about becoming. If nothing else, call it an experiment, and just try moving your body to one song as if you are already the OT and person you'd most like to be.
I'll share a song for experimentation. Before you press play, clear some space, ask for privacy (or at least non-judgment). Breathe. Come to the moment. Set the intention that, for just the next five minutes, you have full permission to "arrive" into the version of you and/or your OT practice—one that is balanced, potent and productive—as you move your body in the moment to the music. What would it be like to move to this song as if you already are productive and living a balanced life? It's an experiment in embodying the juiciness of you that already exists that is 100% capable of being both productive AND healthy (i.e. sane). Ready to try it? (Authentic disclosure: I'm a bit shy about sharing this song as it'll let you straight into my tiny living room. Truth is, I love this song when I need to shift gears internally, or upgrade my energy.) Here is one of my favorite songs to embody intentions.
10. Even gazelles need a rest.
Being able to run, and knowing when to run (such as out of the the sight of a lion), is an amazing skill (a life-saving one, in fact).
However, the side effect of being a gazelle that is often NOT noted is that a gazelle doesn't sprint all day, every day, seven days a week.
It sprints, and then it stops sprinting and rests.
Lesson here?
Yeah, take a load off in order to stay productive, because we all know that being productive often requires sprinting for at least a few days a week. Here are a few ideas for how to spend your non-sprinting time.
Nourish.
Nourish is defined as "enhancing the fertility of the soil," or providing it with the substances needed for growth, health and good condition" (Google dictionary). Take time to enhance the soil of your body and mind. What could you do to keep yourself in a growth-oriented, healthy condition? Options to consider: yoga (even 10 minutes), go for a walk (even 15 minutes) or engage in meditation (even five minutes).
Include a body movement practice.
What movement practice will be part of your week? As mentioned earlier, "Through movement, we remember." We remember our essence, we shake off stress, and re-settle into life, not just work. What movement practice will be part of your week? Will it be walks on Tuesdays and yoga on Thursdays? Take care of your nervous system and get grounded.
Now walk it out.
Seriously. Walking is not only good for your bowels, but it's incredibly helpful for re-grounding. If you work as an OT in home health, your sweet feet are likely off the ground at least ⅓ of the day (while you drive). That's a lot of time in the air. Take time to get grounded with a short walk after work, or even while you're on a break.
Conclusion
Must you be a frazzled home health OT?
Turns out, no.
Experiment with these do-it-today strategies and principles. Keep it simple, so you can keep it real.
Lots of specific ideas were provided because there are so many different work styles and personalities working in this industry. Try one or two of the tips that resonate. If they work, let me know and try one or two more. If they don't work, try one or two different ones and weigh in in the comments with what YOU find that DOES work.
May this be the beginning of a revolution in OT in home health. May you know you are part of quality community. May you find what you need in order to provide high-value care, while meeting and achieving productivity expectations, and staying sane and healthy along the way. You are not in this alone.
A quick recap of efficiency in the home health setting:
Define productivity. Then decide why (and if) it matters to YOU.
Pick one clear target.
Measure the outcome (so you can manage it).
Schedule as if…
Communicate as if your sanity depended on it. Because it does.
Minimize disruptions.
Create documentation workflow.
Get an accountability partner.
Embody the balance.
Even gazelles need a rest.
Products Mentioned in this Article
Neither OT Potential nor the author have any financial stakes in the last three recommended items.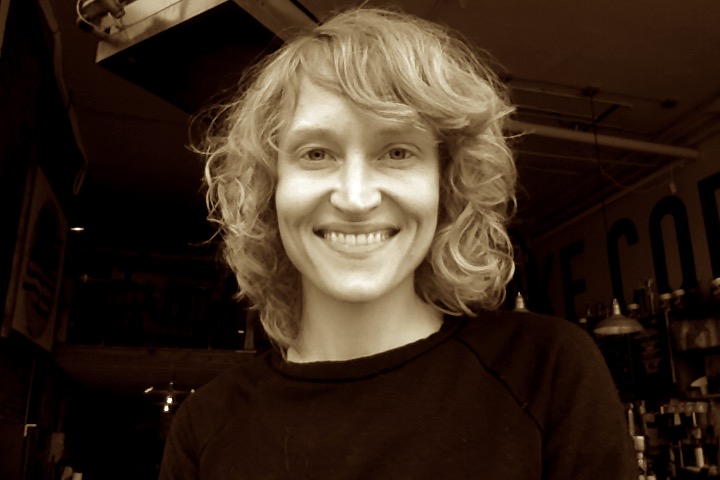 About the Author
Monika Lukasiewicz is a freelance writer and home health occupational therapist who currently lives and primarily adventures in Phoenix, AZ. Her first year as a home health OT left her wishing someone had written about the experiences, challenges, and opportunities to ease the transition into HH. So she became the change she wanted to see, and started writing and sharing. With changes in home health (and the world), she is in the process of reinvention. The new "why" is to inspire possibility and nourishment (for the home health OT mindset) in order to unleash new levels of health in our own communities, one home or business at a time. She loves hearing from other home health occupational therapists.
---
References