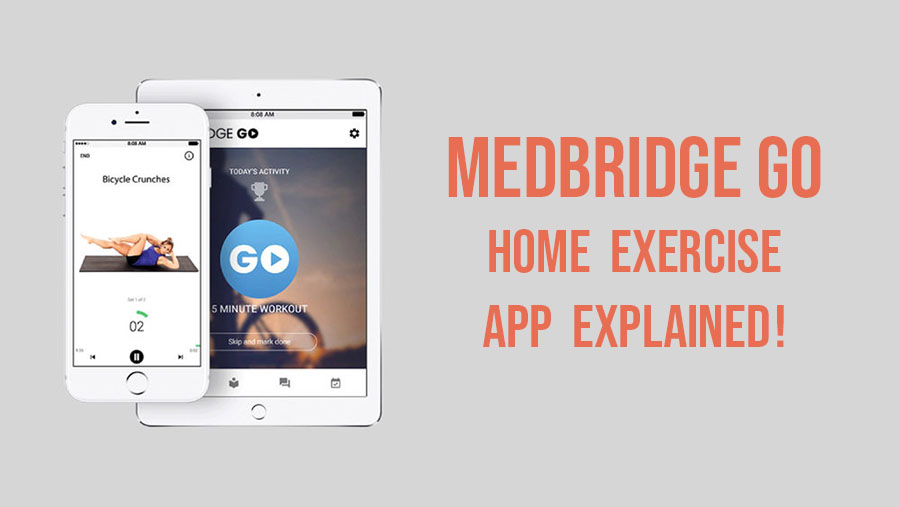 The MedBridge GO app helps patients and their providers with home exercises programs. The provider builds the program in their MedBridge suite, then the patient is able to access it on their phone or browser.
In this post I am going to walk you through how the MedBridge GO app can help you with your home exercise programs.
We'll break this down by the experience for patients and for providers. You'll find info on cost of the app and the simple steps for how to use it.
Note: I am a MedBridge affiliate. However, my intention is always to enable therapists to provide the best care possible. Below I will also share other resources that help you achieve best practices.
How much does MedBridge GO cost?
MedBridge GO is free for patients. For providers it is $250 per year as part of a suite of resources in the MedBridge Premium plan if you are purchasing it as an individual and use our promo code.
MedBridge does offer group plans, which have variable prices and the cost may be absorbed by the employer.
---
MedBridge GO App Patient Portal
MedBridge GO App cost for patients: Free
Where to download: Apple, Android
The setup is really simple for the client. When they open the app, they see how much time today's exercises will take. When they are ready, a video will walk them through exercises that are paced so they receive maximum benefit from each movement.
Here are a few simple steps for the patient to get up and running on the app:
1.) Get the access code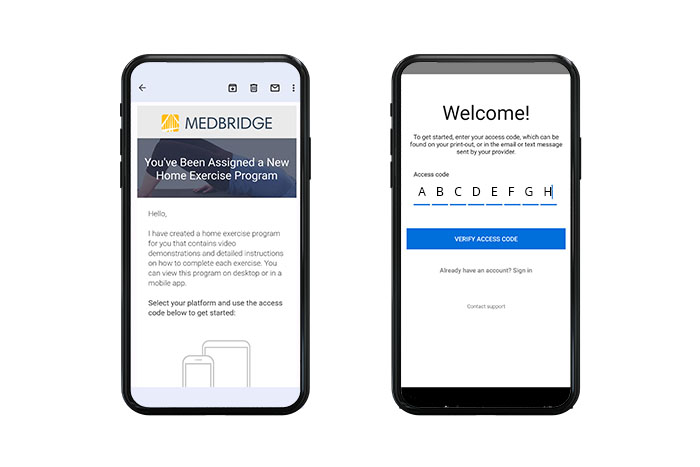 The provider builds the exercise program in their MedBridge suite (see below.) And, when ready the patient gets sent an email with an access code.
2.) Download the app (or enter the patient portal).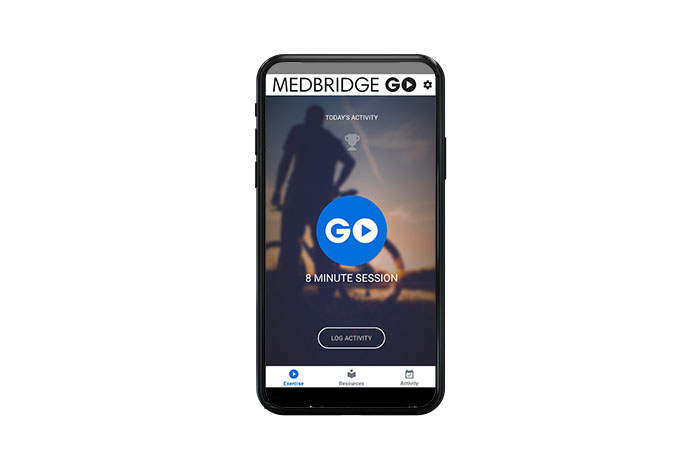 Patients can choose to do the exercise program via an app or log onto the MedBridge Patient Portal via their browser.
3.) Follow the instructions for the exercises and give feedback at the next appointment.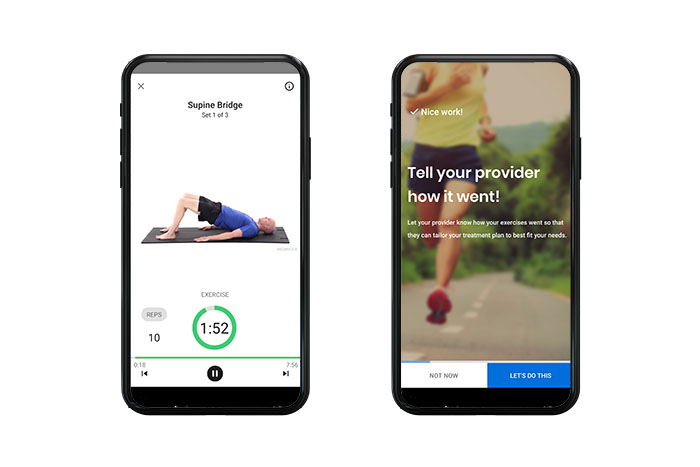 ---
MedBridge App Provider Portal
MedBridge GO Home Exercise Program Builder cost for providers: $250 (with MedBridge suite)
I remember being a new grad and gleefully scrolling through the exercise software at my work and checking every exercise vaguely related to my patient's condition.
"The more exercises, the more value!"
Or so I thought…in reality I had no idea how long the HEP was going to take. And, I did not formulate a plan about how this would fit into my patient's life.
What I like about the MedBridge GO app is that it makes it easy to:
Go digital
Make a plan for how much time it will take
Send reminders
Provide a feedback loop
Assigning your patients is easy in your MedBridge account. (And, I should mention that not only can you assign exercises, you can also assign patient education.)
How to get started:
1.) Purchase MedBridge PREMIUM subscription
You'll need Premium MedBridge membership to utilize the MedBridge GO app with your patients. Check out our MedBridge Review page and MedBridge promo code page for any questions on getting the best deal.
(If you are a student, your MedBridge student subscription will give you access to the home exercise program building. But, the exercises will have a water mark, and you wont have usage of the MedBridge Go app).
2.) Log in and go to the home exercise program tab
You'll find the "Patient Engagement" drop down in the upper right.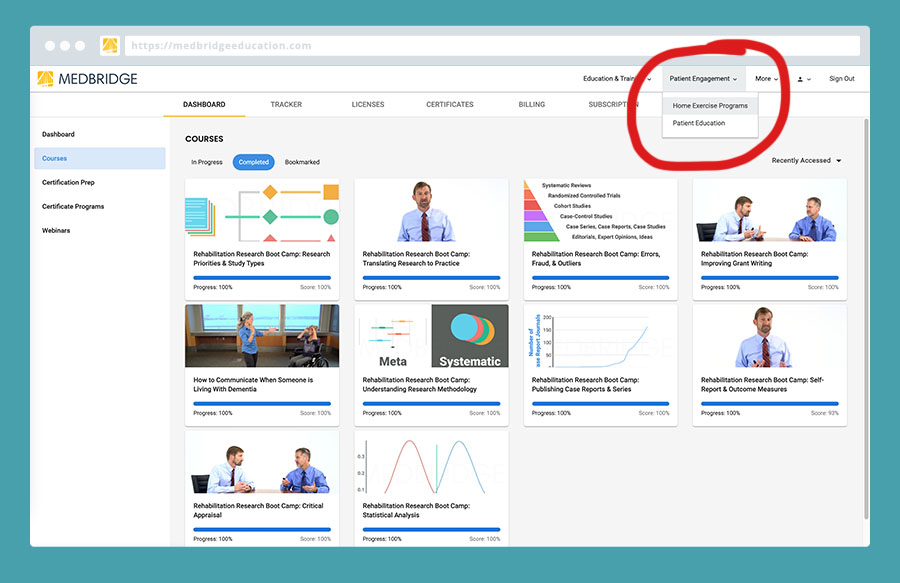 3.) Drag and drop to build your program
The exercise builder has 7006 exercises to choose from (isn't that crazy?!). For patient education there are 719 resources to choose from.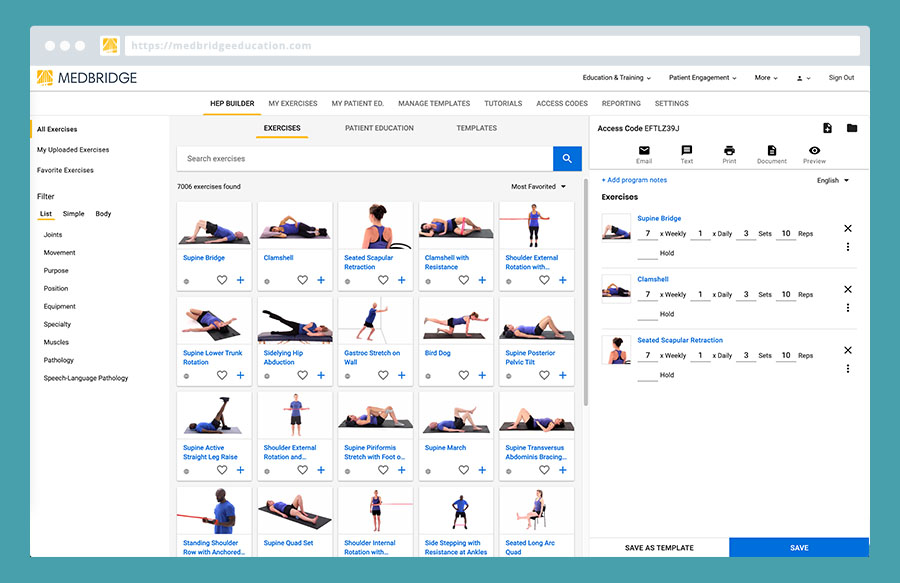 4.) Send the program to your client
All you need is your patient's email address to send them an email with a unique access code.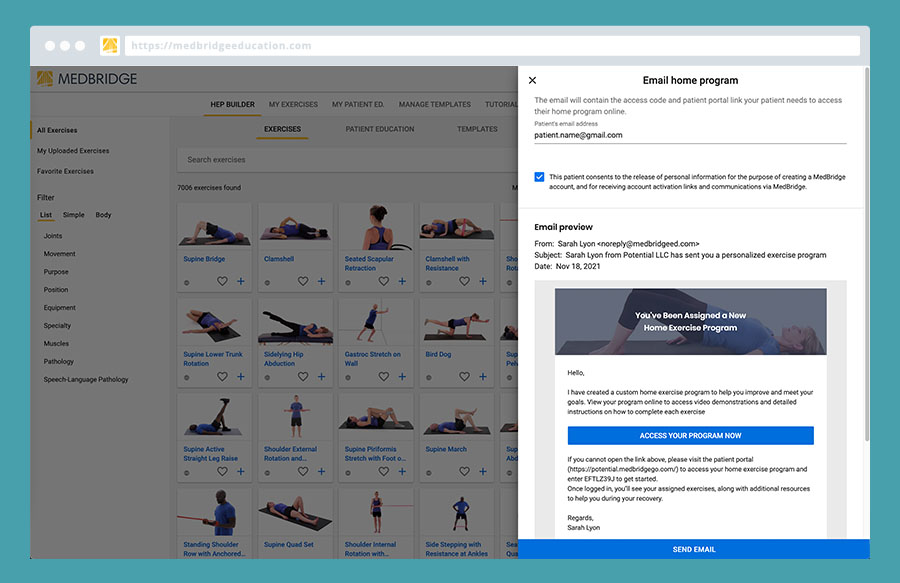 5.) Follow up with your patient at their next appointment.
Obviously, there is no such thing as a set it and forget it home exercise program. You will want to be getting in tweak it. The edits you make the program, will then be reflected with in the app.
Oh, and one final bonus, when you save an exercise you'll have the option to copy text to enter into your documentation: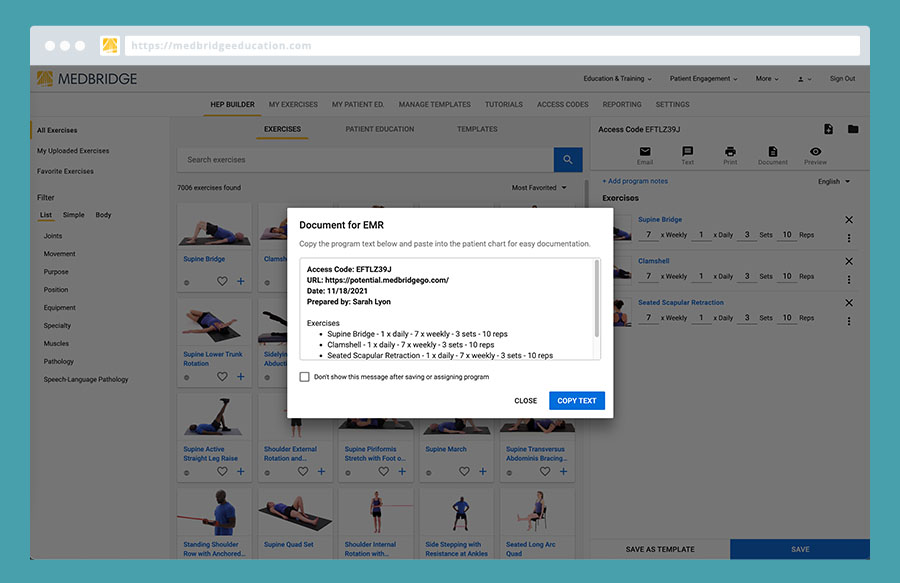 Conclusion
We hope this has answered your basic question on using MedBridge GO! If we missed anything please let us know in the comments below.
Happy exercising 🙂