If you're an OT/OTA, PT/PTA, SLP/SLPA, AT/ATC, or RN on the hunt for continuing education units (CEUs), this review of MedBridge Education will help you decide the answer to your burning question:
"Is MedBridge worth the cost?"
MedBridge has been my CEU provider of choice for six years now and I personally think it's absolutely worth the cost—but this article will help you decide whether it's worth it for your own unique needs.
In this article, I review the MedBridge platform to help you get an idea of what the company offers, as well as how you might benefit from using the platform.
Here's what we'll cover:
(If you do decide to go with MedBridge, please don't forget to enter the promo code "OTP" to get the best price possible!)
---
Which plan to choose: Education vs. Premium
If you've browsed the MedBridge website, one of your first questions is probably:
"What's the difference between the Education Plan and the Premium Membership?"
Simply put, the Education Plan is best for people who simply want to learn and get CEUs.
With any MedBridge subscription plan, you get unlimited continuing education.
A MedBridge subscription plan provides all of the continuing education you will need for state and national licensing*, and MedBridge will automatically submit any of the CEUs you complete with your subscription to the appropriate board (provided your license information in your profile is up to date).
With the Education Plan, you also get access to MedBridge's reference tools (which are described later in this article), as well as access to a practitioner-facing app that lets you access the CEU and educational materials.
The Premium Plan gives you the aforementioned unlimited courses and CEUs—but it also includes patient engagement resources, such as a home exercise program (HEP) builder, patient education materials, and access to a proprietary patient-facing mobile app.
That's really the main difference: the patient-facing resources. These are described more in depth later in this article.
The majority of MedBridge subscribers do wind up opting for the Premium Plan so they can access these patient-facing resources.
---
Already know you want to subscribe?
---
*How do I know the CEUs will count toward my license?
Of course, our state boards can't make it too easy on us to figure what exactly counts for accreditation. 😉
Considering the inherent confusion caused by each state having its own licensing regulations, the MedBridge platform makes things blindingly simple. You can look up information for each course, and you can quickly find out whether that course counts for CEUs for your specific profession and state.
You can even filter the course catalog by state and discipline to immediately see which courses are accredited. To make things even simpler, if you enter your home state and discipline in your profile, MedBridge will coordinate all your course completions. They will even create a certificate listing your CEUs and license information, which you can send to your licensing body.
MedBridge has also worked with our national organizations, and courses that count for the respective disciplines are:
AOTA accredited
Meets the requirements for NBCOT
ASHA approved—MedBridge can even automatically update ASHA with your completed courses
BOC approved
The APTA does note accredit courses, but they are a partner of MedBridge.
Do webinars count for my required live hours?
In addition to providing traditional online CEUs, MedBridge has expanded to include one to two live webinars each month.
You can see the live webinar calendar here.
These live webinars provide a platform for questions and interactions, and they meet most state licensing requirements.
That said, each state's rules vary, so I recommend looking at your individual state licensing requirements (or contacting MedBridge) to address specific questions.
Reference tools (available to both Education and Premium Plan members)
The reference tools section has short videos (anywhere from one to two minutes) of orthopedic tests and manual therapy techniques.
The techniques are broken down into body regions. For example, in the hand/wrist orthopedic tests category, there are about 60 videos (ranging from Boyes test to Mishra Test II).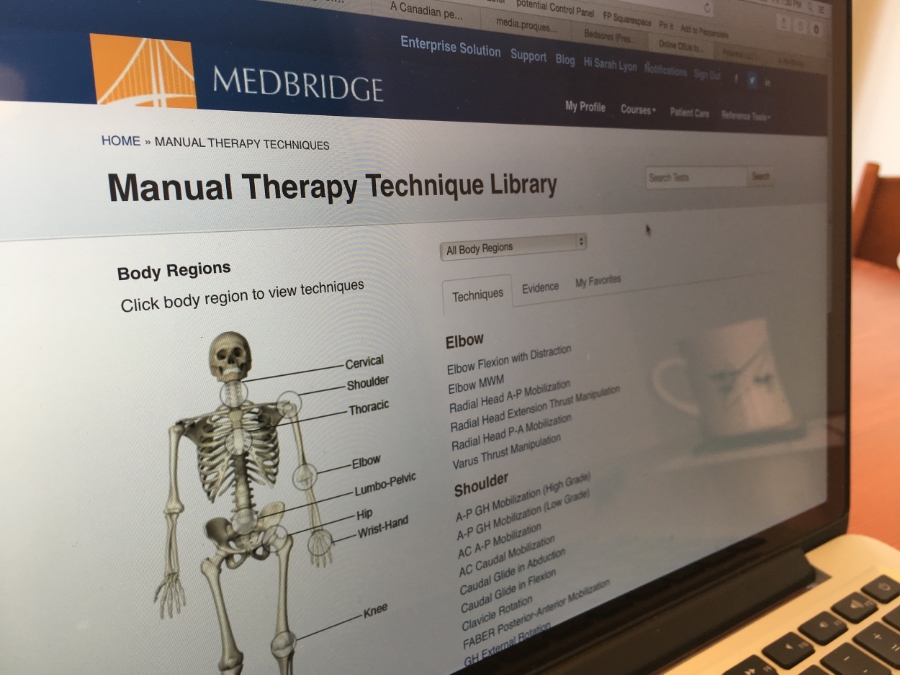 Patient care resources (ONLY available to Premium Plan members)
I happen to love MedBridge because of its patient care resources; I believe these patient-facing tools are a big part of what makes MedBridge such a robust choice for clinicians.
The patient care section provides two services:
Customized exercise programs
Patient education handouts/videos
For each patient, you can create a unique patient care program with exercises, condition-specific resources, and other patient education videos/handouts.
The patient then receives a unique access code via text or email, which invites them to a patient portal that they can access from home. You also have the option to simply print off your handouts, as seen below.
In 2017, MedBridge also released the MedBridge GO app, which walks patients through their exercise programs by using short videos. Here is an overview of how you can leverage the MedBridge GO app, alongside best practices, to create home exercise programs.
I created the below patient handout in about two minutes. The handouts and videos feel modern and are well designed. They are decades beyond some of the handouts I have dug out of old filing cabinets.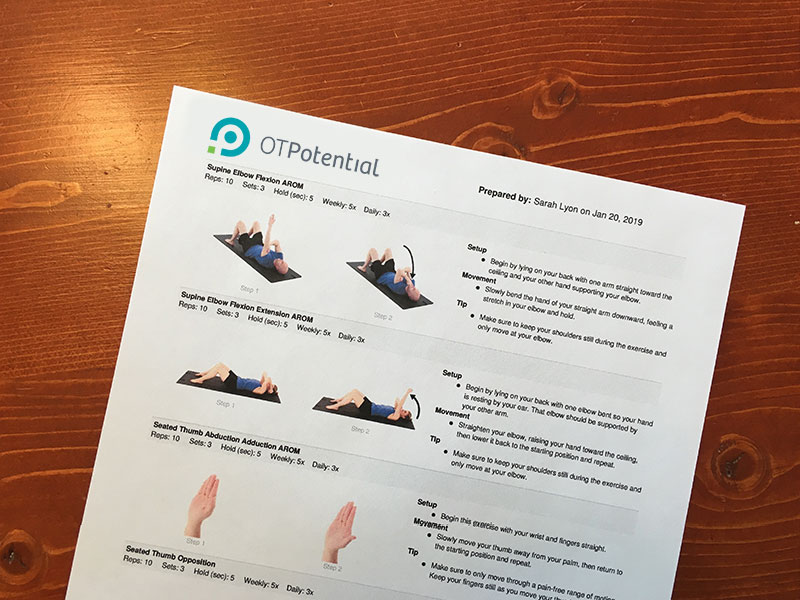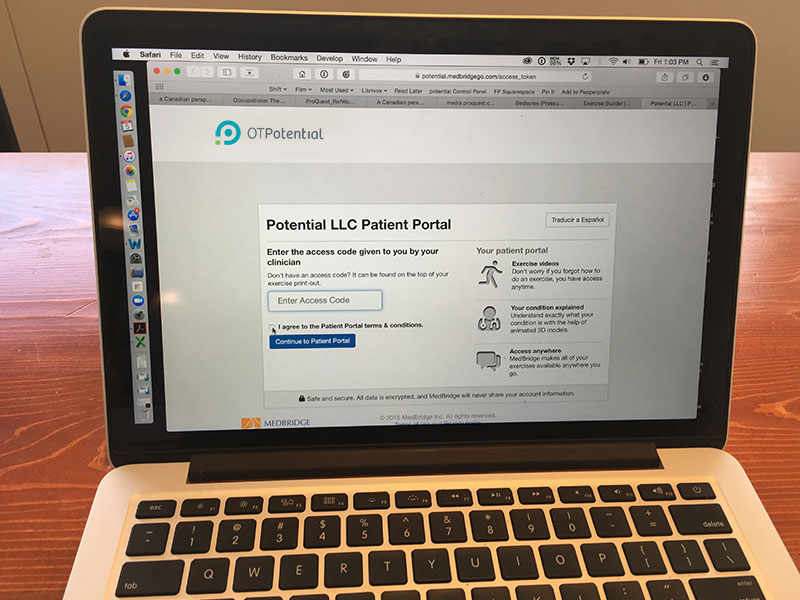 My personal pros and cons
My pros:
In my opinion, MedBridge the has best CEUs available, in terms of both quality and selection.
The quality of the videos is far above the other service I have tried, and I know when I dedicate time to sitting and watching a video that I am definitely going to get something out of it.
This past year, I also completed nine courses to earn my Rehabilitation Research Bootcamp Certificate. This was personally very meaningful, because the process helped give me the extra confidence I needed to launch my dream project of an online journal club for OTs.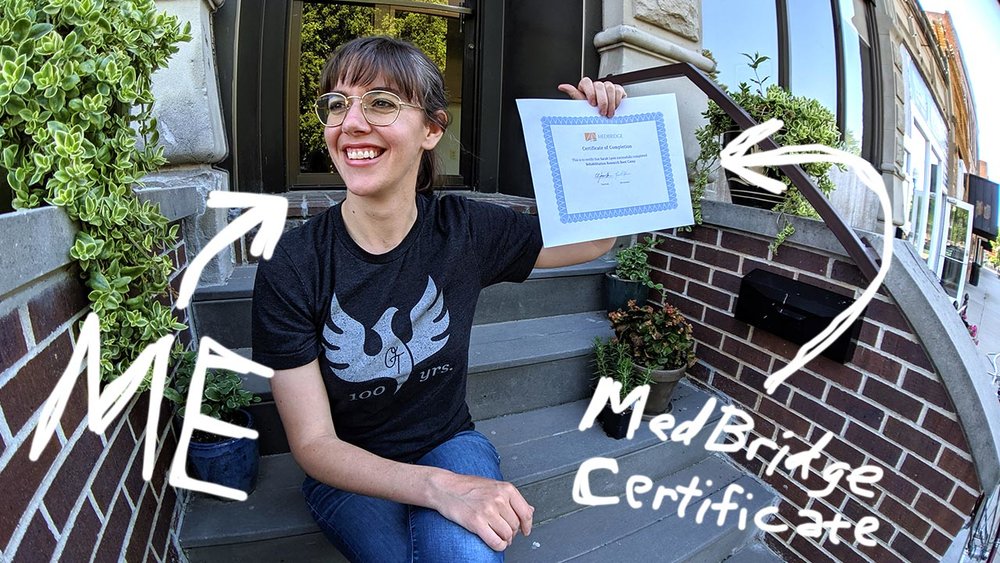 The cons:
I always recommend that before subscribing to a CEU platform, you should make sure they have courses that will directly impact your practice. I love MedBridge, but it does not cover every single topic. You may have to keep looking if you are interested in extremely specialized information.
Also, if you are looking to cheat and get your CEUs done as quickly as possible, MedBridge is not for you. You really do have do have to sit down and watch the videos to pass the tests!
Important cost information
You are likely to experience sticker shock if you go directly to the MedBridge website and see prices like $425.
That's why it is extremely important that you look for a promo code to bring the price down.
Not only will you save money today, you'll also continue to do so down the road. I suspect you'll love the platform and opt to renew, and MedBridge makes that really convenient with an auto-renew option. The nice thing is if you start out using a promo code, MedBridge will automatically renew your membership at the discounted rate.
That means if you use a promo code and pay $200, it will renew at $200.
However, if you skip the promo code, you could pay $425 and it will renew at $425.
The bottom line
MedBridge is growing at breakneck speed, and it is continually adding more resources for therapists and patients alike. It's an extremely affordable, convenient, and robust platform that allows you to earn CEUs on the go, without sacrificing quality.
I will continue subscribing to MedBridge indefinitely, as it's the perfect solution for my CEU needs. If you decide this is a good option for your own needs, you can subscribe for $200 (or $250 if you want all the features of the Premium Plan) by using my promo code "OTP" when you check out.
Please note that I am an affiliate of MedBridge, and thus have an incentive to connect the right users with this service. However, this post was not sponsored or suggested by MedBridge. Descriptions and opinions are my own.
Get started with MedBridge today!
Copy and paste this MedBridge Promo Code:
OTP
OR