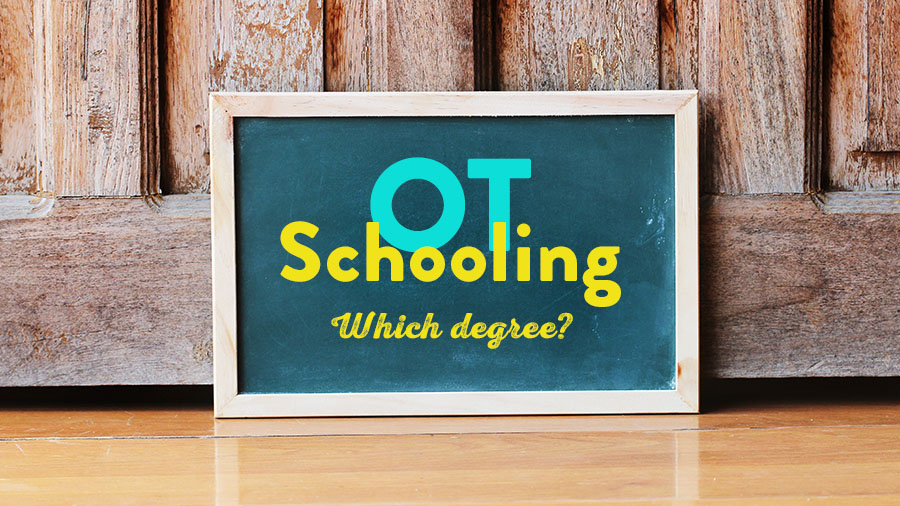 Once you've made the big decision to become an occupational therapist, you have many occupational therapy schooling options to build your dream career.
There are two degree levels to decide between to enter the field—then multiple others you could pursue from there!
Taking time to consider which degree pathway is right for YOU is vital. You do not want to invest a tremendous amount of time and money heading down the wrong path.
So, in this post, we are going to introduce you to the different OT-related degrees and pathways. We'll begin with an introduction to the entry-level degrees, survey the terminal and complementary degrees, then close with some big picture questions for you to consider.
(Please note, this article will cover schooling for occupational therapists. OT Potential plans to release an additional article later this year for OT assistants.)
Here's what we'll cover:
Entry-Level Occupational Therapy Degrees
The first degree related decision is your "entry-level" degree. This is the degree you obtain that allows you to obtain your license and practice as an occupational therapist.
It's important to understand that until 2007 occupational therapists in the United States could enter the field with a bachelor's degree in occupational therapy. There are many practicing clinicians with this degree today.
But if you are starting your journey today, you now need to obtain your bachelor's (ideally in an area that allows your to fulfill your prerequisites) and then go on to obtain either your:
MSOT (master of science in OT)
OTD (doctorate of OT)
While both of these degrees are entry-level degrees, they are distinct programs. And, the decision to pursue one over the other should be weighed carefully.
Obtaining a MSOT versus an OTD does not necessarily set your future in stone, but it is a major decision with both short-term and long-term implications for your career.
Here's what you need to know about choosing your entry-level degree:
MSOT (master of science in OT)
The MSOT or MOT degree takes approximately 2.5 years to complete. It includes about 2 years of coursework and 7 months of clinical rotations, these rotations are called "Fieldwork." You'll have 1 month in Level 1 Fieldwork and 6 months in 2 different Level 2 Fieldwork placements).
The master's degree varies in cost depending on the school you go to, but overall is less expensive and less time intensive than an OTD.
This degree, upon graduation and passing the NBCOT licensing exam typically is described as having the credentials MOT, OTR/L credentials and allow the occupational therapist to treat, evaluate and develop treatment plans and goals.
For the vast majority of OT jobs in the US, you will be qualified to compete for the same jobs as an OTD. And, your salary will likely not vary based on your degree. So, if your goal is to practice in a traditional setting, an MSOT is probably your most economical choice.
Another perk of this degree is that it allows you to begin practicing more quickly, and really understanding your strengths and interests. Then, if you want to specialize later in your career, you could look into a specialty certification to advance your knowledge and possibly open more job opportunities.
If you are interested in teaching, an MSOT degree will also allow you to teach at an OTA program and potentially at some other OT programs. (See the question below: Is your goal to work in academia?)
OTD (doctorate of OT)
The OTD degree takes approximately 3.5 years to complete. It includes the same initial coursework listed above for an MSOT, but then OTD students also complete about 1 semester of additional coursework and a final capstone experience (4 months).
The intent of this additional education is to provide extra training in education, research, and clinical leadership.
The cost is typically more than a master's degree for the additional year of training. Upon graduation and passing the NBCOT licensing exam, graduates with this degree typically use "Dr." as their salutation and use the credentials OTD, OTR/L.
The OTD degree sets you up to begin specializing and pursuing your particular interests early in your career. So, if you think that teaching, leading, or program development may be something you'd really like to do, the OTD degree is worthwhile to consider!
However, you should be aware that the OTD is considered an entry-level degree. Following education training requirements, graduate programs are required to have a portion of their faculty with terminal degrees in their field. While for many, the OTD can open pathways for teaching, those seeking careers in academia may want to ask faculty about this requirement. Some may be asked to complete additional training to obtain a terminal degree. For example, OT doctoral programs are required to have at least 50% of full-time core faculty with a post-professional doctorate (per ACOTE Standard A.2.7).

As mentioned above, the program culminates in a capstone experience. You can see this blog post to see the types of projects students complete or join the OT Potential Club to see summaries of previous projects generated by OTD students.
Terminal Occupational Therapy Degrees
Once you've obtained an entry level degree, your OT academic journey does not need to stop! There are several other degrees you can consider. Below are the options that are considered terminal degrees because they are the highest level of education you can obtain in their respective areas.
PPOTD (post-professional OTD)
For individuals that graduated with a bachelor's or master's degree in occupational therapy, they can pursue a post-professional OTD program. The PPOTD is considered a terminal degree in the field.
The benefit of a PPOTD is that it can expand your teaching options and establish your mastery in a particular area of practice. It can also equip you to grow in the areas of leadership, innovation, community practice, and/or advocacy.
People who complete the PPOTD degree typically add the credentials OTD to their name. (Honestly, this can be a little confusing because the credentials appear the same as the entry-level OTD.)
This degree is offered by a number of schools, many of them are online and the duration is typically a couple of years with part time effort. The cost varies by program. The curriculum content also varies significantly, as they are not standardized by ACOTE, like entry-level degrees are. Many programs do include some type of capstone or final project.
Amanda Mack, OTD, MS, OTR/L, CLC is an associate professor at Washington University at St. Louis, and she recently completed a market analysis of PPOTD programs and was willing to share some of her findings about the variation between programs.
She said that most programs range from 1.5 years to 3 years part-time, this typically includes 5-6 semesters (including a summer semester). Some allow you to go right from your master's degree into the PPOTD; others require 1 or more years of work as an OT.
The cost of programs varied widely. The most expensive was around $70,000 and the cheapest was around $13,000. Private schools are generally more expensive than public institutions.
The program fees also vary widely and should definitely be explored to figure out the total cost. Most program fees were somewhere in the $25,000 – $35,000 range for the whole program.
More programs are moving toward 100% online, though some still require on-site visits, and there are a handful of in-person PPOTD programs out there. She offered the helpful reminder that just because a program is online doesn't mean that it is less work :-). Students should still expect to spend around 20 hours/week on coursework even for part-time curriculum.
Finally, she highlights the importance of understanding the focus and specialties of each program—some are more clinically focused, or leadership focused, or more generalist. Some require residencies, some don't. Some have all asynchronous learning, some require a lot of synchronous time. Make sure you understand the model of the program and how it will fit into your lifestyle!
Other Common Terminal Degrees
Some individuals in OT may seek other degrees that support their area of clinical practice, education or research. There are many different types of degrees but some of the more common ones include the following:
PhD (doctor of philosophy)
The PhD degree typically takes between 4-7 years to complete and is typically rigorous and specific training to become an independent scientist as the principal investigator (PI). In most PhD programs, you will be aligned with an individual mentor who oversees your training during that time. Along with a written dissertation, a PhD typically includes some sort of preliminary exam after coursework is completed, a proposal presentation, and dissertation defense.
Like all degrees, be sure to really dig into the costs and benefits at each program you are considering. Some full-time research oriented PhDs cover education costs and offer a stipend and student benefits.
Upon passing a dissertation defense, most graduates include the PhD credential behind their name.
If you think you may want to pursue a PhD, check out these next steps:
EdD (doctor of education)
The EdD degree is often completed by individuals seeking to be professional educators.
The EdD degree can take around 3 years to complete. Here is a general guide to becoming a professor, and how the EdD opens advanced teaching opportunities.
To understand the specific requirements for teaching at each level in an OT program you will need to look into the ACOTE (Accreditation Council for Occupational Therapy Education) Standards.
It may be helpful to reach out to an OT who has obtained an EdD, if you do not know of one in your circles we recommend searching for the credentials in the OT Near Me Directory.
For more information comparing an OTD v PhD v EdD:
Other Complementary Degrees
Beyond the pathway of going from an entry-level degree to a terminal degree, there is always the option to obtain a second masters. OTs take this route when they are drawn into a field that complements their OTs work.
We'll highlight one such degree then list some other options.
MSCI (master of science in clinical investigation)
The MSCI is offered at some universities to those who hold a doctorate degree (e.g., OTD) for additional specific training in science and research. People that seek this degree often are looking to have a career as a scientist and leading independent research.
It may be possible to find funding to cover the cost of the degree, or to complete part of this degree during your capstone as an OTD student. It takes about 1 year to complete.
Similarly there is an DSc (doctorate of science) that is offered by some universities to clinical providers (The University of Oklahoma has one with scholarships!) that can offer additional training to those seeking to develop research questions and test them.
Additional degrees in this vein include:
A Few More Good Questions to Consider
We touched on some of these questions above, but they are so important we wanted to dig into them specifically.
1. Do you want to do research?
There are few different paths to being a part of research.
Many OT professionals are a part of the research team and research interventionists, evaluators and coordinators. If you live near a university, check out the research in rehabilitation, OT, PT, psychology, neuroscience! You may find an OT working there, or you can research out to the Principle Investigator (PI, usually faculty member) to ask if they have jobs or openings available!
If you want to be asking and answering your own questions, there is additional training required. This can come from an MSCI, ScD or PhD, depending on the level and type of research you want to do. After completing a PhD, many people also do postdoctoral (often referred to as a "postdoc") training to learn a new aspect of research (can be 1-5 years, varies).
If you are seeking to get government funding (NIH), while not mandatory, many people recommend a PhD.
For more information about paths to research careers, check out this video:
To hear more about a day in the life of someone pursuing a research career you can also check out this video: https://youtu.be/sIhX5FMsGeQ
2. Is your goal to work in academia?
As you probably picked up above, there are avenues at all degree levels for working academia, but also some possible limitations.
If working in academia is stirring as an interest in you, start having conversations and consider what level might be the best fit for you.
This is pretty nerdy, but it might even be worth looking at the ACOTE (Accreditation Council for Occupational Therapy Education) Standards to understand the required percentages of degree levels at each level of education.
For a more fun look into academia, I also recommend the Dr. thOTs podcast episode From Practitioner to Professor.
3. Is your heart set on being a master clinician?
If your goals are focused on honing your craft, there are many avenues to building on your entry level OT degree. You can seek out mentoring, work at a research hospital, and/or obtain advanced certification.
Many OTs who become "master clinicians" then take on entrepreneurial endeavors like starting their own practice, or even teaching continuing education courses. These options do not include an advanced degree, but they certainly entail a lot of new learning in their own right.
4. Which degree will have the best return on investment for YOU?
We cannot talk about degrees without talking about the costs behind them. It is important to not unnecessarily accrue student debt. Be sure you take time to become fully informed about the costs and benefits of each degree. Then, at the end of the day only you can decide if a degree is worth it for YOU.
Conclusion
OT careers can take many paths. And, it is often hard to predict what your path will look like. But, I hope this post gives you information to reflect on when you come to critical decision points, like which entry-level degree is right for you.
No matter what path you end up taking, we are excited you are digging deeper into these questions. We need thoughtful OTs at all levels of practice! There certainly is no one right path to take.
If you have more questions, please don't hesitate to reach out in the comments.
Further Reading