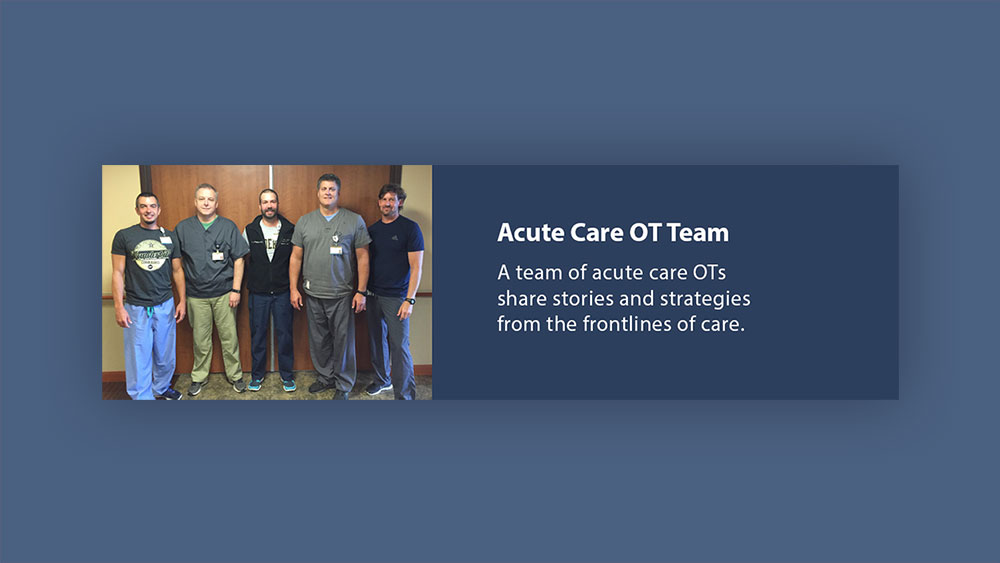 About 30% of OTs work in the hospital setting. (That's more than any other practice area.)
And yet there always seems to be a lack of information online about OTs in acute care. A huge thank you to this team of OTs for sharing their insights. May it spur further conversation and sharing.
If you have any insights or questions about acute care OT, please share them in the comments!
---
An interview with 5 acute care OTs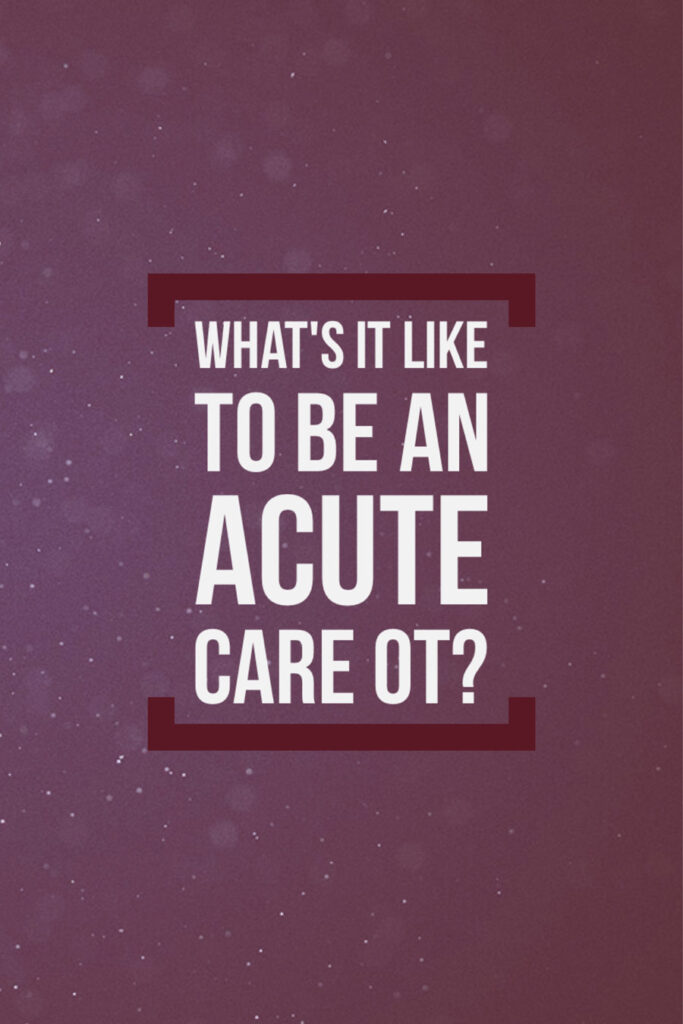 What initially drew you to acute care occupational therapy?
I knew that I wanted to work in a hospital setting and so I did my Level I in acute care. My Level II was in inpatient rehab.
I ended up with a job at the hospital where I did my inpatient rotation. I had the opportunity to occasionally float back and forth in both inpatient and acute care. After awhile my manager asked me to move into acute care full-time. I enjoyed being back there more than I could have realized. – David S. McGuire OTR/L, 2.5 years in practice
What is your favorite part of being an occupational therapist in the acute setting?
To me, the best thing about working in an acute setting is the variety and complexity of the patients seen, especially if you are working in a larger hospital in a metropolitan city.
We work with patients that are the sickest and hurt the worst so it is somewhat challenging but never dull.
The medical staff is very respectful of the work we do and often rely on us to get patients out of the hospital, thereby decreasing lengths of stay.
The schedule is somewhat flexible as compared to other settings where you have patients scheduled at a particular time. – Shane Wood OTR/L, 15 years in practice
I learn every day. Whether it is a new protocol or a new diagnosis, something new presents itself. – Jim Lassiter OT/L, 21 years in practice
I really enjoy working with the "sickest of the sick."
The acuity of the patients in this setting, the need to always be on top of your information, and the pace that is required to provide quality patient care keeps me interested and also keeps things from becoming too routine or mundane.- Caleb Templeton OTR/L, 8 years in practice
I enjoy the pace, the variety of diagnoses, and level of complexity of patients in the acute setting. I also feel like there is greater opportunity to see and learn from other disciplines which helps me grow as a therapist. – David S. McGuire OTR/L, 2.5 years in practice
What is the biggest challenge of being an acute care occupational therapist?
The biggest challenge I see on a daily basis the need to teach the public what OT is. So many people are familiar with PT… but I don't feel the public is educated as well with what OT is…. what we do… what our goals are. – Jim Lassiter OT/L, 21 years in practice
For me, the biggest challenge is working around other services necessary to keep the patients alive/medically appropriate to participate in therapy. However, I think this also builds camaraderie with other disciplines and can grow one's understanding of complex pts/the acute setting – Caleb Templeton OTR/L, 8 years in practice
Have you experienced any challenges with productivity demands or the physical demands of the work? If so, how have you managed them?
In both hospitals I've worked, productivity standards have been the same; the main difference is how the time was billed. In acute care, there are going to be good days and bad days as far as productivity is concerned.
You are going to have days where patients are undergoing tests/procedures, are off the floor, and/or medically inappropriate at the time of the attempted evaluation/treatment. Then you have other days you are able to see every patient on your list.
In regards to the physical demands, you use your clinical judgment. I've worked with patients that are completely independent and other patients that are total assist x 2+ for bed mobility. You don't want to cause harm to the patient (you know that whole nonmaleficence thing.) Using proper body mechanics is important, but unfortunately, we are not always able to do that.
At my previous hospital, I only had assistance from a tech occasionally and felt very limited with lower level patients. At my current facility, I feel like I have plenty of help and the majority of time, if it is appropriate, the team wants the patient out of the bed. We want to get the patient up and moving so they can discharge to the appropriate facility or go home. – David S. McGuire OTR/L, 2.5 years in practice
The acute care setting seems to have unique team camaraderie. Have your experienced this? What are the ways that your facility fosters this sense of camaraderie?
I definitely agree and have experienced this. With the acuity of the patient's and the fact that things are constantly changing in the acute care setting, we are often required to work together—communication is definitely key. We have to work together to get the patients seen. We recognize and celebrate each other often. Many of us do things together outside of the work setting as well. – Shane Wood OTR/L, 15 years in practice
If someone is hunting for an acute care job, what would you advise them to look for in a facility?
The healthcare market is increasingly becoming competitive, so from an administrative standpoint, I would want to know the vitality of the organization; are there mergers anticipated or a foreshadowing of the company being sold?
From a clinical perspective, I'd want to know:
What opportunities for growth exist?
What is the staff tenure?
Is there organizational funded continuing education?
Are there productivity requirements?
How does the rehab department fit into the economy of the organization?
How is OT regarded and viewed professionally within the rehab department and organization as a whole?
– Scott Mclaurin OT/L, 22 years in practice
What advice would you give to someone who is just starting work as an acute care occupational therapist?
Enhance your understanding of medical abbreviations and diagnosis with an emphasis on understanding the recovery trajectory of each diagnosis.
The number of days patients are hospitalized has shortened so, understanding the critical therapy needs is important to a well-designed POC (Plan of Care) and to facilitate transfer to the next best level of care.
Have a solid understanding of post-acute rehab options: long-term care, SNF, IPR, HH, and outpatient. This is critical in making the correct discharge referral. – Scott Mclaurin OT/L, 22 Years in practice
What changes would you like to see in the acute OT area in the next five years?
It would be great to increase the visibility and clarify the value of the OT as a healthcare profession; developing instructional tools and reaching out to educate other healthcare providers on the profession of occupational therapy.
I would like to see a shift in the reimbursement structure; research has proven that providing OT treatment through lifestyle changes can improve health and wellness by preventing acute and chronic health-compromising conditions. OT's have a lot to offer high level/functioning acute care patients with regard to prevention; however, it is not reimbursable and deemed appropriate for acute care patients at this point in time. – Dominic Bruzzese OTR/L, 6 years in practice
What resources have you utilized to grow your practice over the years?
I have gone to "senior/seasoned therapists" to pick their brains and learn from their experiences. – Caleb Templeton OTR/L, 8 years in practice
Additional Resources for Acute Care OTs:
---