Acute care occupational therapy helps our clients re-establish a daily routine and transition safely out of the hospital.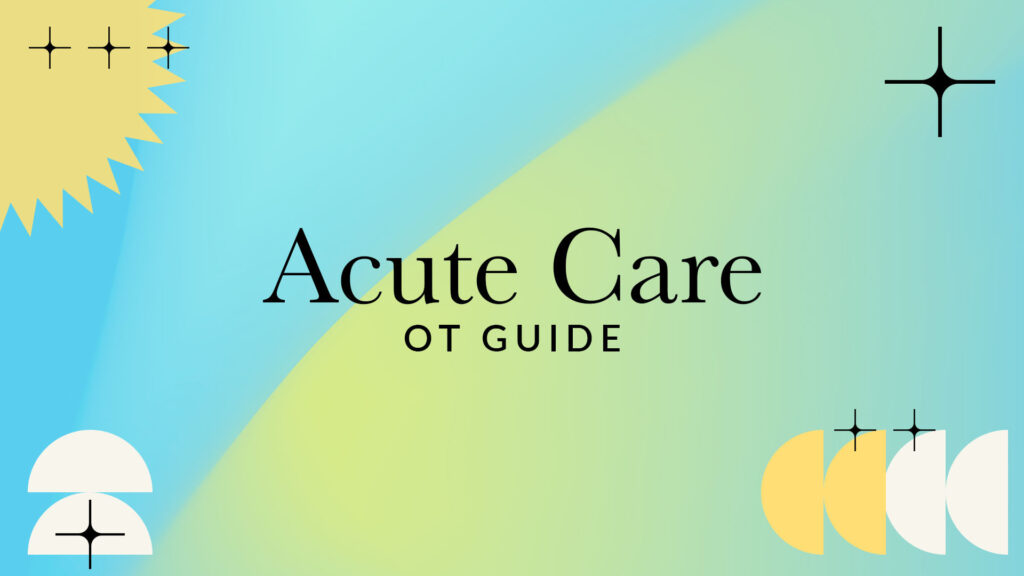 In this guide, you'll learn the details about this critical branch of occupational therapy practice.
You may be reading this article because you or a loved one is a patient in an acute care setting—and you want to understand the role of your occupational therapist.
Or maybe you are reading this as an aspiring OT yourself.
Either way, we'll answer your basic questions about OT in acute care in this article, including:
Why is acute care occupational therapy important?
Along with your entire acute care team, our overall goal is to help you recover and transition to your next care setting as soon as you are safe to do so.
As occupational therapists, we are focused on helping you perform the daily tasks you need to be able to do to safely leave the hospital.
Often times, peoples' acute health conditions impact their ability to do the daily tasks they once took for granted, like:
Getting Dressed
Bathing
Eating
Remembering Medication
Managing Their Health
Meal Prep
Driving a Car
Having the energy to do your morning routine
In many cases, we will have you actually practice these things—as oftentimes patients are not yet aware of how their health condition has impacted their abilities.
By practicing these things BEFORE you go home, we help reduce the likelihood of:
Falls
Readmissions
Unnecessary days at the hospital
From a scientific perspective, we also practice the things you will need to be able to because it activitates something called activity dependent neuroplasticity. Your brain learns by doing, and during an acute illness your brain is learning how to get through the day with your new health status.
Is acute care OT cost-effective?
Medical bills from a hospital stay can be daunting, and rightfully lead you to question each line item.
That is why it is so important to us as occupational therapists that your care is effective AND cost-effective.
We work to save you money over time, by reducing things like:
If you need continued care after the hospital, we also want to make sure you have the right level of care, as these are huge decisions for your family:
The research on helping you avoid or reduce these costs is quickly evolving, and we are following it closely to ensure you have the best care.
Here are some landmark studies that guide our practice:
What does an acute care OT eval involve?
During the first visit from your acute care OT, they will likely want to learn about you and what they can do to help you discharge safely.
This means learning about what your life was like before you came to the hospital. (The technical term we use is your "prior level of function.")
We'll also want to understand what you need to be able to do to safely discharge. Down to details like:
Will someone be at your home to help you?
What do you need to be able to do by yourself?
What are your concerns?
Are there questions you have about your health condition and managing it?
We may also use standardized assessments, to gather information. These may include:
10-Meter Walk Test (10MWT)
9-Hole Peg Test
Agitated Behaviors Scale-Modified
American Spinal Cord Injury Association (ASIA) Impairment Scale
Barthel Index for Activities of Daily Living (BI)
Berg Balance Scale (BBS)
Borg Dyspnea Scale
Brief Confusion Assessment Method (bCAM)
Brief Pain Inventory (BPI)
Fugl-Meyer Assessment (FMA)
General Health Questionnaire (GHQ)
Geriatric Depression Scale (GDS)
Katz Index of Independence in Activities of Daily Living (Katz ADL)
Lawton Instrumental ADL Scale (IADL)
London Handicap Scale (LHS)
Medical outcomes study short form- 36 (SF-36)
Mini-Cog©
Mini Mental State Examination (MMSE)
Modified Ashworth Scale (MAS)
Modified Rankin Scale (MRS)
Motricity Index for Motor Impairment After Stroke
National Institutes of Health Stroke Scale (NIHSS)
Postural Assessment Scale for Stroke Patients (PASS)
Rivermead Mobility Index (RMI)
Saint Louis University Mental Status Examination (SLUMS)
Spinal Cord Independence Measure (SCIM)
Symbol Digit Modalities Test (SDMT)
Timed Up and Go Test (TUG)
WeeFIM
What does acute care OT treatment involve?
As we mentioned above much of what you will do with your acute care therapist is practicing what you need to do to discharge safely.
The technical term we use for this practice is "activities of daily living (ADL)" training.
We also have specific skills to help your healing process to support function. These skills can include:
Amputation management
Assistive technology recommendations
Cognitive assessment/training
Lymphedema management
Neuro-retraining (post stroke)
Perinatal Care
Wheelchair management
Wound management
Finally, throughout your sessions your occupational therapist should be educating you AND your caregiver on safety and can help answer any questions about your health condition. (Or direct you to the right people to do so.)
What does discharge from OT look like?
If you need continued therapy after your acute care stay, there are multiple options. The most common include:
What are other ways OTs contribute to acute care teams?
There is much team coordination that happens in the hospital setting. Often times, in addition to seeing individual patients, OTs will serve on teams to improve the overall hospital experience.
For example, we may serve team dedicated to exploring completely new models of acute-level care like the hospital at home model.
It is also common for OTs to be involved in fall prevention and mobility teams. It is difficult to balance the tension between mobility and reducing falls, so this is an area where we are watching closely for new evidence and technologies that are coming out.
In this video Pooja Patel and I discuss fall prevention technologies becoming available:
Basic information about your acute care OT
About ⅓ of OTs work in the hospital setting. Making it the most common place for OTs to work.
To become an OT in the US, you need a masters or doctoral degree. Beyond that, many OTs go on to earn specialized certifications and continuing education in their particular area of work.
Based on our OT salary guide, OTs in the hospital setting make a median income of $86,000/year.
Who are the acute care OTs near me?
We've talked through acute care OTs in very general terms in this post. But, the work of an acute care OT can vary dramatically from hospital to hospital. For example, OTs make work in speciality settings within their hospital such as:
The neonatal intensive care unit (NICU)
The pediatric intensive care unit (PICU)
The intensive care unit (ICU)
A burn unit
Obstetrics
The best way to get specific answers about OT is to talk to an OT near you! If you are currently utilizing hospital services, that would mean talk to the OT and care team.
(If you are looking for an acute care OT job, use the hiring feature below. And, see our full occupational therapy jobs guide!)
Conclusion
Hopefully this post has answered all of your basic questions about acute care OT!
If you have any unanswered question, or information you would like to see in updates to this post, please leave them in the comments!
---