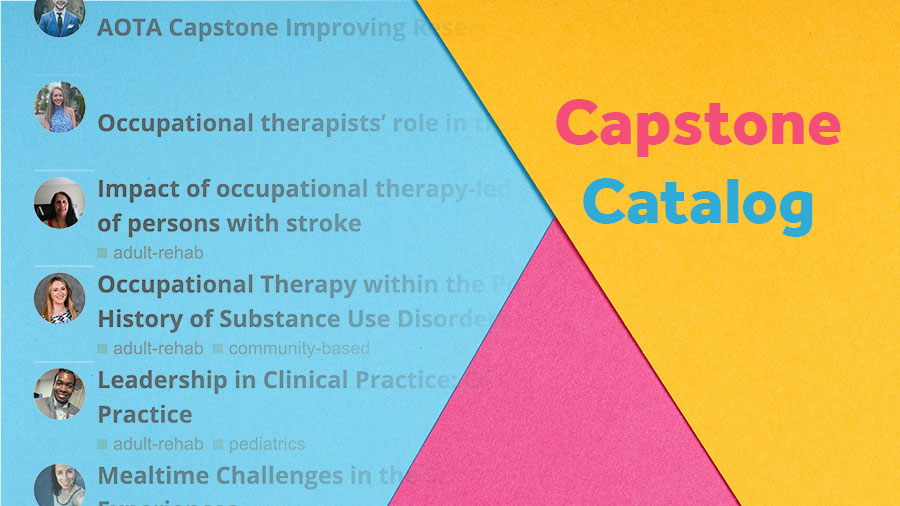 As part of an occupational therapy doctoral program in the United States, doctoral students spend 560 hours working on a capstone project.
The purpose of a capstone project is to help students take a deep dive into an area of OT, synthesize the information, and then disseminate their findings. These projects have the potential to help OT professionals all over the world improve our clinical practices.
But, until now, it's been difficult to find and read these projects!
With our new Capstone Catalog OT professionals from around the globe can easily see examples of OTD capstone projects from graduating OTD students. Likewise, other doctoral students can see examples of past projects, to help them generate ideas.
And, our favorite part is that students and working professionals can interact about the project!
The catalog is free for the public to see. To submit a project or comment, you must be a member of the OT Potential Club.
Here is a list of the current capstone topics in the Club:
Community-Based Intervention and Programming; DEI in Higher Education
Bilingual Practice, International Perspectives on OT, OT & Communication
Self Study Syllabus on Reproductive Justice and OT
The Summit Model: Viewing International Service Learning (ISL) from an Occupational Science Lens
Occupational therapists' role in treating pelvic floor dysfunction across the lifespan
Impact of occupational therapy-led education on the stress and quality of life of caregivers of persons with stroke
Occupational Therapy within the Population of Female Survivors of Sex Trafficking With History of Substance Use Disorders
Mealtime Challenges in the School Setting: Therapeutic Processes and Practitioner Experiences
AOTA Capstone Improving Research Dissemination and Implementation with Podcasting
Occupational Therapy's Role on the Design Team
Advocating for the Expansion of OTP's Role in Multi-Tiered Services in the School-Based Setting
Leadership in Clinical Practice: Creating a Student Guide to Starting a Private Telehealth Practice
Justice, Equity, Diversity, and Inclusion (JEDI) in Occupational Therapy: Expanding the focus to national, state, and university levels
R(1) you ready to be in academia?: A Doctoral Capstone in Academia
How to submit to the capstone catalog
If you are interested in sharing your capstone with members of the OT Potential Club, here is all you have to do:
1.) Sign up for a membership to the OT Potential Club.
2.) Submit the following information:
One sentence description of your project.
Student name
Name of Mentor
School
Setting and location
Virtual / In-person / Hybrid
Purpose
Method/Design/Approach
Results/Outcomes
Conclusions
Ideas for next steps to build on this topic
2-3 tips for students undertaking a similar project
Deliverables
These are meant to be short and sweet, so only 1-2 sentences for each bullet point is encouraged.
Are you looking for a capstone mentor?
The other perk of being part of the OT Potential Club is our incredible network of OTs from around the globe. On our OT directory, some members have indicated interest in serving as a mentor in particular subject areas. You can see these professionals below.
Conclusion
At OT Potential, our mission is to help the majority of occupational therapy practitioners from around the globe make a habit of regularly exploring new OT-related research. So, participating in the dissemination of capstone projects has been a natural fit for us. We hope you find it to be a win-win for both students and working practitioners.