Listen for free.
Then, join the OT Potential Club to take your test and earn a certificate.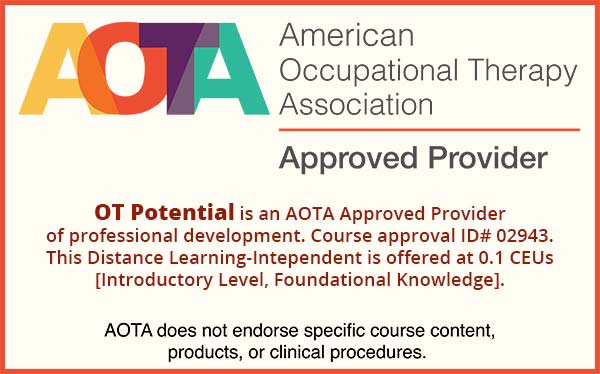 Course Description
Released August 23, 2021 from Aurora, NE
The ability to affordably track brainwave activity has opened up tremendous opportunities in occupational therapy. Regardless of where we work (or the patient populations we treat), our work has the potential to be significantly informed by this technology over the next few decades.
In this one-hour course, we will look at a research study on brain-computer interface (BCI). The study will serve as a jumping-off point to explore the concepts and developments that OTs should follow in this space.
After our article review, we'll be joined by Lauren Souders, MOT, OTR/L, CBIS, CSRS. Lauren works as Director of Clinical Operations for a BCI startup.
We'll talk with her about what is on the market for brain-computer interface, as well as what types of BCI we can expect to see coming to market in the future. And, most importantly, we'll discuss how occupational therapy care may be improved over the next decade with the aid of these exciting new technologies.
Primary Research Explored
When you log in, be sure to check out the OT Potential Club's written breakdown of the following research article, then share your questions and thoughts with fellow practitioners.

Kim T, Kim S, Lee B. Effects of Action Observational Training Plus Brain-Computer Interface-Based Functional Electrical Stimulation on Paretic Arm Motor Recovery in Patient with Stroke: A Randomized Controlled Trial. Occup Ther Int. 2016 Mar;23(1):39-47. doi: 10.1002/oti.1403. Epub 2015 Aug 24. PMID: 26301519.
Supplemental Materials
Science Can Link Your Brain to a Computer. Are You Ready? (Bloomberg video)
Restoring Functional Reach-to-Grasp using FES and ECoG (1 minute video!)
American Congress of Rehabilitation Medicine
Evidence-based Review of Stroke Rehabilitation
Secondary Research
Bundy DT, Souders L, Baranyai K, Leonard L, Schalk G, Coker R, Moran DW, Huskey T, Leuthardt EC. Contralesional Brain-Computer Interface Control of a Powered Exoskeleton for Motor Recovery in Chronic Stroke Survivors. Stroke. 2017 Jul;48(7):1908-1915. doi: 10.1161/STROKEAHA.116.016304. Epub 2017 May 26. PMID: 28550098; PMCID: PMC5482564.
Cervera, M. A., Soekadar, S. R., Ushiba, J., Millán, J., Liu, M., Birbaumer, N., & Garipelli, G. (2018). Brain-computer interfaces for post-stroke motor rehabilitation: a meta-analysis. Annals of clinical and translational neurology, 5(5), 651–663. https://doi.org/10.1002/acn3.544
Learning Objectives
You will be able to name the basic types of brain-computer interface approaches and clinical applications that are being developed.
You will be able to identify the concepts that drive BCI—including ones that you can start incorporating into your practice today.
Agenda
Intro (5 minutes)
Breakdown and analysis of journal article (10 minutes)
An introduction to the concepts to you need to know about

Mental practice
Mirror neurons/imitative learning
Action Observational Training (AOT)
AOT+ brain-computer interface (BCI) with functional electrical stimulation (FES)
Activity-dependent brain plasticity

Why was this paper written?
What methods did the authors use?
What were the results?
Authors' conclusion and recommendations
Takeaways for OT practitioners
Discussion on practical implications for OTs (with guest Lauren Souders) (45 minutes)
What were your initial impressions of the article?
Which advancements in BCI do you think are most important for OTs to be following?
What are the different types of BCI that have the potential to be used in therapy?
In traditional OT settings, do you think we should be changing our practice, based on what we are learning in the BCI world?
In traditional OT settings, if a patient asked you about BCI, what would you tell them?
In 5-10 years, how do you see BCI technologies impacting occupational therapy?
How do you see OT needing to change to prepare for the new technologies?
Contact hours
1 hour (0.1 AOTA CEUs)
Target Audience/Educational Level
Our target audience is occupational therapy practitioners who are looking to learn about clinical applications of brain computer interface technology as it relates to evidence based rehabilitation. The educational level is introductory.
Instructional Methods/Registration/Special Needs Requests/Cancellation Policy
This course is an independent/self-study course delivered via podcast on iTunes, Spotify and Google Play. Explore your listening options on the OT Potential Podcast page.
If you need accommodations to take this course, please contact us and we will address your needs on an individual basis.
If this course were to be cancelled, please see our cancellation policy on our terms page.
Course Completion Requirements
In order to receive a certificate for this course, you must first listen to the podcast in its entirety. Then, you will need to take the test (found at the top of this page) and earn 75% or higher. If you pass, a certificate will be automatically generated and sent to your email.
Speakers
Lauren Souders, MOT, OTR/L, CBIS, CSRS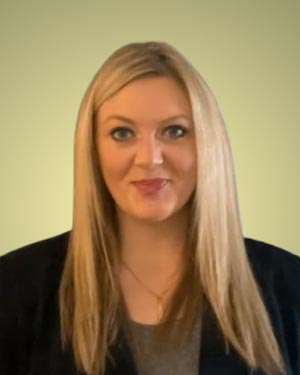 Lauren Souders is the current Director of Clinical Operations for Neurolutions, Inc., and has been working with Neurolutions since 2012 assisting in the development and clinical evolution applying brain-computer interface technology in the stroke rehabilitation space. Lauren was an integral clinical lead at the infancy of Neurolutions first product, the IpsiHand. Lauren is also one of the first pioneering occupational therapists to assist in using brain-computer interface technology with stroke patients. Her work has yielded a breakthrough medical technology designation and first ever FDA clearance for a brain computer interface for motor rehabilitation.
Lauren has held other clinical roles as an occupational therapist with advanced certifications as a certified brain injury specialist (CBIS) and a certified stroke rehabilitation specialist (CSRS). Lauren has evaluated and treated patients across the lifespan in a variety of environments. Lauren also served as an adjunct faculty member at Saint Louis University and a clinical specialist for Washington University's School of Medicine's Department of Neurology. Lauren has presented at a number of conferences for the American Occupational Therapy Association and the American Congress of Rehabilitation Medicine. Lauren continues to serve as a guest lecturer at a number of universities including Saint Louis University and Maryville University. Lauren is the co-founder of NeuroVlog – a company providing evidence based information to assist clinicians in treating neurological patients across the lifespan. Overall, Lauren aspires to innovate creative medical technologies to provide solutions to improve the lives of those who need it the most.
Sarah Lyon, OTR/L:
Sarah's passion is helping fellow OT practitioners translate evidence into daily practice. Sarah earned her BA in religion from St. Olaf College, then earned her master's degree in occupational therapy from New York University in 2011. Since then, she's worked in numerous facilities, including a critical access hospital, an acute trauma hospital, and a state inpatient psychiatric hospital.
In 2011, Sarah launched OT Potential because she realized we needed a reliable source of quality occupational therapy-related content and resources. She has also had the opportunity to create content for brands like WebPT, MedBridge, Saebo, and NeuroLutions.
She launched the OT Potential Club in 2019 to marry her love of simplifying complex topics with her desire to help therapists access the most important OT-related research released each year.
Sarah is a prairie girl at heart, which is why she returned to her hometown to raise her children in Aurora, Nebraska (home of the strobe light).
This course was designed to meet your continuing education requirements
Every state, entity, and country has different requirements for what counts as continuing education, and we have done our best to make sure it meets yours. Please double check with particular requirements, and let us know if you have any questions about whether it meets your needs.
NBCOT renewal:
This course is designed to meet the requirements of NBCOT PDUs. But, you are advised to make your own determination as to whether the course will be beneficial to your practice. NBCOT does not endorse any specific professional development units.
See #14 on the NBCOT Renewal Activities Chart to see what this podcast would qualify under. (OT Potential is considered a 3rd party entity.)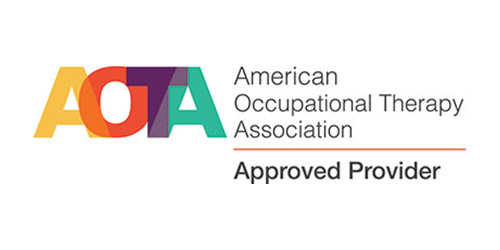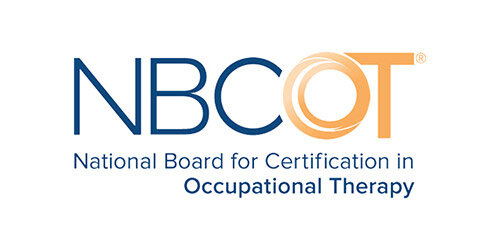 State license renewal (within the US):
Our OT Potential Podcast is intended to meet the requirements for "online" and "independent/self-study" courses. If you have any questions about your particular continuing education requirements, please check with the licensing entity in your state.