Listen for free.
Then, join the OT Potential Club to take your test and earn a certificate.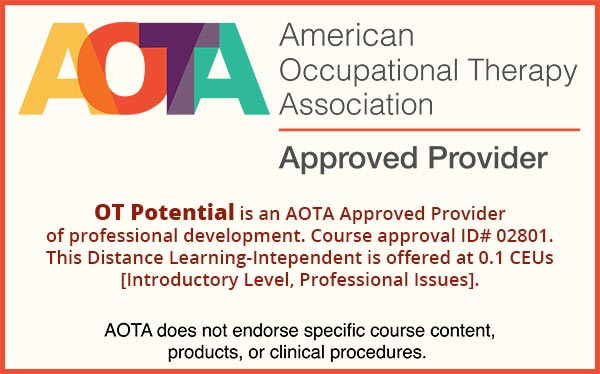 Course Description
Released August 1, 2021 from Aurora, NE
As autistic individuals transition from adolescence to adulthood, they encounter a new and unique set of challenges. Yet, at this critical time, the support available to them drops dramatically. This is known as the "services cliff."
In this one-hour continuing education course, we'll begin by looking at the journal article "Service Needs Across the Lifespan for Individuals with Autism."
Then, to discuss how your occupational therapy skills can help bridge this service gap, we'll invite Debora Davidson, PhD, OTR/L to discuss the research and her own experience providing transitional services in her private practice.
Primary Research Explored
When you log in, be sure to check out the OT Potential Club's written breakdown of the following research article, then share your questions and thoughts with fellow practitioners.
Turcotte P, Mathew M, Shea LL, Brusilovskiy E, Nonnemacher SL. Service Needs Across the Lifespan for Individuals with Autism. J Autism Dev Disord. 2016 Jul;46(7):2480-9. doi: 10.1007/s10803-016-2787-4. PMID: 27084080.
Secondary Research
Ling-Yi Lin & Pai-Chuan Huang (2019) Quality of life and its related factors for adults with autism spectrum disorder, Disability and Rehabilitation, 41:8, 896-903, DOI: 10.1080/09638288.2017.1414887
Kristie Patten Koenig & Lauren Hough Williams (2017) Characterization and Utilization of Preferred Interests: A Survey of Adults on the Autism Spectrum, Occupational Therapy in Mental Health, 33:2, 129-140, DOI: 10.1080/0164212X.2016.1248877
Learning Objectives
You will be able to describe the unique challenges that autistic individuals face as they transition from adolescence to adulthood.
You will be able to identify the unmet service needs of autistic adults (based on the findings in the research).
Agenda
Intro (5 minutes)
Breakdown and analysis of journal article (10 minutes)
What we know (and don't know) about the service needs of autistic adults
Why was this paper written?
What were their methods?
What were the results?
Authors' conclusion and recommendations
Takeaways for OT practitioners
Discussion on practical implications for OTs (with guest Debora Davidson) (45 minutes)
What were your initial impressions of the article?
Did you observe the "services cliff" in your own work?
In what ways do you think OTs could be supporting our autistic clients as they enter into and navigate adulthood?
What business models do we need as OTs to provide those kinds of services?
How do we navigate the high frequency of co-occuring conditions?
We've been talking a lot in the Club about listening to our clients and supporting them in choosing the life that is meaningful to them. Do you have experience with this in your work?
What future do you envision for OTs serving autistic clients (and other clients) as they transition into adulthood?
Contact Hours
1 hour (0.1 AOTA CEUs)
Target Audience/Educational Level
Our target audience is occupational therapy practitioners who are looking to learn about the service cliff in autism. The educational level is introductory.
Instructional Methods/Registration/Special Needs Requests/Cancellation Policy
This course is an independent/self-study course delivered via podcast on iTunes, Spotify and Google Play. Explore your listening options on the OT Potential Podcast page.
If you need accommodations to take this course, please contact us and we will address your needs on an individual basis.
If this course were to be cancelled, please see our cancellation policy on our terms page.
Course Completion Requirements
In order to receive a certificate for this course, you must first listen to the podcast in its entirety. Then, you will need to take the test (found at the top of this page) and earn 75% or higher. If you pass, a certificate will be automatically generated and sent to your email.
Speakers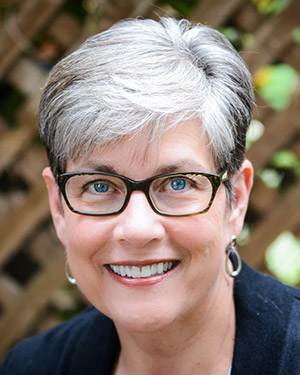 Debora Davidson, PhD, OTR/L:
Debora has engaged in Occupational Therapy since 1979 as a practitioner and clinical supervisor, professor, researcher, writer/editor, and business owner. She earned a B.S. in Occupational Therapy from the University of Illinois in Champaign-Urbana, Master of Science from Boston University's Sargent College, and PhD in Educational Studies from Saint Louis University.
Debora specializes in providing OT services to children, adolescents, and young adults with mental health disorders and/or intellectual developmental disabilities. She has worked in hospital psychiatry, community mental health, therapeutic schools, public schools, residential treatment centers, and home / community-based private practice.
She has worked with people with autism spectrum disorders throughout her career, and across the life span (preschoolers through older adults). Debora is fond of saying, "The more people with ASD I get to know, the fewer the assumptions I fall into. Each client is unique and teaches me something new!"
Sarah Lyon, OTR/L:
Sarah's passion is helping fellow OT practitioners translate evidence into daily practice. Sarah earned her BA in religion from St. Olaf College, then earned her master's degree in occupational therapy from New York University in 2011. Since then, she's worked in numerous facilities, including a critical access hospital, an acute trauma hospital, and a state inpatient psychiatric hospital.
In 2011, Sarah launched OT Potential because she realized we needed a reliable source of quality occupational therapy-related content and resources. She has also had the opportunity to create content for brands like WebPT, MedBridge, Saebo, and NeuroLutions.
She launched the OT Potential Club in 2019 to marry her love of simplifying complex topics with her desire to help therapists access the most important OT-related research released each year.
Sarah is a prairie girl at heart, which is why she returned to her hometown to raise her children in Aurora, Nebraska (home of the strobe light).
This course was designed to meet your continuing education requirements
Every state, entity, and country has different requirements for what counts as continuing education, and we have done our best to make sure it meets yours. Please double check with particular requirements, and let us know if you have any questions about whether it meets your needs.
NBCOT renewal:
This course is designed to meet the requirements of NBCOT PDUs. But, you are advised to make your own determination as to whether the course will be beneficial to your practice. NBCOT does not endorse any specific professional development units.
See #14 on the NBCOT Renewal Activities Chart to see what this podcast would qualify under. (OT Potential is considered a 3rd party entity.)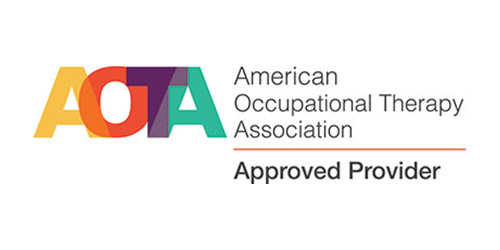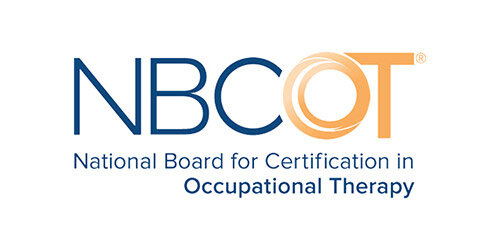 State license renewal (within the US):
Our OT Potential Podcast is intended to meet the requirements for "online" and "independent/self-study" courses. If you have any questions about your particular continuing education requirements, please check with the licensing entity in your state.