Earn 1 hour of continuing education by joining the OT Potential Club after listening to this OT Potential Podcast course on Cerebral Palsy and OT.

The research we are reviewing in this course showcases how far we've come in the prevention, early detection, and treatment of cerebral palsy (CP) in children. The authors also explore the strength of the evidence behind 182 interventions for CP, organizing them into an "evidence traffic light."
This is an important paper for all OTs to read—not just because CP is one of the most common physical disabilities we see on our caseloads, but because the paper is so well written. The authors do a fantastic job of highlighting the general trends behind what works, what doesn't work, and the progress that still needs to be made.
After reviewing the article, I am thrilled to welcome Dr. Iona Novak, OT, PhD., one of the article's authors. Her and I will discuss the implications for your occupational therapy practice.
See all listening platforms for the OT Potential Podcast.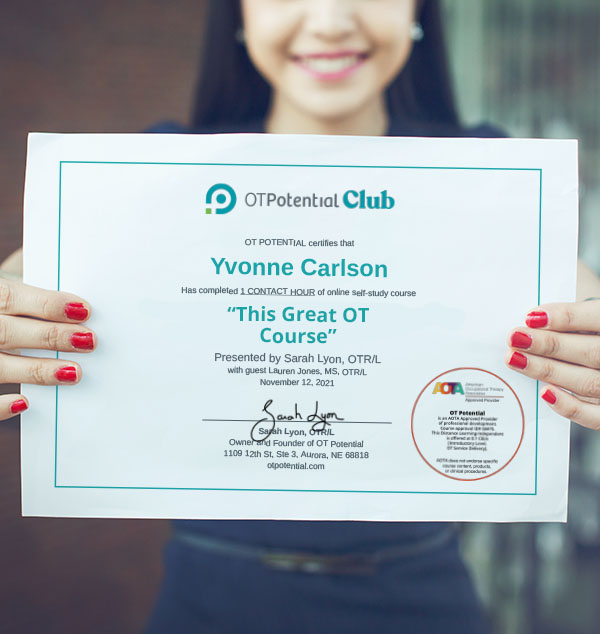 Earn

1 hour

of continuing education
1. Listen to the podcast for free.
2. Sign up for the OT Potential Club.
3. Pass the quiz and download your certificate!
Primary Journal Article Explored
When you log in, be sure to check out the OT Potential Club's written breakdown of the following research article. Then, share your questions and thoughts with fellow practitioners.
Novak, I., Morgan, C., Fahey, M., Finch-Edmondson, M., Galea, C., Hines, A., Langdon, K., Namara, M. M., Paton, M. C., Popat, H., Shore, B., Khamis, A., Stanton, E., Finemore, O. P., Tricks, A., Te Velde, A., Dark, L., Morton, N., & Badawi, N. (2020). State of the Evidence Traffic Lights 2019: Systematic Review of Interventions for Preventing and Treating Children with Cerebral Palsy. Current neurology and neuroscience reports, 20(2), 3.
CP Resources Mentioned in Podcast
Supporting Research and Journal Articles
Hoare, B. J., Wallen, M. A., Thorley, M. N., Jackman, M. L., Carey, L. M., & Imms, C. (2019). Constraint-induced movement therapy in children with unilateral cerebral palsy. The Cochrane database of systematic reviews, 4(4), CD004149.
Anaby, D., Korner-Bitensky, N., Steven, E., Tremblay, S., Snider, L., Avery, L., & Law, M. (2017). Current Rehabilitation Practices for Children with Cerebral Palsy: Focus and Gaps. Physical & occupational therapy in pediatrics, 37(1), 1–15.
Novak, I., Morgan, C., Adde, L., Blackman, J., Boyd, R. N., Brunstrom-Hernandez, J., Cioni, G., Damiano, D., Darrah, J., Eliasson, A. C., de Vries, L. S., Einspieler, C., Fahey, M., Fehlings, D., Ferriero, D. M., Fetters, L., Fiori, S., Forssberg, H., Gordon, A. M., Greaves, S., … Badawi, N. (2017). Early, Accurate Diagnosis and Early Intervention in Cerebral Palsy: Advances in Diagnosis and Treatment. JAMA pediatrics, 171(9), 897–907.
Learning Objectives
You will be able to identify the common mechanisms that make CP interventions effective.
You will recognize evidence-based principles to guide your motor interventions for CP.
Agenda
Intro (5 minutes)
Breakdown and analysis of journal article (5 minutes)
Update on the progress in prevention and early detection:
Update on the progress in CP treatment:
What was the intent of this paper?
What were the methods?
What were the results?
Conclusions and discussion
Takeaways for OT practitioners
Discussion on practical implications for OTs (with Iona Novak) (50 minutes)
How did you first find OT?
Can you tell us how you became involved in Cerebral Palsy research?
Before we get into the traditional OT scope of practice, I wanted to ask about prevention and early detection, do you see OTs playing a role in these areas?
I was really excited to see some of the same neuroscience concepts that we've been seeing in adult neuro rehab research (like the importance of "experience dependent neuroplasticity.") Can you speak to how you see big-picture neuroscience trends playing out in the green light interventions?
Child directed goals are a big shift for many of us. Why do you think they work?
I think many patients come to therapy expecting answers, quick-wins, and "hands on" treatment from their therapist. What are practical ways therapists can set the tone for a true active partnership—and explain its importance.
If a family member came to you interested in a red-light intervention or some questionable treatment they found online, how would you walk them through it?
I look back on treatments I've provided that I'm embarrassed of and now see as ineffective. WIth exponential amounts of research coming out, how can we, as therapists, prepare our hearts and minds for the reality that we may find out over our careers that things we've done in the past were ineffective or even harmful?
What OT assessments and treatments are you most excited about right now?
How does our profession need to change to provide more effective CP care?
Contact Hours
1 hour (0.1 AOTA CEUs). Released online from Aurora, NE.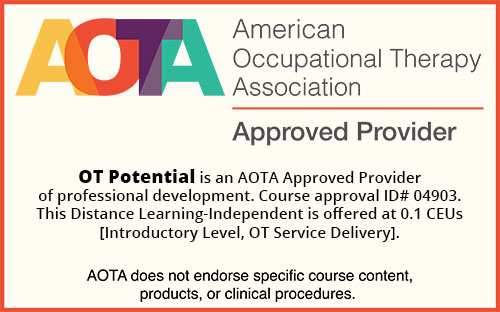 Target Audience/Educational Level
Our target audience is occupational therapy practitioners who are looking to learn about Cerebral Palsy and OT Evidence. The educational level is introductory.
Instructional Methods/Registration/Special Needs Requests/Cancellation Policy
This course is an independent/self-study course delivered via podcast on iTunes, Spotify and Google Play. Explore your listening options on the OT Potential Podcast page.
If you need accommodations to take this course, please contact us and we will address your needs on an individual basis.
If this course were to be canceled, please see our cancellation policy on our terms page.
Course Completion Requirements
In order to receive a certificate for this course, you must first listen to the podcast in its entirety. Then, you will need to take the test (found at the top of this page) and earn 75% or higher. If you pass, a certificate will be automatically generated and sent to your email.
Financial and Non-financial Disclosures
It is the policy of OT Potential to disclose any financial and non-financial interest the provider or instructor may have in a product or service mentioned during an activity. This is to ensure that the audience is made aware of any bias of the speaker.
We here at OT Potential have no financial stake in this topic. Our guest, Dr. Novak also has no financial disclosures.
Speakers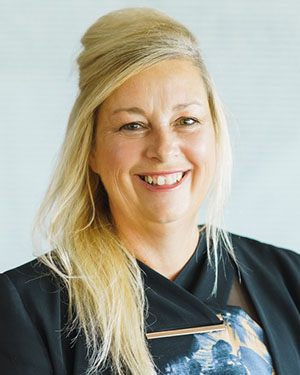 Professor Iona Novak is the Cerebral Palsy Alliance Chair of Allied Health, The University of Sydney, Australia. Iona is a Fulbright Scholar establishing "Xcellerate" – an American-Australian Cerebral Palsy Stem Cell Research Consortium that pools collective efforts to find a cure.
Driven by an internal belief that research and healthcare have the potential to change lives, Iona has pursued projects and roles with the greatest possible impact on children and families, including, co-founding the Australian Cerebral Palsy Register, and developing clinical practice guidelines to diagnose cerebral palsy early, define best practice early intervention and interventions to improve independence.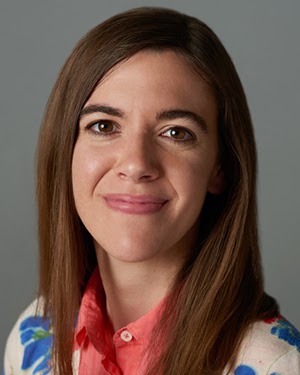 Sarah's passion is helping fellow OT practitioners translate evidence into daily practice. Sarah earned her BA in religion from St. Olaf College, then earned her master's degree in occupational therapy from New York University in 2011. Since then, she's worked in numerous facilities, including a critical access hospital, an acute trauma hospital, and a state inpatient psychiatric hospital.
Sarah is the founder/owner of OT Potential. Read more about OT Potential here.
This course was designed to meet your continuing education requirements
We designed the courses in the Club to meet the requirements for "online" and "independent/self-study" courses. For more details read our blog post: Can I earn OT CEUS from a podcast? To verify the requirements from your specific state (within the US), check out our post, OT Continuing Education Explained. If you are outside of the United States and have questions, please contact us.
We are proud to be an AOTA Approved Provider and to meet the requirements for your NBCOT renewal.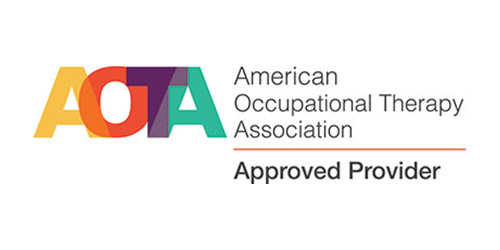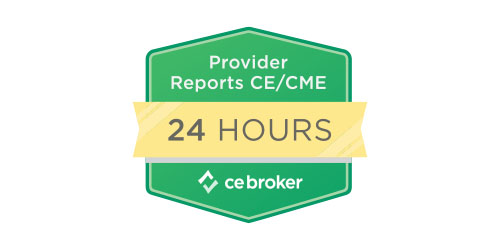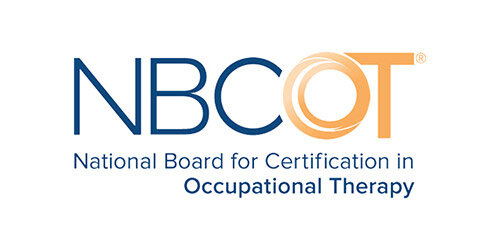 ---