Earn 1 hour of continuing education by joining OT Potential after taking this course.

Listen: Apple | Spotify | Google
This prestigious guideline on Parkinson's Disease (PD) treatment, that we'll be covering in this podcast episode, recommends that rehab therapies are started at the time of diagnosis and continued throughout the disease course.
Sadly, as a profession we are underserving our clients with PD.
This article will update you on key information about the PD disease process, the pervasiveness of non-motor symptoms, and the effectiveness of different treatments.
The knowledge we are gaining about PD should definitely be impacting your sessions. (Hint: please be talking about exercise!) It should also be pushing us to consider new care models for our patients with chronic conditions. To discuss what this looks like in practice, it's our honor to welcome back to the podcast Brandy Archie, OTD, OTR/L, CLIPP, CLVT. Brandy is an OT entrepreneur who serves older adults including PD clients.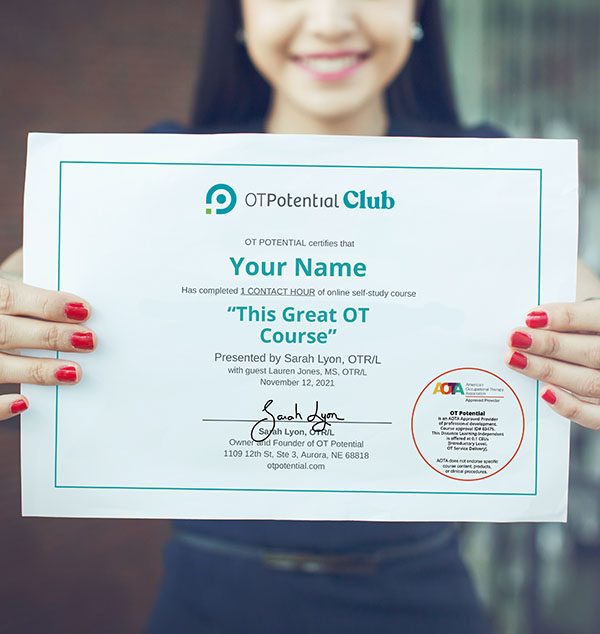 Earn

1 hour

of continuing education
1. Listen to the podcast for free.
2. Sign up for the OT Potential Club.
3. Pass the quiz and download your certificate!
Primary Journal Article Explored
When you log in, be sure to check out the OT Potential Club's written breakdown of the following research article. Then, share your questions and thoughts with fellow practitioners.
Supporting Research and Journal Articles
Parkinson's Disease Assessments
Resources for Clients with Parkinson's Disease
Learning Objectives
You will be able to identify the non-motor symptoms of PD that OTs can help manage.
You will recognize why the habit of exercise is such an important consideration for OTs in this area.
Agenda
Intro (5 minutes)
Breakdown and analysis of journal article (5 minutes)
Real quick: why was this paper written?
Parkinson's disease is one type of parkinsonism
What causes Parkinson's disease?
Clinical presentation and symptoms for OTs to recognize
Subtypes of Parkinson's disease
Diagnosis and Assessment
Treatment
Takeaways for OT practitioners
Discussion on practical implications for OTs (with guest Brandy Archie) (50 minutes)
Can you tell us the story of how you found OT?
Tell us about the different settings you've worked in where you saw Parkinson's patients—and the main focus of your services in each.
What were your initial impressions of the article?
Parkinson's disease has such a complex presentation. How can we introduce all of the areas OTs can help with our evals?
What are your favorite ways to provide education to your patients?
What does it look like to encourage our patients in the habit of exercise?
What are some of your main considerations when you are recommending adaptations to the environment?
What community resources should patients with Parkinson's be considering getting plugged into?
What would it look like for OTs to truly see Parkinson's patients on a regular basis throughout the duration of this disease course?
Do you think there are new business opportunities for OTs to focus on Parkinson's utilizing telehealth?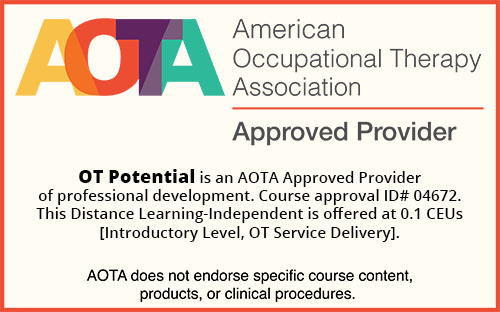 1 hour (0.1 AOTA CEUs). Released online from Aurora, NE.
This course is an independent/self-study course delivered via podcast on iTunes, Spotify, Google Play & more. Explore your listening options on the OT Potential Podcast page.
If you need accommodations to take this course, please contact us and we will address your needs on an individual basis.
If this course were to be canceled, please see our cancellation policy on our terms page.
In order to receive a certificate for this course, you must first listen to the podcast in its entirety. Then, you will need to take the test (found at the top of this page) and earn 75% or higher. If you pass, a certificate will be automatically generated and sent to your email.
Target Audience/Educational Level
Our target audience is occupational therapy practitioners who are looking to learn about Parkinsons disease treatment. The educational level is introductory.
Financial and Non-financial Disclosures
It is the policy of OT Potential to disclose any financial and non-financial interest the provider or instructor may have in a product or service mentioned during an activity. This is to ensure that the audience is made aware of any bias of the speaker.
We here at OT Potential have no financial stake in this topic. Our guest, Brandy Archie, does have a financial stake in her local business AccessAble, which informs her knowledge of this topic, and is geared towards older adults in Kansas City.
Speakers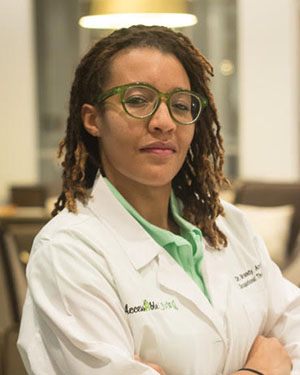 Dr. Brandy Archie received her doctorate in occupational therapy from Creighton University. She is a certified specialist in both Living in Place and Low Vision Therapy. Dr. Archie has over 15 years of experience in home health, neurological and elder focused practice settings.
She is the founding director of AccessAble Living, a company whose mission is to adapt environments to fit the needs of older adults and keep them living safely in their homes in the Kansas City area. She is also in development on an app called AskSAMIE which combines tech and clinical knowledge to create accessibility equipment recommendations tailored to each person's disability and environment. It's for clinicians and for family caregivers so if you'd like to know when the app is available go to AskSAMIE.com and sign up for alerts! Read full bio.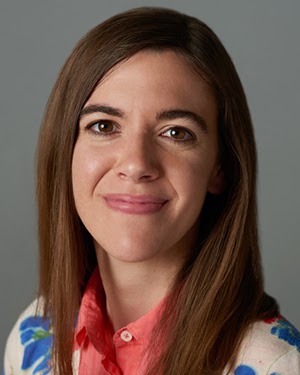 Sarah's passion is helping fellow OT practitioners translate evidence into daily practice. Sarah earned her BA in religion from St. Olaf College, then earned her master's degree in occupational therapy from New York University in 2011.
Since then, she's worked in numerous facilities, including a critical access hospital, an acute trauma hospital, and a state inpatient psychiatric hospital. Sarah is the founder/owner of OT Potential. Read more about OT Potential here.
This course was designed to meet your continuing education requirements
We designed the courses in the Club to meet the requirements for "online" and "independent/self-study" courses. For more details read our blog post: Can I earn OT CEUS from a podcast? To verify the requirements from your specific state (within the US), check out our post, OT Continuing Education Explained. If you are outside of the United States and have questions, please contact us.
We are proud to be an AOTA Approved Provider and to meet the requirements for your NBCOT renewal.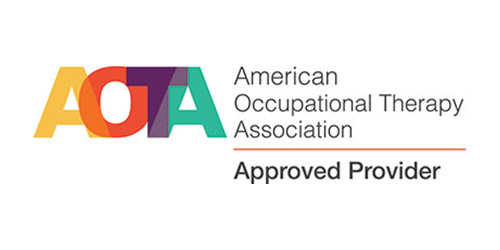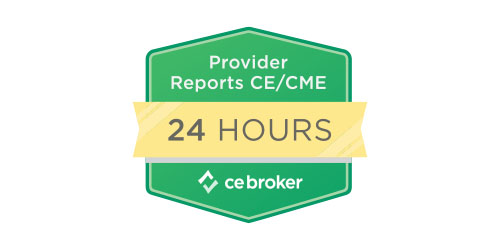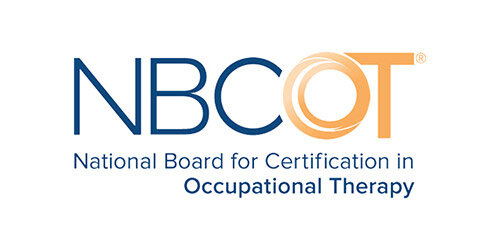 ---