Earn 1 hour of continuing education by joining OT Potential after taking this course.

Listen: Apple | Spotify | Google
In this 1 hour course, we will be diving into an incredibly helpful journal article that summarizes the evidence behind pediatric OT interventions.
The authors take 52 pediatric OT interventions for children with disabilities and rate the evidence behind them.
They organize the evidence into a traffic light infographic—where green means "the evidence supports this intervention."
This alone makes the evidence ratings super easy to scan and more accessible for therapists (and families and policy makers)! Then, they even go so far as to draw out common principles between green light interventions.
To discuss how this research applies to your occupational therapy practice, we are excited to welcome to the podcast, Michelle DeJesus, MS OTR/L. Michelle is a pediatric occupational therapist working specifically in pediatric outpatient rehabilitation and early intervention. Her and I will talk through what it looks like for busy therapists on the ground to leverage this evidence to improve their care.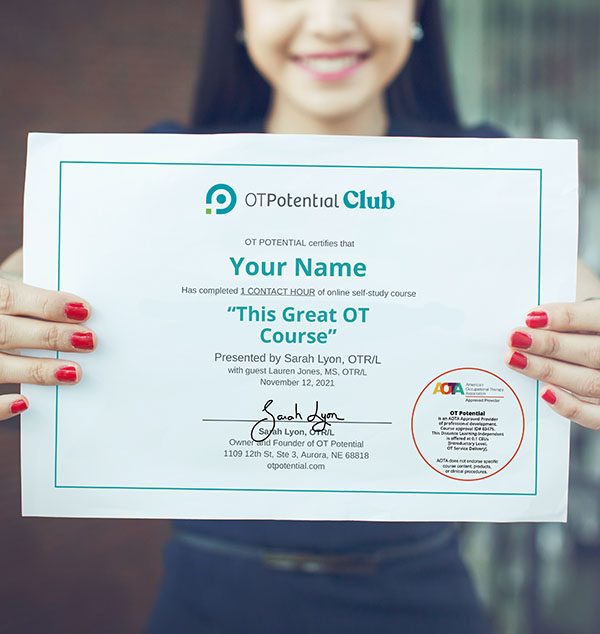 Earn

1 hour

of continuing education
1. Listen to the podcast for free.
2. Sign up for the OT Potential Club.
3. Pass the quiz and download your certificate!
Primary Journal Article Explored
When you log in, be sure to check out the OT Potential Club's written breakdown of the following research article. Then, share your questions and thoughts with fellow practitioners.
Supporting Research and Journal Articles
Mentioned Resources
Learning Objectives
You will be able to describe 2 trends among interventions with a strong evidence base.
You will be able to identify the 4 common components of activity-based green light interventions.
Agenda
Intro (5 minutes)
Breakdown and analysis of journal article (5 minutes)
Quick intro to pediatric OT trends
The problem with research…
What was the aim (and purpose!) of this research?
What were the authors' methods?
What were the results?
What intervertentions did they find—and how did they rate them?
What was the discussion and clinical implications?
Conclusions and Future Research
Takeaways for OT Practitioners
Discussion on practical implications for OTs (with guest Michelle DeJesus) (50 minutes)
Can you tell us about how you found OT?
Can you tell us about your current OT work?
What were your initial impressions of this article?
How do you currently partner with families and is there anything you would do differently after reading this article?
The evidence behind activity-based/top-down approaches is robust—does this align with what you see in your own practice?
The authors identified 4 key ingredients that activity-based/top-down interventions have in common. Did those resonate with your work?
Do you think studies like this are widely shared among OTs? How can we make them more so?
What do you think are some barriers to implementing research like this?
What needs to change so we can provide evidence informed interventions like we talked about today?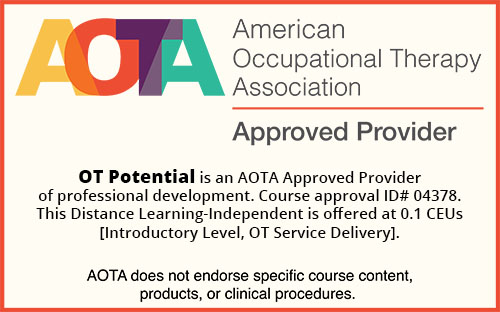 1 hour (0.1 AOTA CEUs). Released online from Aurora, NE.
This course is an independent/self-study course delivered via podcast on iTunes, Spotify, Google Play & more. Explore your listening options on the OT Potential Podcast page.
If you need accommodations to take this course, please contact us and we will address your needs on an individual basis.
If this course were to be canceled, please see our cancellation policy on our terms page.
In order to receive a certificate for this course, you must first listen to the podcast in its entirety. Then, you will need to take the test (found at the top of this page) and earn 75% or higher. If you pass, a certificate will be automatically generated and sent to your email.
Target Audience/Educational Level
Our target audience is occupational therapy practitioners who are looking to learn about Pediatric OT Evidence Review. The educational level is introductory.
Financial and Non-financial Disclosures
It is the policy of OT Potential to disclose any financial and non-financial interest the provider or instructor may have in a product or service mentioned during an activity. This is to ensure that the audience is made aware of any bias of the speaker.
We here at OT Potential have no financial stake in this topic. Our guest, Michelle DeJesus, naturally has a financial interest in her practice, Neuplay Therapy, but will not be promoting this on the episode.
Speakers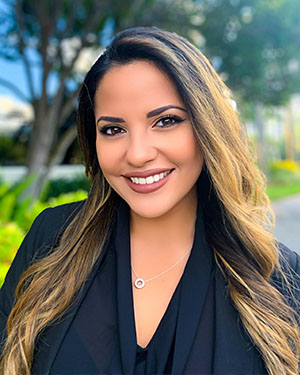 Michelle DeJesus, MS OTR/L (she/her/hers) is a pediatric occupational therapist in Miami, FL. Her experience spans across various pediatric settings including a hospital-based pediatric rehabilitation center, prescribed pediatric extended care centers (PPEC), private practice, and home health. She most recently launched her own home-based private practice called Neuplay Therapy where she is able to serve children in their natural environment or via telemedicine with an emphasis on providing family-centered care that is rooted in evidenced and brain-based approaches.
As a Latina OT, Michelle strongly believes in the power of mentorship, representation and entrepreneurship to pave paths for emerging leaders of diverse backgrounds. She utilizes social media and her blog Michelledot.com to mentor underrepresented students and promote action towards a more equitable and inclusive profession and practice. Read full bio.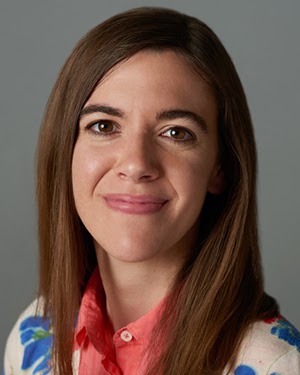 Sarah's passion is helping fellow OT practitioners translate evidence into daily practice. Sarah earned her BA in religion from St. Olaf College, then earned her master's degree in occupational therapy from New York University in 2011.
Since then, she's worked in numerous facilities, including a critical access hospital, an acute trauma hospital, and a state inpatient psychiatric hospital. Sarah is the founder/owner of OT Potential. Read more about OT Potential here.
This course was designed to meet your continuing education requirements
We designed the courses in the Club to meet the requirements for "online" and "independent/self-study" courses. For more details read our blog post: Can I earn OT CEUS from a podcast? To verify the requirements from your specific state (within the US), check out our post, OT Continuing Education Explained. If you are outside of the United States and have questions, please contact us.
We are proud to be an AOTA Approved Provider and to meet the requirements for your NBCOT renewal.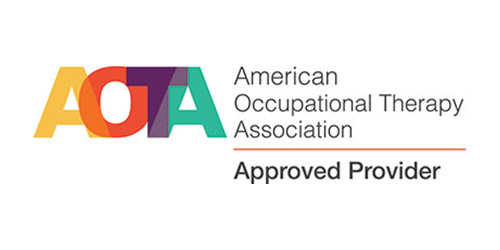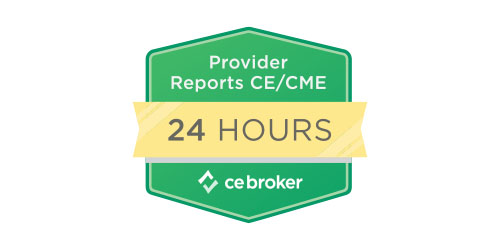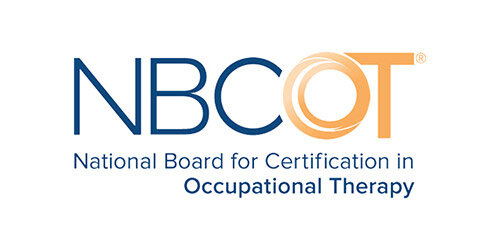 ---