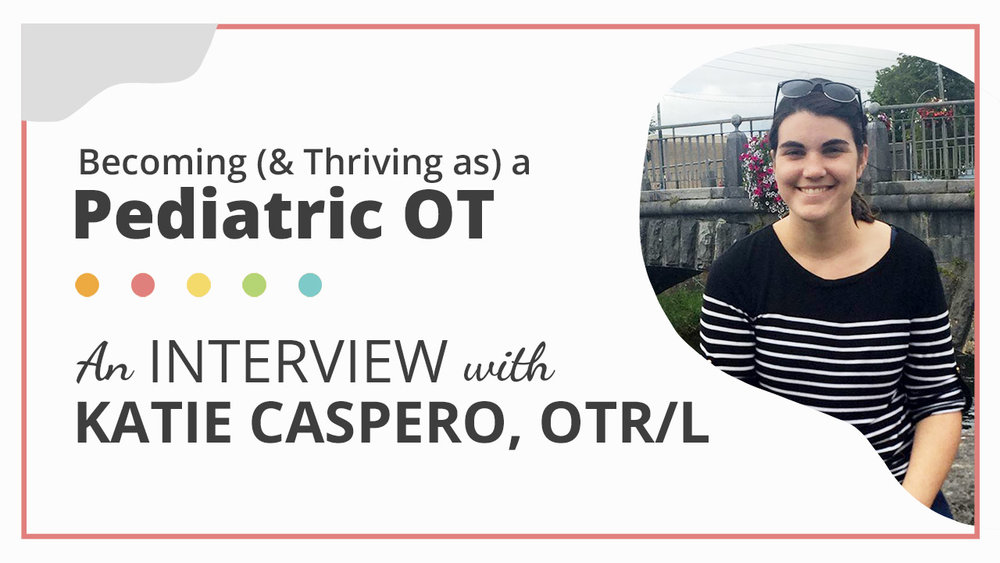 If you are interested in starting out as a pediatric occupational therapist, switching practice areas to pediatrics, or simply thriving in your current pediatric OT career, this interview with Katie Caspero, OTR/L will give you some guidance!
I know that the process of getting into pediatric therapy can raise lots of questions, so if you have any unanswered questions after reading the article, be sure to ask them in the comments below.
---
OT Potential: Where did you go to OT school? (And, what should prospective students who are interested in pediatrics be looking for in a program?)
I went to OT School at Duquesne University in Pittsburgh, PA. I liked Duquesne because they had a lot of strong healthcare programs, and many of them were accelerated (e.g. five years to get your master's or six years for a doctorate). The pediatric professor was really great, and she had been working there for a while and was really connected to the community. This allowed us a lot of hands-on pediatric experiences before our fieldwork.
I also liked that the school, in general, offered a lot of opportunities for us to engage in community service. This allowed me to gain leadership (and other) skills, as well as other valuable experiences beyond the classroom. I apply such skills in my work as an OT, and I found the community service experience also provided me with a better understanding of people who are marginalized in our city, including people with disabilities.
Did you seek out pediatric fieldwork assignments to help you prepare for this specialty?
Originally, I wanted to be a pediatric mental health OT, so I sought out a pediatric mental health-specific facility outside of the Pittsburgh area. It was a residential treatment facility and school for adolescents with mental health diagnoses. Looking back, I would encourage those in OT school to seek out pediatric placements in other cities, in order to increase their chances of getting pediatric fieldwork placements at credible sites.
Is there anything else you did above and beyond your OT degree to help you find a pediatric job?
I volunteered for a few different organizations that worked with kids. The most valuable was working for a respite care organization, where I would spend time with a child with disabilities while the family ran errands or spent time with their other children. This gave me a good insight into the family dynamics that occur when a child has special needs.
During my first year of practice, I attended as many conferences as I could afford. My personal favorite, The SOS Approach to Feeding Training by the STAR Institute, provided tons of skills and information that I incorporate into my daily practice.
When it was time to apply to jobs, I looked at the mission and values of each company. I sent resumes to companies whose values aligned with my own, even if they did not have any job postings at that time. Having a deep understanding of a company's mission was really helpful during the interview process, as I could use that information to explain why I was drawn to that specific organization.
What questions would you be sure to ask when applying for a job in an OP pediatrics setting?
I think a great question to get an understanding of the daily job activities is to ask, "What does a typical day look like?" This is not unlike what we would ask our clients!
Another question I would ask is about the expected working hours. Usually, an outpatient center is open later into the evening compared to a typical 8-5 job. An early intervention therapist might have to create his or her own schedule. This is something that you should know ahead of time, which will allow you to determine whether that role is a good fit for you. Lastly, asking how the organization will support your professional development (e.g. continuing education) throughout the year will allow you to know whether it's an organization that prioritizes staff development.
How do you find that pediatric OT salaries compare to other OT salaries? Has this factored into your career decision making?
Depending on the area of the country you are in, this answer may or may not apply to you. However, I find a pediatric OT salary to be lower compared with other practice areas (e.g. inpatient rehabilitation or skilled nursing facilities). An OT working as a contractor, independent consultant for schools, or early intervention provider might earn higher hourly rate—but that rate probably does not include benefits—so I have personally found the overall compensation for pediatric OTs is usually on the lower side.
What is your favorite part about your work?
I love working with the whole family unit and seeing kids who have worked so hard on their goals finally meet them.
I love to share in their joy and smiles when they say, "Ms. Katie, I can tie my shoes!"
I also love how different every single hour of my day is. I could be spending the morning working on feeding with a kid with autism, then work with a child with cerebral palsy in the pool, and end the day working on dressing techniques with a child with a genetic disorder. It's a great challenge and keeps things interesting!
What is your least favorite part about your work?
My least favorite part about the job is the lack of time to complete necessary things like calls to schools. It can also be frustrating when a child does not receive the behavioral support that he or she needs.
The higher demand for productivity, similar to adult rehabilitation, can be a challenge, too. Working with stressed-out kids and families can definitely take its toll, and it can be difficult finding the work-life balance needed to prevent burnout.
What has been the most surprising part about your work?
I didn't expect to be working on feeding therapy with kids as much as I do, but I love it! Also, there are many different rare diagnoses that I am learning about, due to working in a city campus of an outpatient center.
How have you kept up on research and industry trends in pediatrics?
This is a hard one, as pediatric research is not as accessible as adult rehabilitation research.
I've continued to complete research with professors from school, and I make sure to maintain those networks and relationships. Also, having students both at the Level II fieldwork level and OTD level can allow for easier access and synthesis of research. I make a point to attend every meeting that has a presentation, which allows for easy learning over lunch!
Any books or movies that have inspired your practice?
Love Anthony by Lisa Genova is one of the best books I have read. It's a mother sharing her story about her son who had autism. The Reason I Jump by Naoki Higashida is also so helpful in understanding the experience of autism from the perspective of a 13-year-old boy.
What advice would you give to someone who has been working with adults as an OT, and is looking to switch to pediatrics?
I have inspired multiple friends to "make the switch," so I spoke with my friend who recently switched from inpatient rehabilitation to pediatrics. I asked her what advice she would give and here was her answer:
"Start applying for jobs, even if they are not full-time. You might not get your dream peds job at first, but that's how you start. If you don't land your first interview, you at least learn what you need to know for the next one! One thing I said in my interview, when I transitioned from adults to pediatrics, was that I was ready to bring a fresh perspective to the peds clinic. I knew transfer techniques really well and I felt very comfortable working with patients with neurological disorders on sitting balance and adaptive ADL techniques. I found talking with peers, looking at pediatric facebook groups, having a mentor, referring back to textbooks, and completing continuing education were all very helpful for support and treatment advice."
– Mary Rose Simmons, MS, OTR/L
What changes do you hope to see in pediatric occupational therapy over the next 10 years?
I hope to see more support for working with kids past early intervention age in the natural setting (e.g. at home and in community spaces).
I think it's important to work with children in their natural contexts in order to really translate the work we do in OT into patients' daily lives. Also, I hope that the caregivers' and siblings' needs are addressed during therapy in order to holistically support the child as well as possible.