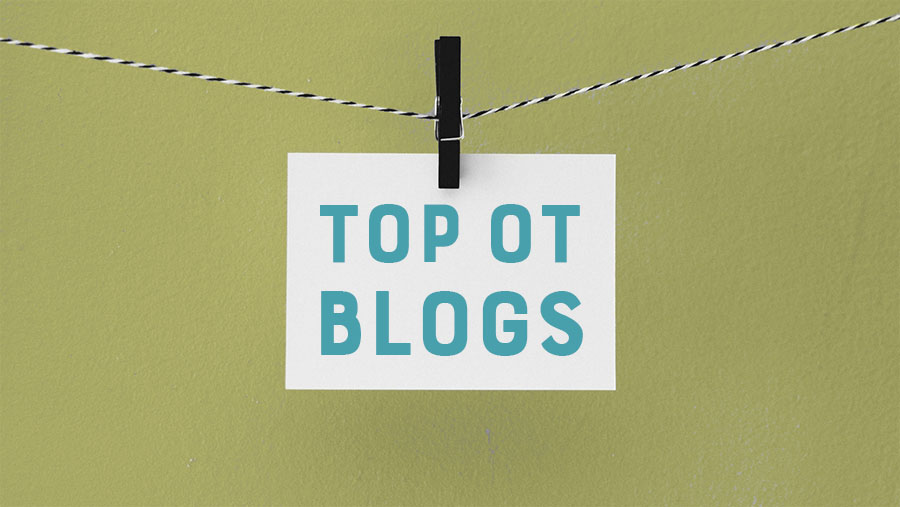 Connecting with bloggers from the occupational therapy world can be a great way to breathe new life into your OT practice.
Over the years, I've gotten to know many of these bloggers and can testify to the hard work and passion that goes into each of these platforms. Thank you to all of the bloggers who are working so hard to share quality OT information online!
(Once you find the best OT blogs for you, I recommend signing up for mailing lists!)
How we decided to sort this list of OT blogs
Below you'll find 17 OT blogs that are being updated and managed on a monthly basis as of October 2021. We will try to keep this list up to date so you can always know you'll find active OT bloggers here.
The list is broken down into two practice areas (pediatrics & adult rehab), and presented alphabetically within each area.
Adult Rehab
Emmy Vadnais is the primary writer on the blog and she regularly shares insights and research about integrating mind, body, spirit medicine, prevention, and wellness into OT Practice.
My OT Spot is a resource for anyone interested in the occupational therapy career path, OT students, and new OTs working with adult and geriatric populations. The purpose behind My OT Spot is to inspire and educate the occupational therapy community. Sarah Stromsdorfer aims to give OTs actionable, evidence-based interventions with a focus on function and occupation.
OT Graphically was started by Katie Caspero to help support clinicians who want to stay up to date but, due to increasing time constraints on the healthcare profession, have a challenging time making this happen.
Seniors Flourish is run by Mandy Chamberlain and helps geriatric occupational therapists and caregivers keep older adults independent through education, tips, recommendations, patient handouts, and videos. Mandy also runs the "OT Learning Lab" – a membership site just for geriatric OTs to make your job working with older adults easier!
An occupational therapy blog by Shannen Marie with tidbits of mOTivation, apparel reviews, life, and creativity.
Maria created Stay at Home Solutions to help caregivers with taking care of their family members at home. Caregiving is the most complicated, rewarding experience anyone can have. Caregivers desire their loved ones to fulfill their vision of remaining in their home and community for as long as they like. Stay at Home Solutions is right here to support you in this mission!
WebPT is my go-to source for easy to understand articles about changing legislation and documentation requirements. I especially pay attention when the posts are from Veda Collmer a licensed OT and attorney.
Kary Gillenwaters sees a world where each person's wholeness and dignity are revered, and all individuals are cared for, valued and appreciated for their unique contributions to the whole.
---
Pediatrics
Rachel Coley is a pediatric OT writing to mamas of newborns. She encourages creative play ideas to keep the youngsters active and healthy.
Devon has a passion for working in the public school system, which eventually led to creating The Dynamic School OT – an online course and mentorship program for school-based therapists who want to become more effective, confident, and happy in their practice. She is a freelance writer and supports other OTs through writing test prep questions, blog posts, and website copy.
Claire Heffron and Lauren Drobnjak are a OT & PT team who have worked together for several years now. On the blog they share activities that they are using in the clinic and at home with their own children.
Amirra Condelee is a pediatric OT, dog mama, and lover of headbands. She creates content to help you help little mirracles fulfill big dreams while sharing her life as a new-ish graduate practicing in Early Intervention and trying to climb out of significant student loan debt.
Hiral Khatri believes that all children are capable of reaching their full potential when provided with age appropriate skill challenges, proper tools, and enough opportunities.
Colleen Beck, founder of the OT Toolbox, has created resources, tools, ideas, and activities geared toward the healthy development of kids. Based on function and occupation-centered activities, the ideas shared on this site promote the underlying skills needed for action and performance in kids.
Cara Koscinski is passionate and excited about providing quality treatment to children with special needs. This is evident by her additional training and drive to seek new and fun ways to help children to achieve their goals. By forming a partnership with the caregiver, goals for therapy can be met faster and while everyone is having fun!
Cindy is an OT blogger hailing from Sydney Australia. She is an advocate for incidental learning and finding opportunities to teach kids in everyday life. Her site is full of ideas for elementary aged kids.
Your therapy source is a site for special education and pediatric OT & PT. They are consistently adding new items to their pool of resources. Following their blog helps you stay appraised of new products.
Conclusion
There you have it! I hope you enjoy following some of these blogs as much as I do! On a final note, I think that in addition to following your favorite writers, it is important to get plugged into online OT communities, where you can share your thoughts and ask questions. So, another great post of ours to look at would be OT Forums and Communities.
---
If you have a favorite OT blog that I missed, please include it in the comments!
This post was edited 5/5/15, 5/16/15, 2/1/16, 1/16/17, 1/18/19, and 10/6/21.