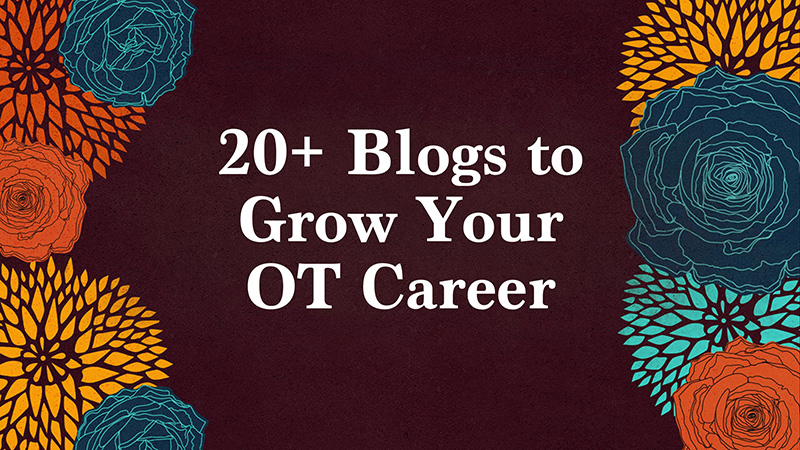 Connecting with bloggers from the occupational therapy world and related industries can be a great way to breathe new life into your OT practice.
Over the years, I've gotten to know many of these bloggers and can testify to the hard work and passion that goes into each of these platforms. Thank you to all of the bloggers who are working so hard to share quality OT information online!
(Once you find the best OT blogs for you, I recommend signing up for mailing lists. I know I am far more likely to read something that comes into my email.)
OT Blogs by Practice Area
OT Students
Lauren writes in-depth posts about her current experiences as an OT Student. She also has a great blog series for people contemplating applying to OT school.
Joy just began posting regularly and I am excited to watch her blog develop. Her pieces are thoughtful and reflective. OT is her second career and she brings a rich background to the student experience.
Evidence
Kristen's blog stands out for her commitment to exploring evidence based practice. Her background is in working with adults and she has worked in: intergenerational care, orthopedics, inpatient mental health, neurosugical intensive care, and inpatient rehabilitation. Whatever your practice area, I'm sure you will find some EBP inspiration on this blog!
Therapy Business
WebPT is my go-to source for easy to understand articles about changing legislation and documentation requirements. I especially pay attention when the posts are from Veda Collmer a licensed OT and attorney.
Pediatrics
Rachel is a pediatric OT writing to mamas of newborns. She encourages creative play ideas to keep the youngsters active and healthy.
Christie is a well established OT blogger with posts targeted at educating and empowering those who care for children. Her posts cover the span from infancy to elementary age. She also just penned an ebook (with Abby of OT Cafe!) for those considering OT as a career.
Ann Zachary has a wealth of information to share from her 24 years of experience as a pediatric OT. She has also written for multiple parenting publications and authored her own book. Her content ranges from sensory processing to therapy on a shoestring budget.
Karen is the winner of the most long-standing OT blog! She started writing in 2006 and her readers have been able to follow her since OT school. She is now enrolled in a doctoral program and regularly offers musing on this new venture.
Therapy Fun Zone's is loaded with ideas for pediatric OT activities. Tonya is highly collaborative and offers opportunities to submit activities to her blog. She also facilitates our Therapy Bloggers Facebook group.
Abby has a background in pediatrics, but her posts lately have taken on an even broader appeal. She just wrapped up A Day in the Life series featuring practitioners from different settings.
Lauren and Claire are a PT & OT team who have worked together for 7 years now. On the blog they share activities that they are using in the clinic and at home with their own children.
Your therapy source is a site for special education and pediatric OT & PT. They are consistently adding new items to their pool of resources. Following their blog helps you stay appraised of new products.
First of all, check out the fun play on words… OTR.…Otter? Best blog title goes to Kathy! This is a fun site to check out for game reviews. Kathy has reviewed more games than I have ever played.
Cindy is an OT blogger hailing from Sydney Australia. She is an advocate for incidental learning and finding opportunities to teach kids in everyday life. Her site is full of ideas for elementary aged kids.
Barbara has been blogging for awhile now, but she continues to regularly come up with pediatric activity ideas using recycled items. I woman after OTs hearts. She also utilizes video on her blog to demonstrate activities.
This is a new blog for me! The four writers of this blog, an OT, SLP and two special education teachers all work at a center based school serving students who have significant intellectual disabilities. They provide activity ideas with amazing photos of their students enjoying the activities.
This blog is a forum for sharing a diverse array of handwriting resources. Katherine Collmer, M.Ed., OTR/L, and her guest authors write about handwriting development skills, suggestions for easy-to-use remedial strategies, and information related to school-based occupational therapy. The blog serves as a resource bank for therapists, parents, and educators.
Blog author, Tracy le Roux, designed this blog empower parents to work on their children's skills in order to lay a good foundation for learning. Lots of photographed activities and helpful information will enable parents to help kids who may be struggling with skills, or just to provide age-appropriate developmental activities.
Adult Rehab
I'm putting Cheryl here to fill my adult rehab section, even though she also blogs about pediatrics and professional issues. Cheryl is another long time blogger with very good things to say- a highly recommended blog.
Professional Issues
If you have a fire in your belly about policy, big picture ideas and the direction OT is headed, this is the blog for you. Chris is always up for spirited debate!
Holistic Practice
I am a regular reader of the Holistic OT Blog but somehow neglected to include it in the original list. Emmy is the primary writer on the blog and she regularly shares insights and research about integrating mind, body, spirit medicine, prevention, and wellness into OT Practice. A great resource to round out our list!
Geriatrics
Seniors Flourish is run by Mandy Chamberlain and helps geriatric occupational therapists and caregivers keep older adults independent through education, tips, recommendations, patient handouts, and videos. To debut in 2016 is the Seniors Flourish "OT Learning Lab" – a membership site just for geriatric OTs to make your job working with older adults easier!
My OT Spot is a new resource for anyone interested in the occupational therapy career path, OT students, and new OTs working with adult and geriatric populations. The purpose behind My OT Spot is to inspire and educate the occupational therapy community. Sarah aims to give OTs actionable, evidence-based interventions with a focus on function and occupation.
OT Blogs from Around the World!
Bonus Blogs
The blogs above were highlighted for the frequency at which the authors are posting (usually several times per month) and because of how established they are (active for a year or more).
The following blogs also have great content but tend to post less frequently or are just getting started.
There you have it! I hope you enjoy following some of these blogs as much as I do! If you have a favorite OT blog that I missed, please include it in the comments!
This post was edited 5/5/15, 5/16/15, 2/1/16, 1/16/17 and 1/18/19.