Earn 1 hour of continuing education by joining the OT Potential Club after listening to this OT Potential Podcast course on occupational therapy and oncology.

The research is clear—adults living with cancer have significant unmet therapy needs. But how can we, as occupational therapy professionals, best serve this population?
It's a great question, and one we'll explore in-depth on this one-hour episode of the OT Potential Podcast! First, we'll dig into the research around disability in activities of daily living among adults with cancer. Next, we'll be joined by Vanessa Monique Yanez, MSOT, OTR/L. Vanessa will lend her expertise to our discussion of what this information means for your real-world practice.
Vanessa is a cancer survivor, herself. This personal experience fuels her dedication to improving the quality of life of other survivors. As private practice owner, Vanessa has valuable advice and insights to offer about the referral process, assessment and treatment of patients with cancer. We're honored to have her with us and excited to hear her thoughts.
See all listening platforms for the OT Potential Podcast.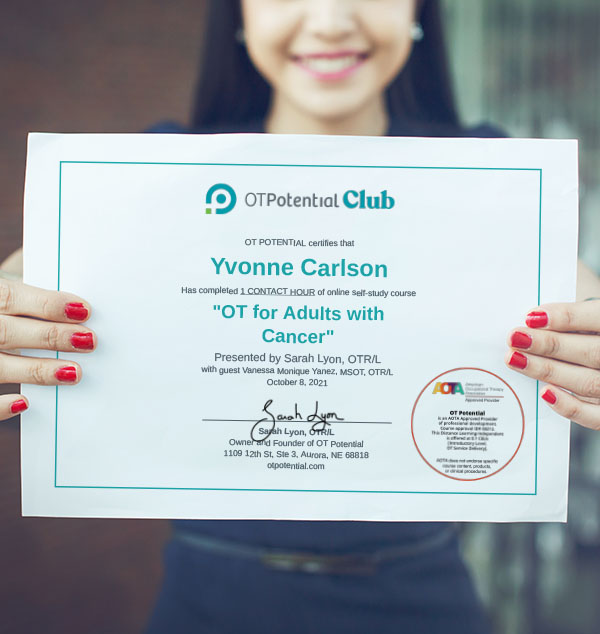 Earn

1 hour

of continuing education
1. Listen to the podcast for free.
2. Sign up for the OT Potential Club.
3. Pass the quiz and download your certificate!
Primary Research Explored
When you log in, be sure to check out the OT Potential Club's written breakdown of the following research article. Then, share your questions and thoughts with fellow practitioners.
Neo, J., Fettes, L., Gao, W., Higginson, I. J., & Maddocks, M. (2017). Disability in activities of daily living among adults with cancer: A systematic review and meta-analysis. Cancer treatment reviews, 61, 94–106.
Assessments
36-Short Form Health Survey (SF-36)
Canadian Occupational Performance Measure (COPM)
Functional Assessment of Cancer Therapy – Cognitive Function (FACT-Cog)
Functional Independence Measure (FIM)
Karnofsky Performance Scale
Katz Index of Independence in Activities of Daily Living (Katz ADL)
Lawton Instrumental ADL Scale (IADL)
Modified Interest Checklist
Montreal Cognitive Assessment (MoCA)
MOHOST
Role Checklist
FACIT (Functional Assessment of Chronic Illness Therapy)
Supplemental Materials
Articles:
Books:
Guidelines:
Online Communities:
Secondary Research
Hunter, E. G., Gibson, R. W., Arbesman, M., & D'Amico, M. (2017). Systematic Review of Occupational Therapy and Adult Cancer Rehabilitation: Part 1. Impact of Physical Activity and Symptom Management Interventions. The American journal of occupational therapy : official publication of the American Occupational Therapy Association, 71(2), 7102100030p1–7102100030p11.
Hunter, E. G., Gibson, R. W., Arbesman, M., & D'Amico, M. (2017). Systematic Review of Occupational Therapy and Adult Cancer Rehabilitation: Part 2. Impact of Multidisciplinary Rehabilitation and Psychosocial, Sexuality, and Return-to-Work Interventions. The American journal of occupational therapy : official publication of the American Occupational Therapy Association, 71(2), 7102100040p1–7102100040p8.
Learning Objectives
You will be able to identify the most commonly affected ADLs and iADLs in adults living with cancer.
You will be able to recognize common assessments to guide your treatments with cancer patients.
Agenda
Intro (5 minutes)
Breakdown and analysis of journal article (10 minutes)
Big picture cancer rehab overview
What do we know about cancer rehab and ADLs?
Why was this paper written?
What were the authors' methods?
Results
Authors' discussion and conclusions
Takeaways for OT practitioners
Discussion on practical implications for OTs (with guest Vanessa Yanez) (45 minutes)
What were your initial impressions of the research?
Can you speak to the unmet therapy needs of cancer patients?
Do you think OTs should receive special training in cancer rehab before they start seeing these patients?
How can OTs begin to connect our services with more cancer patients?
When do you think is the best stage in a patient's cancer journey to seek a referral?
What does the assessment portion of your treatment sessions typically entail?
What are the most common symptoms you see & common treatment interventions you utilize?
How do you coordinate services with other members of the cancer care team?
What are your go-to resources for oncology in OT?
Contact Hours
1 hour (0.1 AOTA CEUs)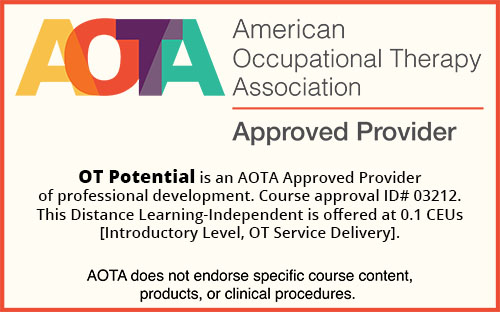 Target Audience/Educational Level
Our target audience is occupational therapy practitioners who are looking to learn about cancer rehab and occupational therapy. The educational level is introductory.
Instructional Methods/Registration/Special Needs Requests/Cancellation Policy
This course is an independent/self-study course delivered via podcast on iTunes, Spotify and Google Play. Explore your listening options on the OT Potential Podcast page.
If you need accommodations to take this course, please contact us and we will address your needs on an individual basis.
If this course were to be cancelled, please see our cancellation policy on our terms page.
Course Completion Requirements
In order to receive a certificate for this course, you must first listen to the podcast in its entirety. Then, you will need to take the test (found at the top of this page) and earn 75% or higher. If you pass, a certificate will be automatically generated and sent to your email.
Financial and Non-financial Disclosures
It is the policy of OT Potential to disclose any financial and non-financial interest the provider or instructor may have in a product or service mentioned during an activity. This is to ensure that the audience is made aware of any bias of the speaker.
For this course neither speaker has any financial interest in the subject matter or assessments mentioned.
Speakers
Vanessa Monique Yanez, MSOT, OTR/L: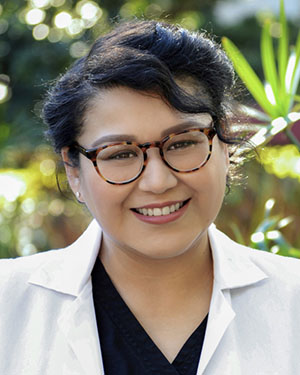 Vanessa Monique Yanez, MSOT, OTR/L is an occupational therapist with a specialization in oncology. She completed a Master's degree in Occupational Therapy from California State University Dominguez Hills, and is currently pursuing a Ph.D. from Texas Woman's University. She holds a faculty position for the occupational therapy programs at the University of St. Augustine, and runs a private practice in San Antonio, TX.
Ms. Yanez is dedicated to developing clinical programs to expand the role of occupational therapy in the emerging area of oncology, and is a frequent presenter at state and national conferences. As a cancer survivor, Ms. Yanez understands the challenges of a cancer diagnosis, which fuel her dedication to improving the quality of life of other survivors. Her clinical practice and research are focused on hematological cancers, stem cell transplants, as well as mental health, sexuality, and theory-driven practice within oncology.
Sarah Lyon, OTR/L:
Sarah's passion is helping fellow OT practitioners translate evidence into daily practice. Sarah earned her BA in religion from St. Olaf College, then earned her master's degree in occupational therapy from New York University in 2011. Since then, she's worked in numerous facilities, including a critical access hospital, an acute trauma hospital, and a state inpatient psychiatric hospital.
In 2011, Sarah launched OT Potential because she realized we needed a reliable source of quality occupational therapy-related content and resources. She has also had the opportunity to create content for brands like WebPT, MedBridge, Saebo, and NeuroLutions.
She launched the OT Potential Club in 2019 to marry her love of simplifying complex topics with her desire to help therapists access the most important OT-related research released each year.
Sarah is a prairie girl at heart, which is why she returned to her hometown to raise her children in Aurora, Nebraska (home of the strobe light).
This course was designed to meet your continuing education requirements
We designed the courses in the Club to meet the requirements for "online" and "independent/self-study" courses. For more details read our blog post: Can I earn OT CEUS from a podcast? To verify the requirements from your specific state (within the US), check out our post, OT Continuing Education Explained. If you are outside of the United States and have questions, please contact us.
We are proud to be an AOTA Approved Provider and to meet the requirements for your NBCOT renewal.