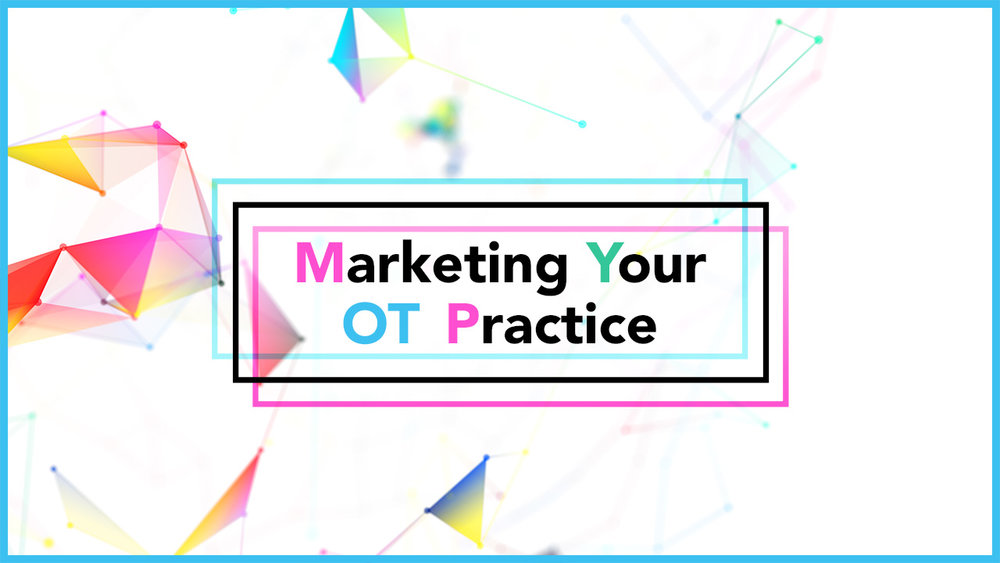 Occupational therapists, give yourselves a pat on the back, because you made an incredibly wise career choice. That's because occupational therapy is ranked as one of the most rewarding, in-demand, and recession-proof professions in the United States.
But, there's one problem:
This spotlight on occupational therapy means the market is being flooded with more OTs than ever before, so OT practices using outdated marketing techniques—and ignoring the influx of competition—are in for a rude awakening.
Fortunately, if you know how to market your unique skills as a therapist and get your message to the patients and providers who need it most, you can set yourself apart from the rest. Here's how:
Research Your Market
First things first: Before you start penning your marketing plan, you'll have to don your research cap. The AOTA asserts that OTs must "respond to how society is changing and evolving" to meet the occupational needs of society.
Aligning your practice to meet those needs will ensure your services are in demand, so you'll need to dig into your current market to determine if it'll sustain your desired OT niche.
But that's only part of the equation.
If you've ever taken a business class, you're probably familiar with the fundamental economics concept of supply and demand. Basically, to command top dollar for your services, you have to offer a much-needed—yet undersupplied—service. How do you know if your desired niche nails the OT supply-and-demand sweet spot? You'll need to do some research:
Consider your city's statistics and local trends—like population size, average age, and growth rate. These are good indicators of what specialty may be most beneficial (i.e., marketable and profitable) to the folks in your area.
Search the Internet

to find out if your market has a need for your niche. A Google keyword search for terms associated with your desired niche (e.g., autism, Alzheimer's care, or workers' compensation) will give you a good sense of how many folks in your area are looking for services in that particular specialty.

Determine how many OTs already provide these services in your area and compare that figure to what you know about your market. If the supply outweighs the demand, there may not be enough patients to go around. Plus, you—and your potential patients—will probably have a tough time distinguishing your practice from the others.
If your desired niche doesn't fit into your current market—or if the market is saturated with OTs specializing in that niche—you'll likely need to decide whether you want to stick with your niche and move somewhere you can readily establish yourself, or change your niche altogether.
Create an OT Marketing Plan
Once you've figured out what types of OT services you will provide, it's time to start marketing your practice to draw in patients and grab the attention of referring physicians. But before you do that, you need a marketing plan.
What's a "marketing plan?"
I'm glad you asked.
As we mention in Modern Marketing Decoded, WebPT's free guide to digital marketing, "a marketing plan is a roadmap that helps you develop a concrete marketing strategy and makes sure your marketing efforts stay the course. Beyond that, a marketing plan can also help you figure out:
Who your audience is;
How you stack up against competitors and industry standards; and
Which approaches work―and which ones don't."
There's a myriad of ways OTs can market their services, but that doesn't mean you have to do all of them. Having a concrete marketing plan will help you pick the ones that are most effective.
Get Digital
Obviously, you want to focus your marketing efforts on the avenues that will get you the most attention from the audience you want. These days, that almost always includes some form of digital marketing.
With the majority of modern healthcare consumers turning to the Internet to help them find providers, digital marketing—including social media, blogging, and online reviews—helps you leverage your best asset: you. In fact, providers who blog and use social media increase their website traffic and make their patients feel more valued, so take the time to educate yourself on digital engagement tactics.
Furthermore, a healthy Internet presence can also help you strengthen relationships with current and potential referring physicians. Good physicians are far more likely to refer their patients to highly-rated providers with proven track records. So, make sure your website, social media pages, and patient reviews reflect your efficacy as a provider.
Build a Website
It's also crucial that—no matter who your target audience is—you have a practice website.
However, some practices are resistant to creating a website, assuming that social media profiles are an adequate replacement for a clinic website.
After all, social media is free, and websites are expensive to build and maintain, right?
Not exactly.
For one thing, social media has become a pay-to-play strategy. In order to really stand out on social media and make your efforts worth it, you need to be willing to set aside dollars in your marketing budget for it.
As for website expense, there are all kinds of inexpensive—and even free—DIY website builders. The best part? You don't even have to know HTML or C++ to build a website on your own. Sites like Wix, Squarespace, and GoDaddy offer easy-to-use templates and tutorials to help you build an attractive, professional-looking website.
You can also reach prospective patients who are interested in your services via niche-based publications, websites, and events. Specifically, consider:
joining local groups and organizations aligned with your niche (i.e., sponsor a team for disabled youth or attend a charity event dedicated to raising awareness and research funds for Alzheimer's); or
contributing to relevant blogs and online publications to further promote yourself within the community.
In addition to getting your name out there, this kind of relationship-based marketing presents you with opportunities to educate patients on any lesser-known or niche services you provide—and explain their benefits.
If you would like to see examples of the OT practice websites that were voted the best of 2017, along with tips for improving your website, please check out: The Best OT Websites of 2019.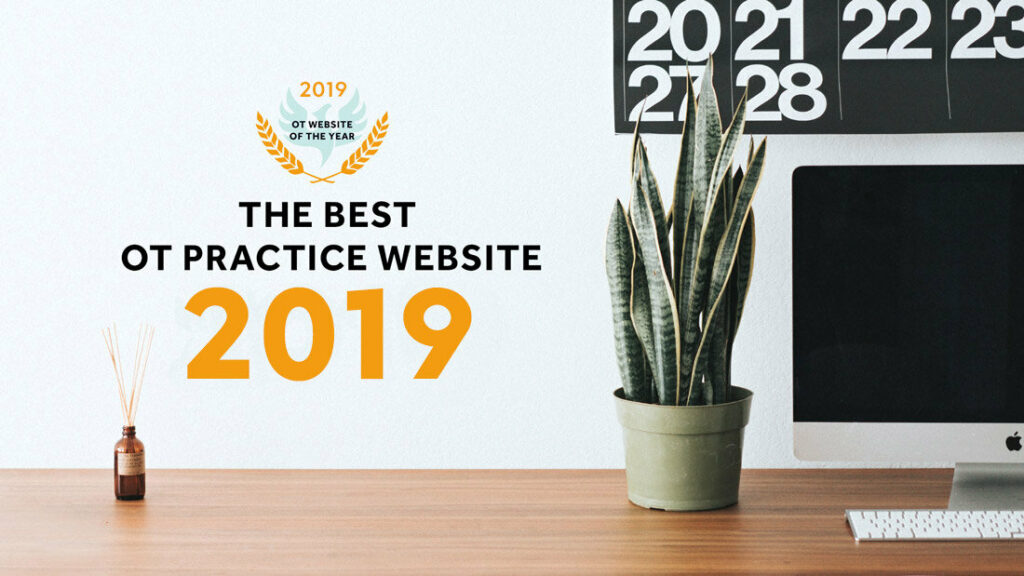 Nurture Physician Relationships
Right now, most states do not allow direct access to occupational therapy services, which means the majority of OTs must still rely on physician referrals.
That also means that OTs have to get really good at referral marketing, which hinges on tapping into the emotions that motivate physicians to refer their patients to you. This strategy requires a two-prong approach:
Using data—such as patient health outcomes

—to prove your efficacy as a practitioner.

Establishing and maintaining working relationships with referring physicians.
This strategy is a bit of a long game—it can take time before your referral marketing efforts start to pay off.
Some therapists actively avoid this strategy because they feel uncomfortable and too "salesy" when they reach out to physicians.
If this sounds like you, then you're likely thinking of this outreach in the context of "selling," when you should be thinking of it as "serving." Instead of going to physicians with the intention of getting something (referrals) from them, try approaching them with the intention of offering something they need.
Then, demonstrate your credibility with solid data that proves you're the best therapist for the job.
Once you've established that culture of trust, make sure you maintain it by regularly checking in with your referral sources and showing them how much you value them.
What if I'm in a direct access state?
That said, as the healthcare industry continues to consolidate, referral marketing may not be the most lucrative strategy for the long term.
If you're lucky enough to practice in a state that allows patients to have direct access to occupational therapy services, then you should definitely take advantage of it.
If you're not sure where to start, follow these simple steps:
As noted previously, it's important to have a strong Internet presence. This is even more important if you wish to attract direct access patients. Your website should be professional and up to date, and your reviews on sites like Google and Yelp should be glowing. These sites are usually the first thing potential patients see when they search for your clinic online, so you want to leave a good first impression. (Pro tip: If your reviews leave something to be desired, simply ask your best patients to leave online feedback. Chances are they'll be more than happy to.)
Develop relationships with groups, clubs, and non-physicians to generate word-of-mouth marketing.
Track patient outcomes and use this information in your marketing materials. That way, patients know you don't just talk the talk, but walk the walk, too.
Conclusion
You became an OT to help other people, yet to become—and stay—profitable enough to keep your doors open, you must help yourself, too.
Developing and implementing a strategic marketing plan might be difficult or uncomfortable at first; you may even have some preconceptions about what it means to sell your services or the value you provide to patients (after all, most occupational therapists don't receive any formal education on how market their practices).
But marketing is the key to positioning yourself and your practice for success, so make sure you're committed.
Still, marketing ain't easy, so if you're looking for a step-by-step, easy-to-follow playbook on how to market your services or your practice, grab your free copy of Modern Marketing Decoded: A Guide for Rehab Therapists.