Listen for free.
Then, join the OT Potential Club to take your test and earn a certificate.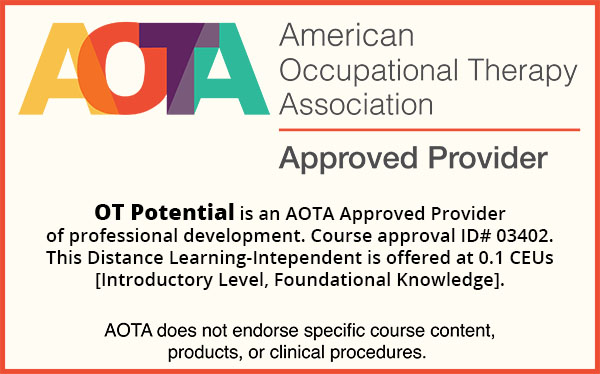 Course Description
Released November 7, 2021 from Aurora, NE
We've had compelling evidence for a while now about the benefits of providing acute care hospital services from the comfort of a patient's home. (This model is widely known as "hospital in the home.")
But, for us in the US, it has been hard to imagine how our complex medical system would ever change to accommodate such a fundamental shift in healthcare delivery.
Enter: the pandemic. Now, our whole society is looking at the inadequacies of limiting acute care to the number of beds available in a hospital.
OT is uniquely poised to deliver services in this model—and you'll see in the research that our care is considered a central component.
This podcast is intended to be an introduction to the hospital at home model. It's designed to help you imagine the healthcare models of the future—and OTs place in them. We will anchor our discussion in a Cochrane review of the evidence. Then, we'll welcome our guest Monika Lukasiewicz, who has made a career of thinking creatively about OT in the home, all while working in traditional OT settings. Whether you deliver OT in the home or the hospital, she'll help us think through how this trend could impact your practice.
Examples of hospital at home
Per this article, 56 health systems and 127 hospitals across 29 states have been accepted as participants in the Centers for Medicare & Medicaid Services' (CMS) hospital-at-home initiative.
Here are some examples of hospital at home programs:
Primary Research Explored
When you log in, be sure to check out the OT Potential Club's written breakdown of the following research article. Then, share your questions and thoughts with fellow practitioners.
Gonçalves-Bradley, D. C., Iliffe, S., Doll, H. A., Broad, J., Gladman, J., Langhorne, P., Richards, S. H., & Shepperd, S. (2017). Early discharge hospital at home. The Cochrane database of systematic reviews, 6(6), CD000356.
Secondary Research
Read, J., Jones, N., Fegan, C., Cudd, P., Simpson, E., Mazumdar, S., &; Ciravegna, F. (2020). Remote home visit: Exploring the feasibility, acceptability and potential benefits of using digital technology to undertake occupational therapy home assessments. British Journal of Occupational Therapy, 83(10), 648–658.
Nix, J., & Comans, T. (2017). Home quick – occupational therapy home visits using mHealth, to facilitate discharge from acute admission back to the community. International Journal of Telerehabilitation, 47–54.
Learning Objectives
You will be able to recognize the positive OT-related outcomes associated with hospital at home.
You will be able to identify assessments OTs can utilize to help track outcomes in this setting.
Agenda
Intro (5 minutes)
Breakdown and analysis of journal article (10 minutes)
Introduction to hospital at home
Why was this paper written?
What were their methods?
What were the results?
Discussion and conclusions
Takeaways for OT practitioners
Discussion on practical implications for OTs (with guest Monika Lukasiewicz) (45 minutes)
What were your initial impressions of the journal article?
What do you see as the downsides to our current model of care in the US, where acute care is so distinct from home health?
How did the article make you think differently about your care as a home health therapist?
For OT's working in hospital settings how can you imagine this could make them think differently about their care?
Do you see avenues for OTs get involved in these programs and to shape the policy around them?
What technologies are you seeing coming to OT in the home that would enable the shift to more home-based care for acute patients?
Where would you like to see our profession in 5-10 years in terms of our involvement in hospital at home programs?
What support is needed in order to help OTs stay at the table and keep innovating in the home?
Contact Hours
1 hour (0.1 AOTA CEUs)
Target Audience/Educational Level
Our target audience is occupational therapy practitioners who are looking to learn about hospital at home and occupational therapy. The educational level is introductory.
Instructional Methods/Registration/Special Needs Requests/Cancellation Policy
This course is an independent/self-study course delivered via podcast on iTunes, Spotify and Google Play. Explore your listening options on the OT Potential Podcast page.
If you need accommodations to take this course, please contact us and we will address your needs on an individual basis.
If this course were to be cancelled, please see our cancellation policy on our terms page.
Course Completion Requirements
In order to receive a certificate for this course, you must first listen to the podcast in its entirety. Then, you will need to take the test (found at the top of this page) and earn 75% or higher. If you pass, a certificate will be automatically generated and sent to your email.
Speakers
Monika Lukasiewicz, OTR/L, CLIPP: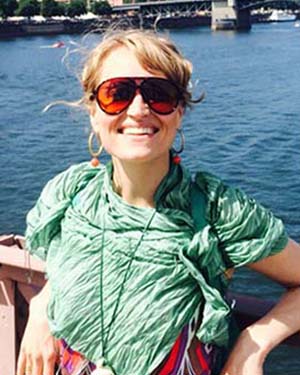 Monika is passionate about helping individuals and families solve the problems that arise in life at home especially after an illness or injury occurs. She earned her Master's of Occupational Therapy from College of St. Mary in 2009. Since then, she has worked in acute care, acute rehab, ICU, skilled nursing, outpatient, as an adjunct professor and home health. The majority of her career–and passion–has been in home health. She is trained in motivational interviewing, healthy habit development, lifestyle redesign, Certified Living In Place Professional (CLIPP) and is in the process of being certified in evidence-based caregiver training for dementia care through the Skills2Care Training.
She started writing in 2012 on topics including flow, motivational interviewing and then strategies for home health occupational therapists (OTs). After falling in love with being an occupational therapist in the home yet clearly noticing the struggles of working in a remote health care system, she began creating more content including an e-book and other downloadable templates to serve home health OTs. This led to a being a guest on podcasts and founding a short podcast called "Home Health Occupational Therapy Explorer." She is exploring other creative avenues to address key problem areas innovatively with the skillset of a home health OT via Till and Water, LLC. She currently braids her skills as a writer, consultant and home health OT from her home in Phoenix, AZ.
Sarah Lyon, OTR/L:
Sarah's passion is helping fellow OT practitioners translate evidence into daily practice. Sarah earned her BA in religion from St. Olaf College, then earned her master's degree in occupational therapy from New York University in 2011. Since then, she's worked in numerous facilities, including a critical access hospital, an acute trauma hospital, and a state inpatient psychiatric hospital.
In 2011, Sarah launched OT Potential because she realized we needed a reliable source of quality occupational therapy-related content and resources. She has also had the opportunity to create content for brands like WebPT, MedBridge, Saebo, and NeuroLutions.
She launched the OT Potential Club in 2019 to marry her love of simplifying complex topics with her desire to help therapists access the most important OT-related research released each year.
Sarah is a prairie girl at heart, which is why she returned to her hometown to raise her children in Aurora, Nebraska (home of the strobe light).
This course was designed to meet your continuing education requirements
Every state, entity, and country has different requirements for what counts as continuing education, and we have done our best to make sure it meets yours. Please double check with particular requirements, and let us know if you have any questions about whether it meets your needs.
NBCOT renewal:
This course is designed to meet the requirements of NBCOT PDUs. But, you are advised to make your own determination as to whether the course will be beneficial to your practice. NBCOT does not endorse any specific professional development units.
See #14 on the NBCOT Renewal Activities Chart to see what this podcast would qualify under. (OT Potential is considered a 3rd party entity.)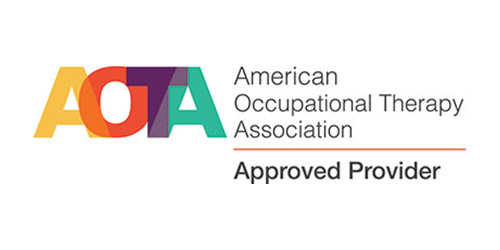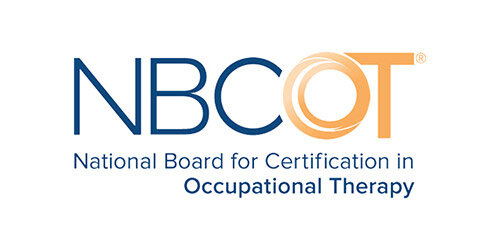 State license renewal (within the US):
Our OT Potential Podcast is intended to meet the requirements for "online" and "independent/self-study" courses. If you have any questions about your particular continuing education requirements, please check with the licensing entity in your state.