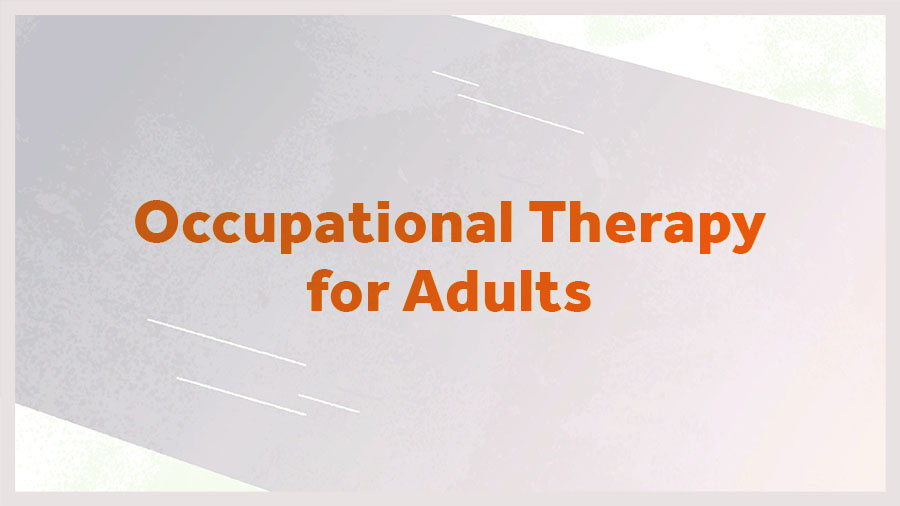 In this post, we are going to walk you through occupational therapy for adults.
Occupational therapy helps people with a health condition improve their days, and thereby their lives. We do this through partnering with you to understand your circumstances, set goals, and carry out a plan to accomplish them.
Our overarching hope is to make a real difference in your day to day life.
To get you oriented to our profession, we'll cover:
Where to find an OT who works with adults
If you are reading this post, there is a good chance that you are looking into seeking out occupational therapy care, which is typically delivered in an outpatient setting.
But, other common places you can find OTs serving adults are in:
Home Health
Mental Health
(Click through above to read more about each specific setting.)
I should note that, like the rest of healthcare, OT has historically been too focused on rehab after acute events.
But, our profession is also shifting to provide more support with ongoing management of chronic conditions. We also want to support you when you have a diagnosis like autism, where you may encounter new situations as an adult and could use an extra layer of support.
When should you seek an OT referral
The general rule of thumb for considering if you need OT, is to ask if your health condition is making it difficult to participate in your daily activities? And, if you would like help setting goals and working a plan to improve your days?
If your answer to both of these questions is "yes", then you can take the step of talking with your doctor or reaching out to your local occupational therapy clinic.
View our "What is OT?" page for a broad list of the daily activities OTs can help with.
OT Evaluation with Adults
Our goal as occupational therapists is to really partner with you on your health journey. So, over the course of our first sessions, we will want to understand the challenges you are facing and your goals.
When we are working with older adults, who are supported by a caregiver, it is extremely important to us that caregivers are involved in these conversations as well.
We will likely perform some type of standardized assessment as well, in order to help understand how your condition is impacting you.
Here is a long list of occupational therapy assessments for adults:
6-Minute Walk Test (6MWT)
Aberrant Behavior Checklist- 2 (ABC-2)
Activity Card Sort (ACS)
Agitated Behaviors Scale-Modified
Barthel Index for Activities of Daily Living (BI)
Beck Depression Inventory (BDI)
Berg Balance Scale (BBS)
Borg Dyspnea Scale
Brief Pain Inventory (BPI)
Dartmouth COOP Charts
Functional Independence Measure (FIM)
General Health Questionnaire (GHQ)
General Self-Efficacy Scale (GSE)
Geriatric Depression Scale (GDS)
Goal Attainment Scale (GAS)
Grip Strength
Health Assessment Questionnaire- Disability Index
Hospital Anxiety and Depression Scale (HADS)
Independent Living Scales (ILS)
Katz Index of Independence in Activities of Daily Living (Katz ADL)
Kohlman Evaluation of Living Skills
Lawton Instrumental ADL Scale (IADL)
Maternal Self-Efficacy Scale (MSES)
Miller Behavioral Style Scale (MBSS)
Mini-Cog©
Mini Mental State Examination (MMSE)
Montgomery Asberg Depression Rating Scale (MADRS)
Motion Sensitivity Quotient/Test (MSQ/MST)
Motricity Index for Motor Impairment After Stroke
Nottingham Extended Activities of Daily Living (NEADL) Scale
Occupational Performance History Interview-II (OPHI-II)
Pain Self-Efficacy Questionnaire (PSEQ)
Participation Assessment and Recombined Tools (PART-O)
Pinch Strength
Positive and Negative Affect Scale (PANAS)
Rivermead Mobility Index (RMI)
Satisfaction with Life Scale (SWLS)
Self Efficacy Scale
Self Perception Profile for Children (SPPC)
Sharpened Romberg
Short Blessed Test (SBT)
Social Responsiveness Scale, Second Edition (SRS™-2)
Stanford Chronic Disease Self-Efficacy 6-Item Scale (SSE) (SEMCD)
Symbol Digit Modalities Test (SDMT)
The Medi-Cog
The Occupational Self Assessment (OSA)
Timed Up and Go Test (TUG)
Work and Social Adjustment Scale (WSAS)
You can see our master list of OT assessments, with links to the assessments in our post: Occupational Therapy Assessments.
Common Occupational Therapy Interventions for Adults
The most effective occupational therapy interventions typically involve practice of daily tasks related to your goals.
Practice is hard, and oftentimes involves trial and error. But, we focus on real-life practice because it activates something called "activity-based neuroplasticity", which is how your brain grows and learns new things.
To augment this practice, we may consider technology, equipment and environmental changes.
If there is a physical limitation that is hindering your participation, we may undertake physical treatments like wound care or lymphedema management.
Here are the broad categories Medicare has put forth for OT for older adults.
Assistive Technology Assessment and Training
Community/Work Reintegration Training
Debridement of Wounds
Development of Cognitive Skills
Manual Therapy Techniques
Neuromuscular Re-Education
Self-Care/Home Management Training
Therapeutic Activities
Wheelchair Management
A little bit about your occupational therapist.
To become an OT in the US, you need a masters or doctoral degree. Beyond that, many OTs go on to earn specialized certifications and continuing education in their particular area of work. In general, OTs that work with adults are among the highest paid OTs, and based on our OT salary guide, make a ballpark figure of $65-90K on average.
Our mission as OTs is to make a tangible difference in your days, and thereby your life.
Find an adult-rehab OT near you
You can use the OT Near Me Directory to find an adult-rehab OT in your area.
Conclusion
Hopefully this post has been a helpful introduction to occupational therapy for adults. There is so much more to explore about this topic!
If you are looking for further exploration, I recommend our podcast about adult-rehab topics, or some of the related blog posts listed below.
If you have any questions, don't hesitate to leave them in the comments!
Blog posts related to occupational therapy for adults:
---