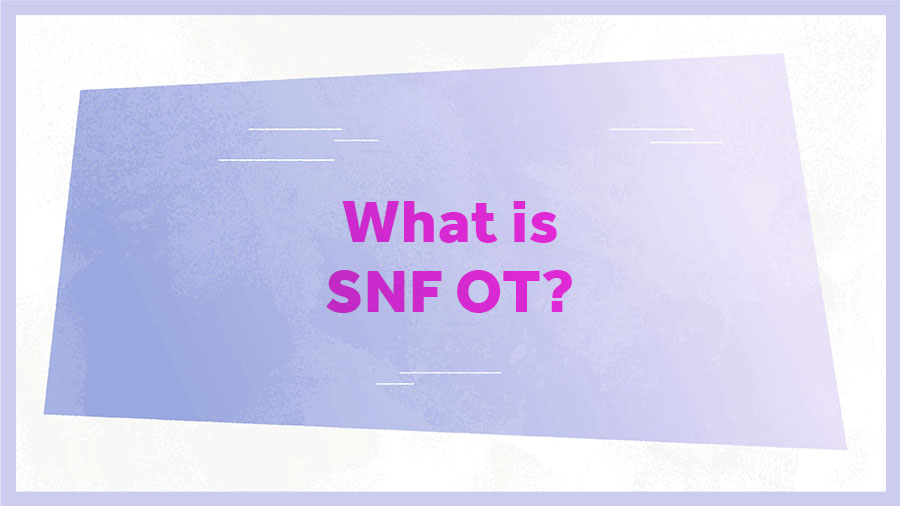 Occupational therapy (OT) helps people do the daily tasks they need to do when these tasks are made difficult by an injury or health condition.
For occupational therapy professionals who work in a skilled nursing facility (SNF), this often means helping you work towards safely participating in daily routines after you've been in the hospital.
Often, the focus is to help you safely transition to your home setting, where healing can continue.
Your OT team will work closely with you, your loved ones, and the entire healthcare team. OT is unique because we take a holistic approach to care, focusing on our client's day-to-day activities.
Try 2 Free CEU Courses!
⭐ AOTA-Approved ⭐
---
Quick overview of therapy options after a hospital stay (aka "post-acute therapy")
In a skilled nursing facility, occupational therapy is one therapy option available to adults after a hospital stay.
Below is a quick overview of the main post-acute therapy options. Patients may utilize several of these options over their health care journey.
Inpatient rehab – intensive rehab for individuals who can tolerate three hours of therapy per day.
Skilled nursing facilities – for individuals who still need daily skilled nursing and/or therapy to meet their health goal but is less intensive than inpatient rehab.
Home health – for individuals who are safe to return home but still need therapy and are primarily home-bound. Meaning they cannot easily or safely travel to outpatient therapy.
Outpatient therapy – for individuals who still need therapy and can travel to their local therapy provider.
Who benefits from SNF OT?
Being admitted to a skilled nursing facility means you no longer need hospital-level care but still require "skilled care" to meet their health care goal.
"Skilled care" can only be provided by individuals with specific training. Such as nurses and therapy practitioners.
You may benefit from OT if you are having difficulty participating in daily tasks and activities that you could do before your hospital stay. Our goal is to help you have a safe discharge. This could be your house, a loved one's house, assisted living facility, or long-term care setting.
OT in SNF supports you by facilitating your engagement in activities necessary for your quality of life, including:
Bathing and Showering
Dressing
Eating
Functional Mobility
Personal Device Care
Personal Hygiene and Grooming
Communication Management
Health Management and Maintenance
Home Management and Housekeeping
Meal Preparation and Clean Up
Rest and Sleep
Religious and Spiritual Activities and Expressions
Toileting and Toilet Hygiene
Common conditions occupational therapists treat and help manage in SNFs include:
Amputations
Burns
Complications of Chronic Conditions (like Diabetes, Multiple Sclerosis, Parkinson's Disease, Dementia)
Chronic Obstructive Pulmonary Disease (COPD)
Injuries and Trauma (Fractures)
Severe Infections
Major Surgery
Traumatic Brain Injury
What does your first visit with an SNF occupational therapist look like?
Before arriving at a SNF, you likely received OT in a hospital setting. So one of the first things your SNF OT will do is review your past therapy history and medical history.
From there, we'll ask questions about your concerns, your goals, and what a typical day looked like before the hospital stay. We will also ask questions about your support system and the physical set-up of your home. This helps us precisely understand what you need to do to return home safely.
During your first visit, we'll likely observe you doing some everyday tasks to the best of your ability. Depending on your situation, we may also complete some formal assessments.
Common SNF OT Interventions
Occupational therapy focuses on treatments that help improve your functioning and quality of life long after therapy ends. We use multiple approaches to accomplish this, including:
Individual and Group Therapy Sessions
OT sessions can take place in your room, the therapy gym, or in special simulated areas in the skilled nursing facility. Most sessions will be one on one with your practitioner.
Sometimes, you may be with other residents working on similar activities. This is a great way to learn a new skill and gain support from individuals who are going through a similar experience as you.
Educating Parents and Caregivers
If you have a new diagnosis, part of the journey for your family is learning how that impacts you and your ability to care for yourself. As OT practitioners, we typically spend more time than other medical providers with our patients. We take our role in helping you learn and cope with a new diagnosis very seriously.
Improving physical/ emotional/ cognitive skills
Due to your hospital stay, specific skills may be harder than before, which in turn makes it difficult to care for yourself. This could range from a significant loss of overall strength to memory difficulties.
When this is the case, we can often take steps to improve those specific skills. Examples of OT treatments that help rebuild specific skills would be strengthening or cognitive training related to safely caring for yourself.
Providing a safe and supportive place to try new skills
Sometimes, after a major health event, your health is altered so much that you can no longer perform the day-to-day tasks like before.
For example, the loss of the use of your hand may be something you will have to navigate long term. You may need to learn a new way to dress, bathe, cook, etc.
Part of our job is to practice those new skills with you. It can be hard to learn a new way to do things. Especially the 'easy' things that we once took for granted. But, we are here to provide a safe place to learn new skills.
Repetition is key for recovery. So, if your therapy team encourages you to complete exercises or to practice new skills outside of therapy sessions, it is a great opportunity to get better faster!
Recommending technology and environmental changes to support your loved one
When we reach the limits of improving certain skills, we can often use technology or recommend changes to the home environment.
There are many different options out there, such as shower chairs, toilet raisers, commodes, grabbers, sock aides, etc. If you have any questions about this equipment, how much it costs, or where to buy it, don't hesitate to ask your therapy team!
If you're going home in a wheelchair or with a walker, there may be some other tweaks recommended, such as ramps, grab bars, removing doors, or replacing a shower door with a shower curtain to help your home be more accessible.
Other roles of OT in an SNF
While we spend most of our time working with individuals, we know it is also important to have good systems and programs at our facilities to set our patients up for success. So, you may find that your OT spearheads or works with the following programs:
Reducing Falls
Wheelchair safety
Wound management
Reducing the need for patients to go back to the hospital
Ensuring a safe transfer to homes
Positioning programs to reduce sores and contractures
Pre-driving screening
Managing dementia
Evidence-based practice in post-acute OT
Occupational therapy practitioners are proud to use evidence-informed practice. That means we base our treatments on science and research. But, that does not mean there are cut-and-dry solutions for everything. Every session is different because every person is different.
To us, evidence-based practice means we are always balancing three things:
What is important to you
Our own experience and expertise
What the latest research says
We truly want to partner with you and your loved ones—so if you have questions about your OT care, please don't hesitate to ask us!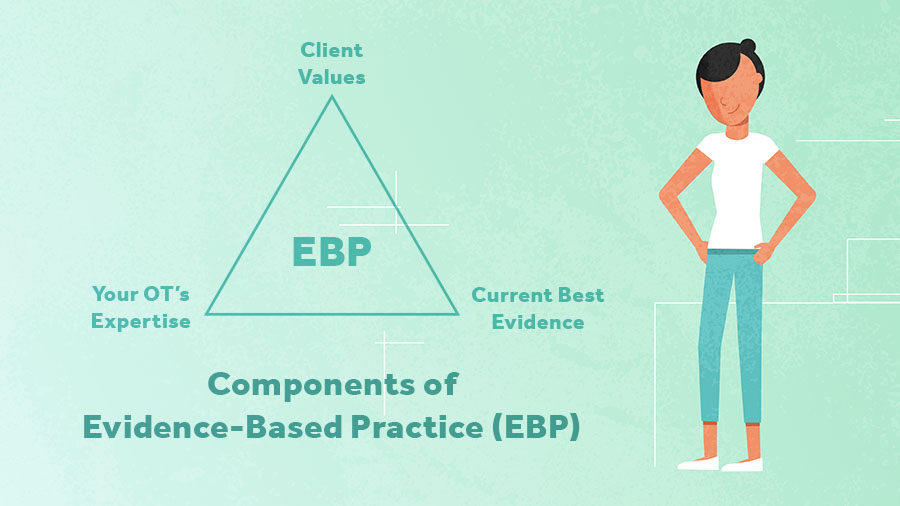 Find an SNF OT near you
You can use the OT Directory to find an SNF OT in your area.
Conclusion
Being admitted to a skilled nursing facility means you have experienced a health incident that may significantly alter your health. This is inherently a challenging time. We want you to know that OT exists to support you and your loved ones during this time.
We look forward to getting to know you, understanding your strengths, and what matters to you so you can return to doing the things you love.
---
Posts for related SNF OT questions:
How do I become an OT?
What certifications can OTs obtain?
How much does an OT make?
Adult-Rehab OT Continuing Education Courses
Where to find an OT job?
How do I write a SOAP note?
Influential adult-rehab OT research
---