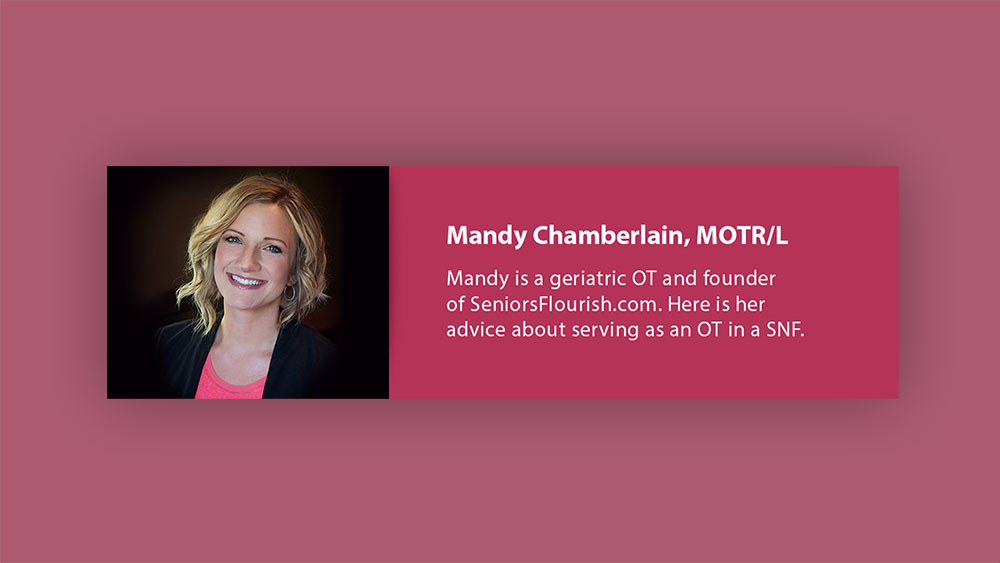 In my OT class of 50, only three of us actively expressed interest in a career in geriatrics. But, the reality is that about 20% of OTs work in a skilled nursing facility or long-term care. For many, an SNF is a great opportunity to begin a career and hone skills learned in school. It is an area of OT that is easy to then fall in love with, as the work is a nice combination of rewarding and challenging.
If you are considering employment in a SNF or looking to grow your own geriatric practice, this interview is for you. Mandy has dedicated her career to geriatric OT and developing resources to help fellow therapists.
---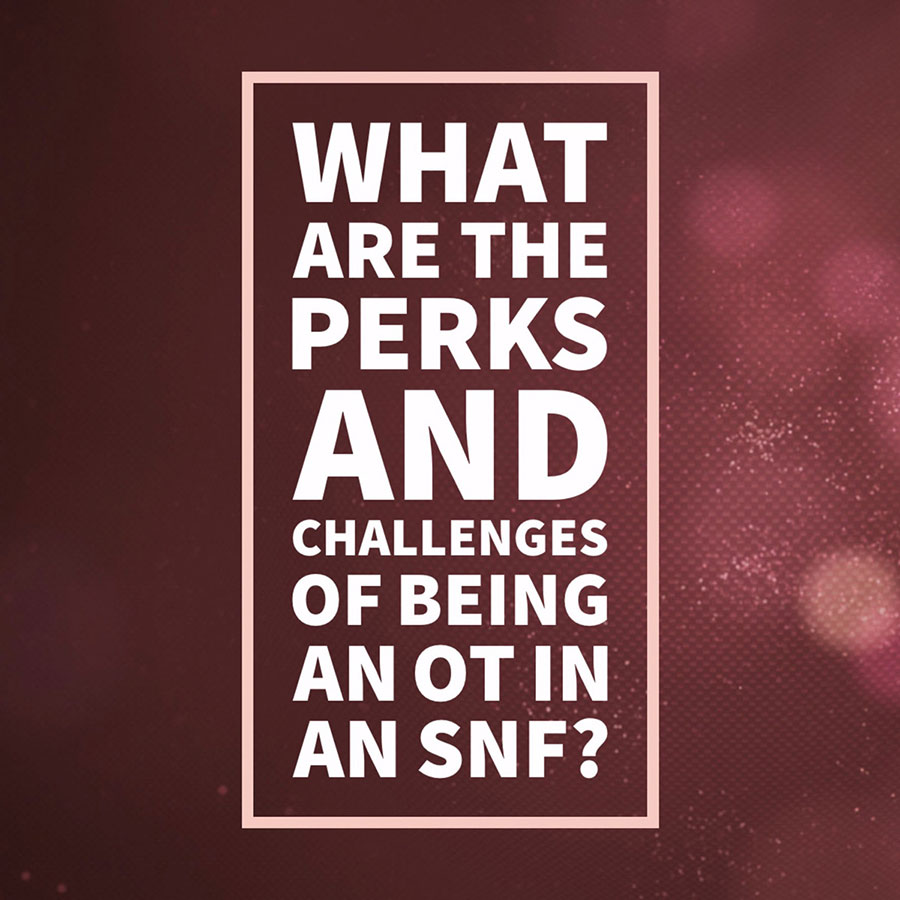 Potential: What initially drew you to geriatric occupational therapy and work in a skilled nursing facility?
Mandy: I have always enjoyed the geriatric population and I grew up in a "sandwich generation" family as my grandfather lived with us after my grandma passed away. He needed help with IADL and safety and we tried hard to keep him out of an assisted living for as long as possible – so I guess it is just a part of who I am! He had a stroke that resulted in him having to go to an SNF and I attended therapy sessions with him, which exposed me to Occupational Therapy in the first place.
After finishing grad school, I moved to a rural Colorado community and I started in home health. I was intimidated in the beginning as I worked so independently, but I LOVED it! There was so much autonomy and I felt that home health and OT were such a perfect fit for working on the things that were important to them in their natural environments.
After home health, I began working at a critical access hospital providing both in and outpatient rehab and was contracted to fill in at a local SNF. I was able to work with such a great variety of populations and was fortunate enough to really hone in on my skills. I was also able to utilize my outpatient skills in the SNF setting as well to maximize my patient outcomes.
I really enjoyed it and the rest is history!
I have continued to work on many different settings but my constant is working with the geriatric population.
What is your favorite part of being an occupational therapist in the SNF setting?
One of my favorite parts of working in a SNF is the complexity and variety of the patients I get to work with. One day I am working on cognition and helping a patient figure out the best way for them to manage medications when they get home and the next, I am working on tendon glides after an ulnar fracture so they can pick up their toothbrush to get ready for the day.
I also like that you can also get really creative with treatments to make it meaningful and fun by playing games, going on community outings and occupation-based tasks, things that I found a bit harder to do when working in an outpatient setting. There is always a lot of joking around, laughing and relationship building, which are top priorities in my book!
What is the biggest challenge?
Carry over with staff. I believe that working in an SNF, it takes a village to provide the best care for our patients and that includes everyone – from OTs and nurses, to the maintenance department and the kitchen staff.
I have developed trust and have taken the time to get to know the other staff to help with carryover of my patient's exercise programs, feeding suggestions, splint schedules, installation of lighting recommendations, cognitive cuing, etc. I find it so challenging when your patient works so hard to get to certain level of independence, to find the carryover needed by staff isn't being done.
Have you experienced any challenges with productivity demands or the physical demands of the work? If so, how have you managed them?
I have been fortunate enough to work in facilities that productivity demands are not an issue, which I know is not the norm, as I have also worked in facilities where they try hard to balance productivity and patient care. I try to be as efficient as I can, while providing the best patient care. It is hard because I also feel that we, as OTs, need to advocate for our patients and put them first, therefore, those two goals cannot be accomplished. So sometimes, I am "reminded" of my productivity levels and I just try to do the best I can.
SNF work can have the reputation of being repetitious. What have you done over the years to keep your work fresh and engaging?
I am always digging around for new ways to keep treatment ideas fresh and fun. I take continuing education courses, do my own research, try to read OT-based articles and use Pinterest (here's my geriatric OT board)! There are so many creative ideas out there and i love learning from others. I do not use cones or arm archs – I really try hard to dig into what the patient does on a day-to-day basis or even use an interest checklist to get a good feeling of some things that they have enjoyed in the past. Occuaption-based activities are the best (and I think the most fun). I have found some facilities are using occupation-based kits that they keep in their rehab gym so they can easily simulate some of these tasks, which is such a great idea!
What changes do you hope to see in SNF OT care in the next 5 years?
I hope to see a payment shift to reduce the productivity demands for OTs.
With medical advances, I feel that people will be living longer and the demand for OT will continue to grow. I think that even though some therapists may love working with this population, they will be turned off by the focus on money versus care, so I am hoping with shift will happen sooner than later.
What resources have you utilized to grow your practice over the years?
I am a researching nerd – I love it! I read AJOT regularly and am a fan of easily, digestible, tangible information and techniques that you can try in your practice right away. Healthcare podcasts are great and social media has really opened my eyes to new ideas from OTs all over the world. Right now, my favorite podcasts include:
One of the most helpful courses for me was AOTA's Dysphagia Care and Related Feeding Concerns for Adults Self-Paced Clinical Course. As an OT working in a rural community, I have extra training in swallowing, feeding and modified barium swallow studies for the adult and geriatric population. When I was in the process of sharpening my skills, this wa the most comprehensive course on this topic specifically for OTs. The handbooks are well worn, used and loved – I couldn't have done it without it!
What advice would you give to a student who hopes to eventually work in an SNF or with a geriatric population?
Be a good listener. Listen to understand, not reply. It is our job to enable our patients and focus on the goals that they want, not necessarily what we think they need.
If someone is hunting for an SNF job, what you advise them to look for in a facility?
I would encourage them to seek answers to the following questions:
Is the company providing OT services for the SNF internal or an external company?
What are the productivity demands?
What is their continuing education allowance?
Vacation time?
Do they encourage program development?
What are your work hours and what happens if your census is low as a full-time employee?
What type of documentation system do they use?
Are you involved in care conferences with the patient and families?
What is the percentage of long-term care residence versus short term rehab?
None of these questions necessarily disqualify a facility. They are just good to know when deciding to work for a company.
Lots of new grads work in an SNF setting. What advice would you give to someone who is just starting their first job in an SNF?
Be creative, be a team player, learn and have fun!
Mandy Chamberlain MOTR/L is a geriatric occupational therapist and founder of SeniorsFlourish.com and membership site, The Learning Lab. Both ventures were created to help other OTs be the best they can be when working with older adults.