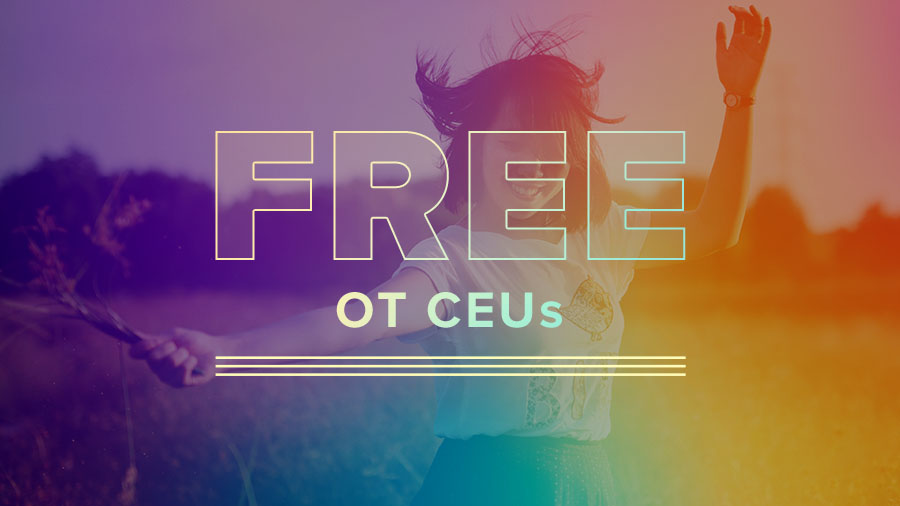 There are all sorts of reasons why you might find yourself looking for free OT CEUs. Sometimes, you might want to try a new CEU platform without committing to a full membership. Or, maybe you just need two or three more hours of CEUs for license renewal.
The cool thing is that there are quite a few free online OT CEUs out there! And, the even cooler part is that there are several "AOTA Approved" options. Here's a look at some that currently exist:
AOTA Approved CEUs
I'm starting my list with AOTA Approved options, because this approval means that these CEUs are widely accepted by state licensing boards. AOTA approval is also an indicator that the course should meet the requirements for NBCOT's professional development units (PDUs).
OT Potential Podcast free CEU!
We'll start with ours first—because we are clearly biased! 🙂
At OT Potential, we are extremely proud to provide CEU podcast courses, which are offered as a benefit of membership in the OT Potential Club. The OT Potential Club helps you stay up to date with evidence-based practice by reviewing influential new evidence and giving you a place to discuss how it impacts your practice.
For our CEU podcast courses, we discuss important research with an expert guest.
Before joining our low-cost membership, you can try our FREE podcast-based CEU course below: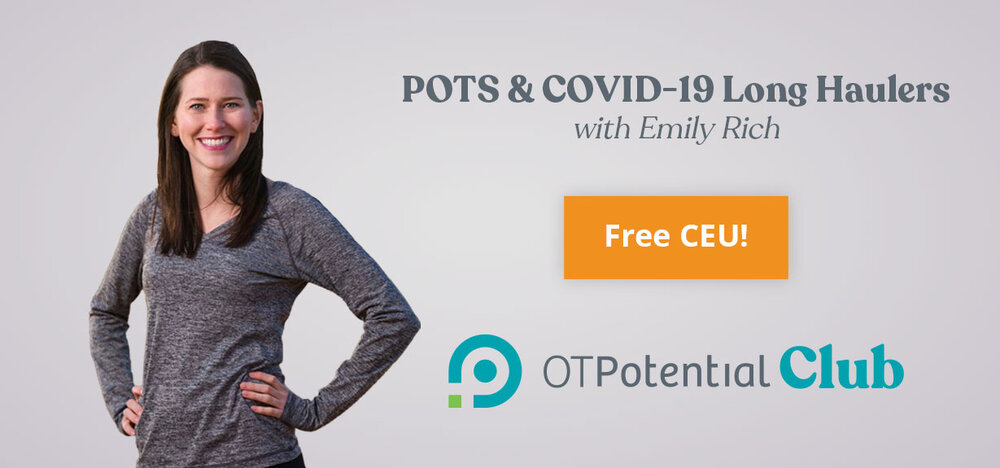 FREE
Includes access to the OT Potential Newsletter
This course looks at the symptoms and experiences of patients with POTS and COVID-19 long haulers, examines what you might encounter with these patients in practice, and gives actionable treatment strategies that you can implement right away.
All you have to do is listen to the episode and past the post-test with at least 75%. You will automatically be emailed your course certificate for credit.
OccupationalTherapy.com's free course offer
OccupationalTherapy.com offers a free single CEU course of your choice so you can try the platform before you commit to joining for a full year. While I prefer MedBridge Education for my own unlimited CEU needs, OccupationalTherapy.com also has a nice, if smaller, selection of courses.
Saebo's self-paced courses
Saebo offers nine self-paced courses related to upper extremity (UE) recovery. The courses are pretty focused on the Saebo products, but a few are geared toward general UE rehab.
Wild Iris's free CEU option
Wild Iris Medical Education is an online continuing education company known for its super low-cost CEU options that are approved by AOTA and NBCOT. Along with affordable courses, they're currently offering a free COVID-19 course titled The Impact of a Pandemic on Mental Health, which is definitely worth checking out.
NBCOT Navigator
The NBCOT Navigator is kind of in its own category because it is not AOTA Approved, but since it was created by our national registration agency, it carries with it a high level of credibility.
If you're certified through NBCOT as an OTR or COTA, you have free access to the NBCOT Navigator, which comes with case simulations, management challenges, practice quizzes, and other tools designed to improve your practice.
You can gain up to 14 "competency assessment units" per renewal period by using this platform. You'll need to check with your state to see if these free courses count toward your license.
See the states that accept the Navigator for license renewal.
Other free online OT CEU courses
We've gone over various free AOTA Approved courses, and we've covered the NBCOT Navigator. But, there are even MORE free OT CEU courses out there for you! The caveat is that these are offered by various organizations that may or may not be recognized by your state. It's definitely wise to check with your state licensing board before counting on these CEUs to help you renew your license. If nothing else, though, it's great to know this free educational content is available!
ChiroCredit.com
I bet you didn't expect to see a chiropractic website on here, but ChiroCredit.com offers a surprisingly robust selection of OT courses, including outside-the-box topics like medical errors and aquatic rehab!
Nurse.com
This is an option where you will definitely have to understand your license requirements, but if general healthcare topics count toward your continuing education, you might be able to use some courses from Nurse.com. Their free courses currently include topics like a COVID update.
Cheap Occupational Therapy CEUs
If you are looking for just a couple CEUs and want to pay for them out of pocket. The biggest library of inexpensive individual courses is CE Broker. We offer all of our courses there for just $10.
These courses from CE Broker are currently only available for purchase in 8 states (Alabama, Arizona, Florida, Georgia, Louisiana, Mississippi, South Carolina, and Tennessee). With that said, keep an eye out for more options coming online in the future.
Of course, if you are interested in more than one, it quickly becomes financially savvy to just buy the OT Potential Club membership for $79—we consider the most affordable OT CEU option!
Conclusion
Sometimes, free OT CEUs are exactly what you need. Luckily, as you can see from this article, there are tons of great options out there for the financially savvy therapist looking to learn without breaking the bank!
(If you're a skimmer and skipped to the bottom, I'd love to invite you to try out the OT Potential Club by taking this FREE AOTA-approved CEU podcast course that looks at POTS in COVID-19 Long Haulers. That's right – earn professional credit while you listen!)