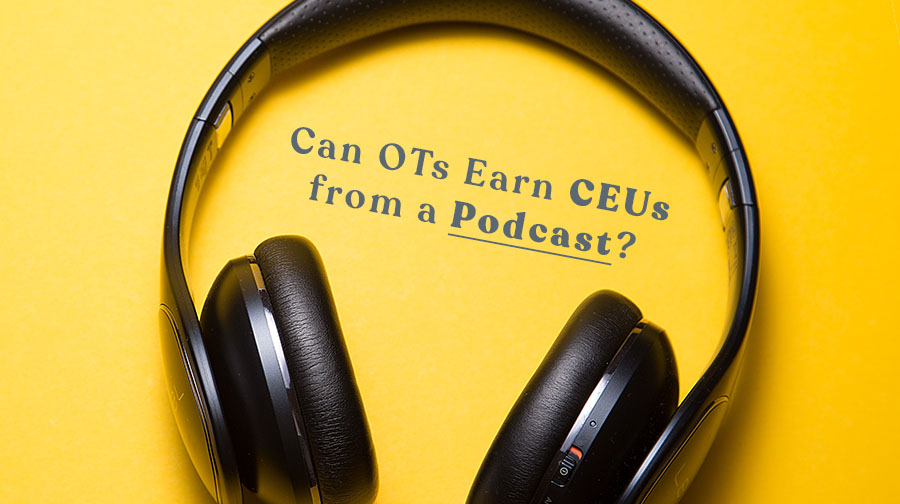 Yes, you can absolutely earn occupational therapy continuing education units (CEUs) from a podcast. In fact, here at OT Potential, we believe this might just be the best way to earn your CEUs!
In this post we'll discuss two logistical aspects of earning CEUs:
Full disclosure, we launched a podcast-based continuing education platform in the fall of 2020. So, we'll also be discussing 3 benefits of the OT Potential Club in this post.
---
1. Does my state accept podcast-based CEUs?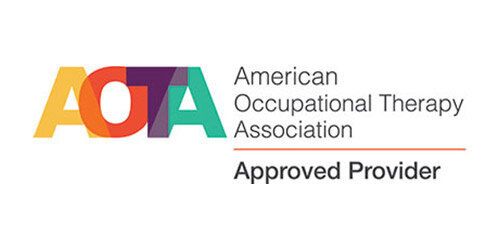 Our OT Potential Podcast meets the requirements for "online" and "independent/self-study" courses. This, along with the fact that we're an AOTA Approved Provider, means that our podcast qualifies for some (or all!) of your CEU licensing needs.
To earn CEU credit after listening to the OT Potential Podcast, you'll need to pass a 5-question quiz found in the OT Potential Club, and then we will generate a certificate of completion for you.
You will earn a certificate of completion that has all of your required information, including:
Your name
Contact hours
Online self-study course identification
Course title
Course instructor(s)
Date of completion
Course author's signature and contact information
AOTA Approved Provider course identification stamp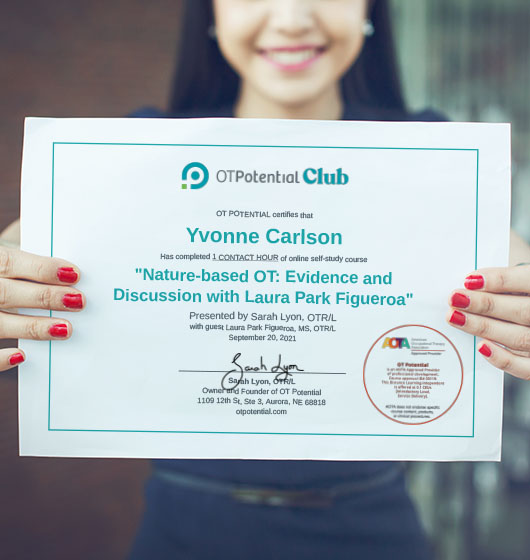 With your membership to the OT Potential Club, we also store your certificates for you, so you can always login and download the certificates when you need them!
The exact requirements for continuing education varies by state, so to double check the requirements of your particular state check out our state by state list of requirements our blog post: OT Continuing Education Explained.
---
2. Does NBCOT accept podcast-based PDUs?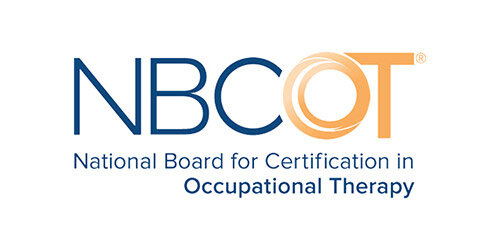 Yes! Our courses meet the requirements of NBCOT professional development units (PDUs). But, you are advised to make your own determination as to whether the course will be beneficial to your practice. NBCOT does not endorse any specific professional development units.
You'll want to read up on the exact NBCOT renewal guidelines for yourself, but NBCOT renewal occurs every three years by March 31st of your renewal year. Here is how the NBCOT website clarifies the renewal period:
Renewal season occurs between January and March annually, regardless of your initial certification date. If you do not renew by your scheduled renewal date, your status will change to Inactive. If your status is Inactive, you cannot use your OTR or COTA credential.
Additionally, you can use the NBCOT Renewal Log to keep track of your PDUs on their website. Our podcast-based courses fall under Professional Development Activities > Independent Learning. Here's a screenshot of logging an OT Potential Podcast course in the NBCOT Renewal Log, upon earning a certificate of completion:

Of note: every 1 hour equals 1.25 units, so if you earn all of your PDUs with the OT Potential Podcast, that's 29 hours over a 3-year period. In other words, if you listen to half of the OT Potential Podcasts as they are released over a 3-year period, you'll easily be on track to maintain your NBCOT certification with no other continuing education needed!
---
Three benefits of earning your CEUs via The OT Potential Club/Podcast
1. Stop binging. Start listening.
Busy OT practitioners can struggle to set aside time to watch hour after hour of continuing education videos.
These videos have important content—and we will still need them to stay up to date on specific topics—but after a busy day of work and home life, sitting down in front of a computer can feel daunting and overwhelming.
This pain point was one of many that made us ask the question: why can't we earn CEUs via podcast?
In each CEU-podcast episode, we spend the first 15 minutes reviewing an important OT-related journal article. Then, we are joined by an expert guest to discuss the research and its implications for our practice. To see our most popular courses, check out this blog post: Top OT CEUs.
2. Earn CEUs while doing other stuff you love!
Now that you don't have to sit down and watch each and every hour of continuing education, you're free to learn on the go while you're doing all kinds of other things, including:
Commuting
Running
Folding laundry
Gardening
Exercising
Making supper
Did we mention commuting?
You get the idea. Our time is so valuable! We hope it makes your life easier to earn your CEUs via podcast while staying up to date on important new research.
3. This is about so much more than earning your CEUs
Our mission statement at OT Potential is:
To help the majority of occupational therapy practitioners from around the globe make a habit of regularly exploring new OT-related research.
The OT Potential Podcast is founded on the critical importance of new research. Every other week, we discuss journal articles we've been looking at in the OT Potential Club. These articles are pulled from our list of the 100 most influential research articles that mention occupational therapy.
In addition to the CEU-podcast courses and journal article reviews, we've created an OT assessment search engine, as well as real-world OT documentation examples from practicing therapists. We hope the OT Potential Club is a powerful toolkit to use every day in your practice.
---
The OT Potential Podcast
Here are the six most recent CEU-podcast courses. Check out all of our courses on our OT Potential Podcast page!
---
Conclusion
OT is such a beautiful profession, and at OT Potential, we truly believe that OT practitioners can be leaders in this wildly changing healthcare world.
When we make a habit of consuming new research, we put ourselves in the best position to be ready to lead.
Let's do this together!